Lewiston/Auburn & Central Maine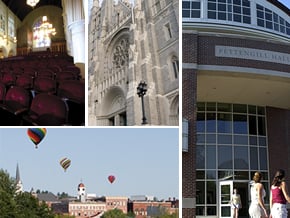 An ideal setting for a satisfying and secure future.
Schooner Estates is located on ten beautifully landscaped acres in the hill and lake country near the Androscoggin River, the landmark separating the twin cities of Lewiston and Auburn. Lewiston is Maine's second largest city and was recently cited as an "All American City" by the National Civic League.
The Lewiston/Auburn area features extensive restaurant and shopping options, places of worship and excellent medical care at Central Maine Medical Center and St. Mary's Hospital. The cultural life includes concerts, theaters and many other special events. Lewiston is home to four colleges, including Bates College, one of America's top liberal arts colleges.