A Strong Sense of Community and a Caring Staff
A Truly Beautiful Facility
Schooner Estates is set on ten beautifully landscaped acres in Auburn, Maine. Located in the hills and lakes region, our senior living facility provides an ideal balance of country serenity and city convenience. Directly across the Androscoggin River is our sister city, Lewiston, the second largest city in the state. View a video to the right about our wonderful and geographically accurate mural painted by Maine's own Francine Schrock.
Arts, Activities and Medical Care All Close By
The Lewiston/Auburn area features extensive restaurant and shopping options, places of worship, and excellent medical care at Central Maine Medical Center and St. Mary's Hospital. The cultural life includes concerts, theaters and many special events throughout the year. Lewiston is home to four colleges, including Bates, one of America's top liberal arts colleges.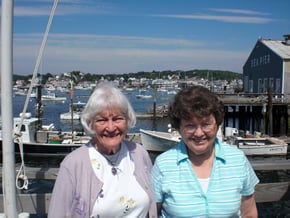 Conveniently Located in Central Maine
Our location in central Maine makes for an easy drive to many of the state's most popular locations. A thirty minute drive will bring you to Freeport for a day of outlet shopping and a visit to LL Bean, or to Brunswick for some world-class Antiquing. Urbanites will love that we're forty five minutes from either the largest city of Portland or the capital city of Augusta. From Camden to Kittery, countless breath-taking spots on the Maine Coast await you just over an hour away. Or head inland to the Western Maine Mountains.