Information for Adult Children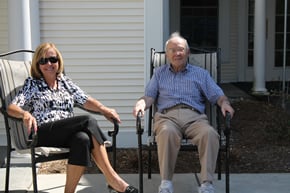 Finding the right words to encourage a loved one to make a move to a senior living community can seem overwhelming. Let us help guide you through the process of how to focus the conversation on the benefits and the peace of mind that await your loved ones at Schooner Estates.
Will my loved one feel at home at Schooner Estates?
The staff at Schooner Estates hears, "I wish I had moved here sooner," from the tenants on a daily basis. Your loved ones' quality of life is at the forefront of everything we do at Schooner Estates, from the daily activity schedule to the cleanliness of the facility. They will be surrounded by all of the new friends they make and a staff that truly cares for their needs, wants and desires. Still unsure? Read our many tenant and family testimonials.
My loved one no longer drives. How will they get the things they need?
Schooner Estates provides scheduled transportation to anywhere within the Lewiston/Auburn area Monday through Friday, 8:00 AM to 5:00 PM. In addition, we have two shopping shuttles every week, Sunday church shuttles and day trips all over Maine. We even provide a wheelchair van for those who require it. This service is provided free of charge.
I need to have some peace of mind!
Your loved ones will be safe, happy and secure at Schooner Estates. But they will also have a life full of activities and the opportunities to be social that so many of our seniors miss out on today. You can rest assured knowing that they will have friends to share a daily meal with in one of our beautiful dining rooms, a movie to watch in the theater room, a group exercise program, and many opportunities for live entertainment and day trips throughout Maine. There is so much more to Schooner Estates than the safety and security of your loved one. We strive to ensure that every tenant maintains their quality of life and continues to explore their interests.
What can I expect regarding their health care at Schooner Estates?
The health of your loved one is very important to us. That is why Schooner Estates is one of the few senior living communities to have a Home Health Care Agency on site. This means that your loved one has the ability to have an RN coordinate with their physician to handle their health care needs quickly and easily. They can provide nursing assessments in their apartment if medical issues arise and refer your loved ones to the skilled services needed to continue care if needed. The RNs can also provide medication and lab management as well as many personal care needs.
Schooner Estates offers three levels of care on-site, if your loved one should ever need it. As a tenant of Schooner Estates, your loved one will have priority placement options for additional living options should their physical needs increase.
What about my loved one's security and well-being?
You can rest easy knowing that your loved ones will be safe and secure at Schooner Estates. All access doors are security locked from the outside and require key entry. Schooner Estates also has a daily check system to ensure that all tenants are safe and well. And with our 24 hour emergency call bell system, you can relax knowing that there is always staff available if an emergency arises.
What about my loved one's financial security?
Ensuring that your loved ones have enough resources to see them through is an important topic. Some senior living communities require a buy in and others operate on a monthly rental basis. Find out from each community you visit exactly what you are buying or renting and what services are included with any fees.
Schooner Estates is a monthly rental community which offers additional services on an a la carte basis. This approach helps to keep costs at a manageable level. By not inflating the price with services the tenants will never use, your loved ones will only pay for the services they need when they need them.
I still have more questions.
Schooner Estates' caring staff is ready to discuss all of our living options with you and your loved ones. Contact us with any questions you may have. We are here for you.