Are You Ready For A Move To Schooner Estates?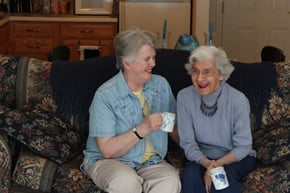 Why should you even consider moving to a senior living community? Answer some of the questions below to help you decide.
Have household chores and home maintenance become too much of a burden physically or financially?

Do you struggle with isolation and loneliness?

Does the thought of preparing yet another meal sound like too much of a bother?

Are you spending most of your time trying to keep up with the things required for daily living instead of enjoying your retirement?

Does living alone worry you to some degree?

Are you ready to shed your daily worries and experience a more carefree lifestyle with plenty of friends and activities to keep you occupied and fulfilled?
If you answered "Yes" to any of these questions, now is the time to seriously consider life at Schooner Estates. Contact us to learn more.
How can I help my family understand the reasons for my move?
Opening the lines of communication with your family is the first step. Let them know your feelings and how you would like to spend your retirement. Tell them about your concerns, whether they are health related or it's just that maintaining your own home has become more work than you would like it to be. Give us a call and schedule a tour of Schooner Estates, we will show you and your family all of the wonderful advantages to choosing our facility. From the beautiful grounds and wide array of entertainment options, to the well maintained buildings and the scrumptiously prepared meals. A tour of Schooner Estates will help to convince your family that this is the right move for you.
I want to live a healthier, happier retirement.
The staff at Schooner Estates hears, "I wish I had moved here sooner," from the tenants on a daily basis. Your quality of life is at the forefront of everything we do at Schooner Estates from the daily activity schedule to the cleanliness of the facility. You will be surrounded by all of the new friends you make and a staff that truly cares for your needs, wants and desires. Still unsure? Read our many tenant and family testimonials.
Why is a continuum of care important to me for the future?
Schooner Estates offers three levels of care on-site, if you should ever need it. As a tenant, you will have priority placement options for additional living options should your physical needs increase.
I still have more questions.
Schooner Estates' caring staff is ready to discuss all of our living options with you and your loved ones. Contact us with any questions you may have. We are here for you.