September 2017 Schooner Flash Newsletter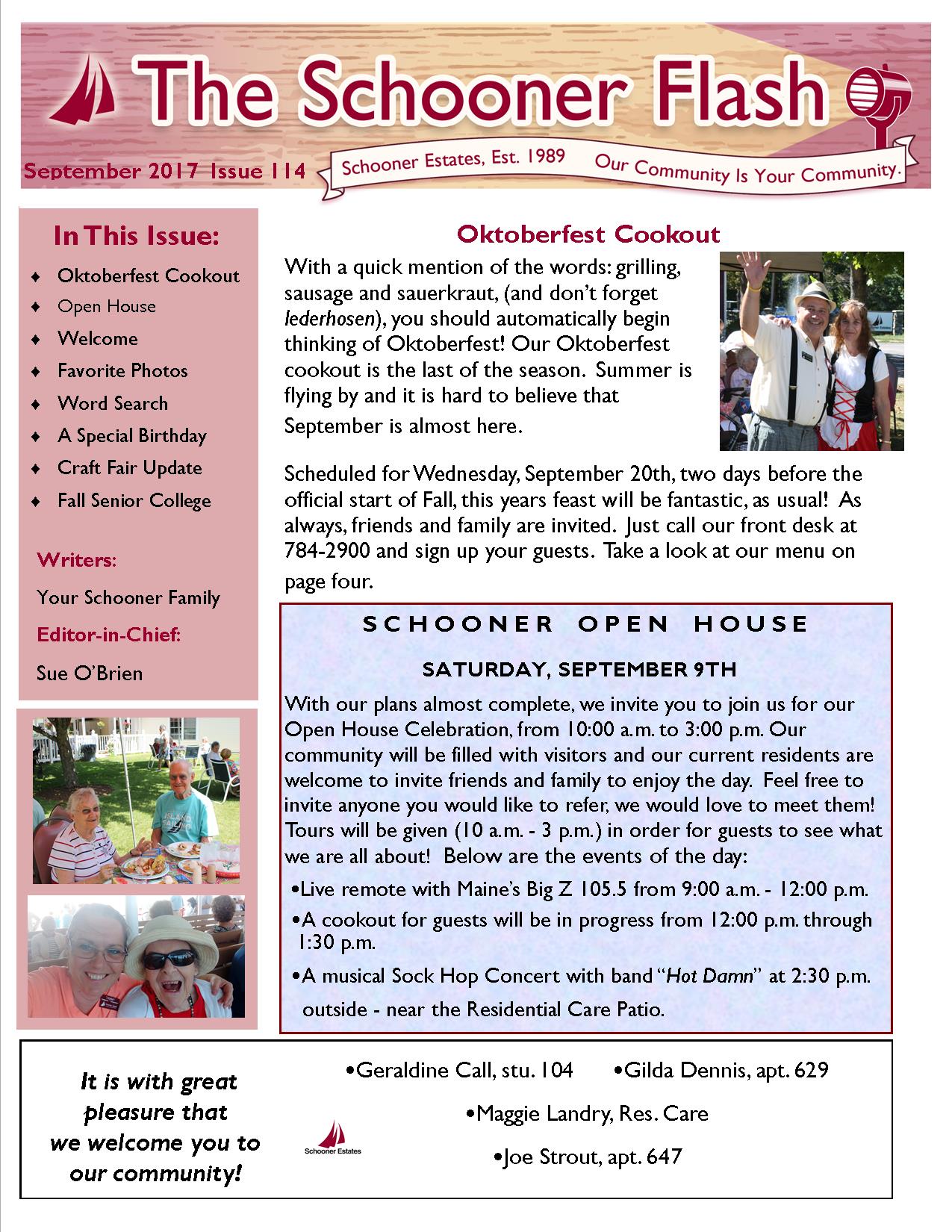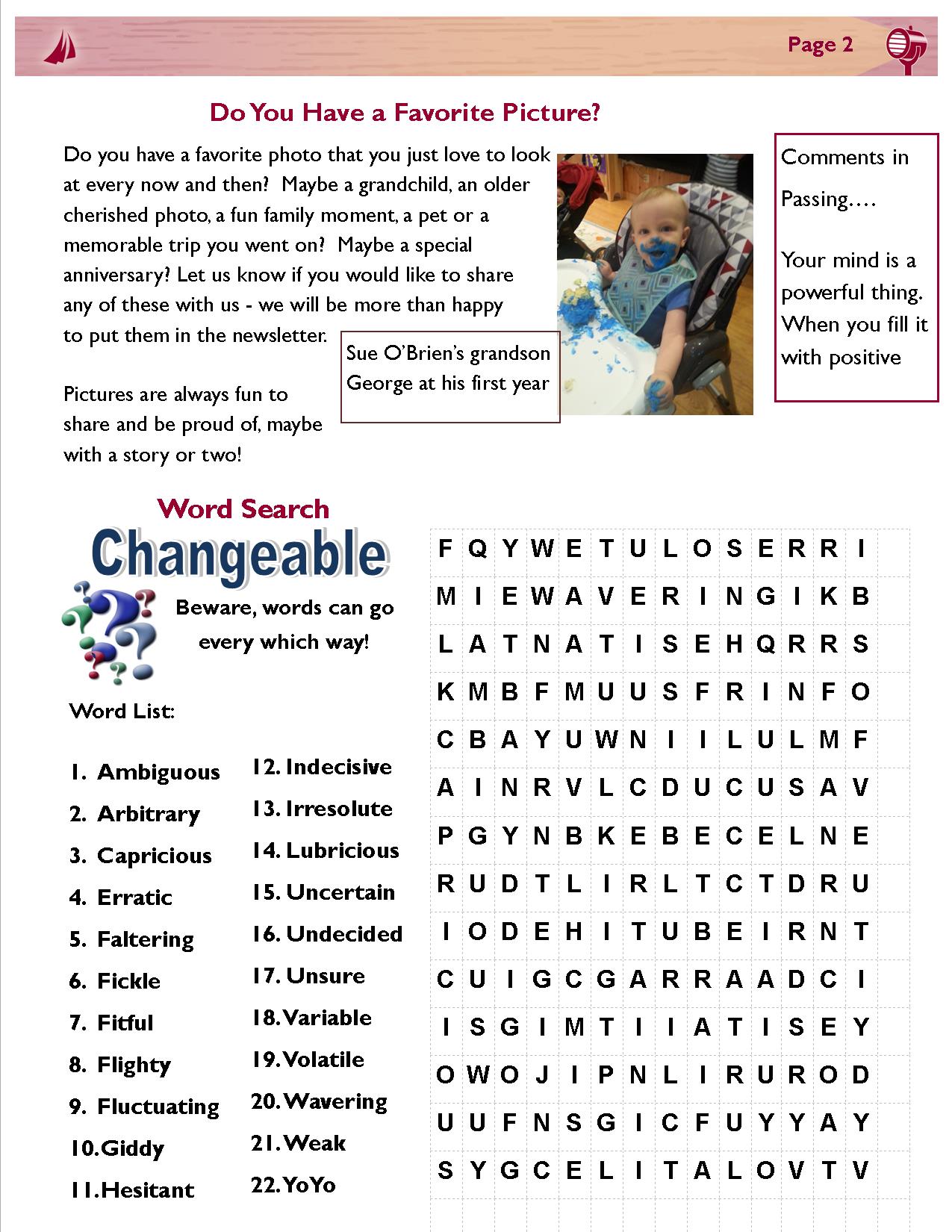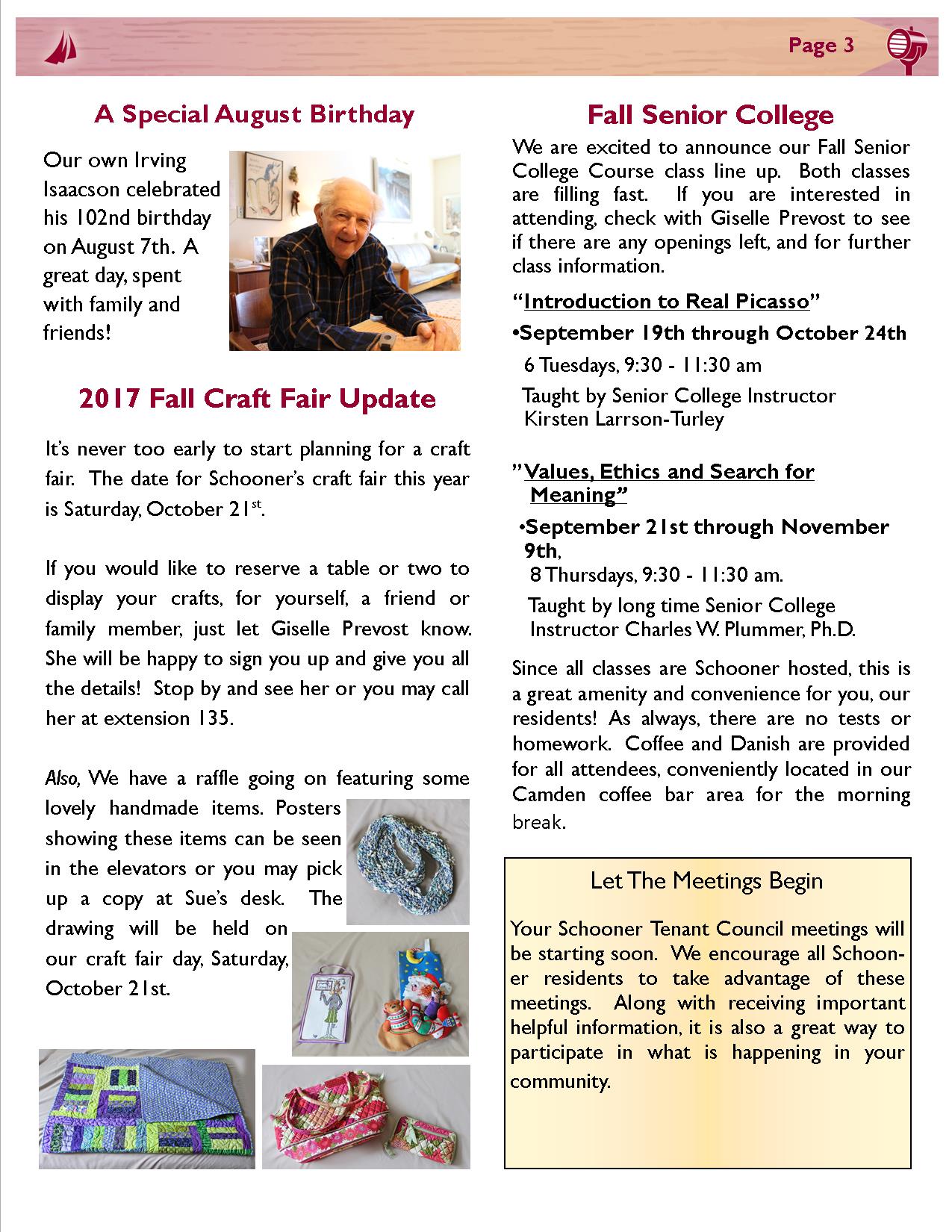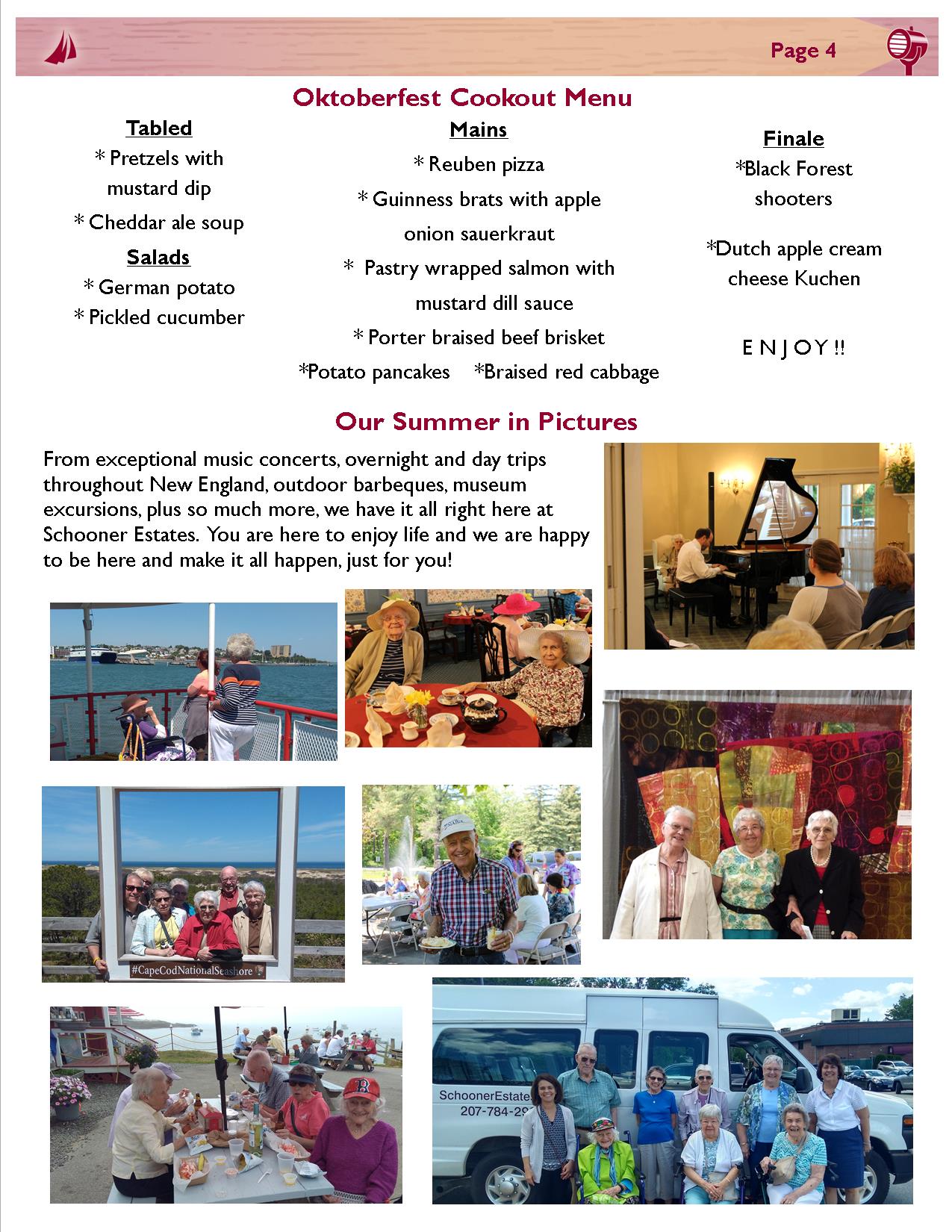 The Schooner Flash
September 2017
Issue 114
In This Issue
Oktoberfest Cookout
Open House
Welcome
Favorite Photos
Word Search
A Special Birthday
Craft Fair Update
Fall Senior College
Tenant Council
Oktoberfest Menu
Summer Pictures
Writers:
Your Schooner Family
Editor-in-Chief:
Sue O'Brien
Designer/Co-Editor:
Linda Hildonen
Oktoberfest Cookout
With a quick mention of the words: grilling, sausage and sauerkraut, (and don't forget lederhosen), you should automatically begin thinking of Oktoberfest! Our Oktoberfest cookout is the last of the season. Summer is flying by and it is hard to believe that September is almost here.
Scheduled for Wednesday, September 20th, two days before the official start of Fall, this years feast will be fantastic, as usual! As always, friends and family are invited. Just call our front desk at 784-2900 and sign up your guests. Take a look at our menu on page four.
Schooner Open House
Saturday September 9th
With our plans almost complete, we invite you to join us for our Open House Celebration, from 10:00 a.m. to 3:00 p.m. Our community will be filled with visitors and our current residents are welcome to invite friends and family to enjoy the day. Feel free to invite anyone you would like to refer, we would love to meet them! Tours will be given (10 a.m. – 3 p.m.) in order for guests to see what we are all about! Below are the events of the day:
•Live remote with Maine's Big Z 105.5 from 9:00 a.m. – 12:00 p.m.
•A cookout for guests will be in progress from 12:00 p.m. through 1:30 p.m.
•A musical Sock Hop Concert with band "Hot Damn" at 2:30 p.m. outside – near the Residential Care Patio.
It is with great pleasure that we welcome you to our community!
•Geraldine Call, stu. 104
•Gilda Dennis, apt. 629
•Maggie Landry, Res. Care
•Joe Strout, apt. 647
•Ted Walther, apt. 522
A Special August Birthday
Our own Irving Isaacson celebrated his 102nd birthday on August 7th. A great day, spent with family and friends!
2017 Fall Craft Fair Update
It's never too early to start planning for a craft fair.  The date for Schooner's craft fair this year is Saturday, October 21st.
If you would like to reserve a table or two to display your crafts, for yourself, a friend or family member, just let Giselle Prevost know. She will be happy to sign you up and give you all the details! Stop by and see her or you may call her at extension 135.
Also, We have a raffle going on featuring some lovely handmade items. Posters showing these items can be seen in the elevators or you may pick up a copy at Sue's desk. The drawing will be held on our craft fair day, Saturday, October 21st.
Fall Senior College
We are excited to announce our Fall Senior College Course class line up. Both classes are filling fast. If you are interested in attending, check with Giselle Prevost to see if there are any openings left, and for further class information.
"Introduction to Real Picasso"
•September 19th through October 24th
6 Tuesdays, 9:30 – 11:30 am
Taught by Senior College Instructor Kirsten Larrson-Turley
"Values, Ethics and Search for Meaning"
•September 21st through November 9th, 8 Thursdays, 9:30 – 11:30 am.
Taught by long time Senior College Instructor Charles W. Plummer, Ph.D.
Since all classes are Schooner hosted, this is a great amenity and convenience for you, our residents! As always, there are no tests or homework. Coffee and Danish are provided for all attendees, conveniently located in our Camden coffee bar area for the morning break.
Let The Meetings Begin
Your Schooner Tenant Council meetings will be starting soon. We encourage all Schooner residents to take advantage of these meetings. Along with receiving important helpful information, it is also a great way to participate in what is happening in your community.
Oktoberfest Cookout Menu
Tabled
* Pretzels with mustard dip
* Cheddar ale soup Salads
* German potato
* Pickled cucumber
Mains
* Reuben pizza
* Guinness brats with apple onion sauerkraut
* Pastry wrapped salmon with mustard dill sauce
* Porter braised beef brisket
* Potato pancakes
* Braised red cabbage
Finale
*Black Forest shooters
*Dutch apple cream cheese Kuchen
E N J O Y !!