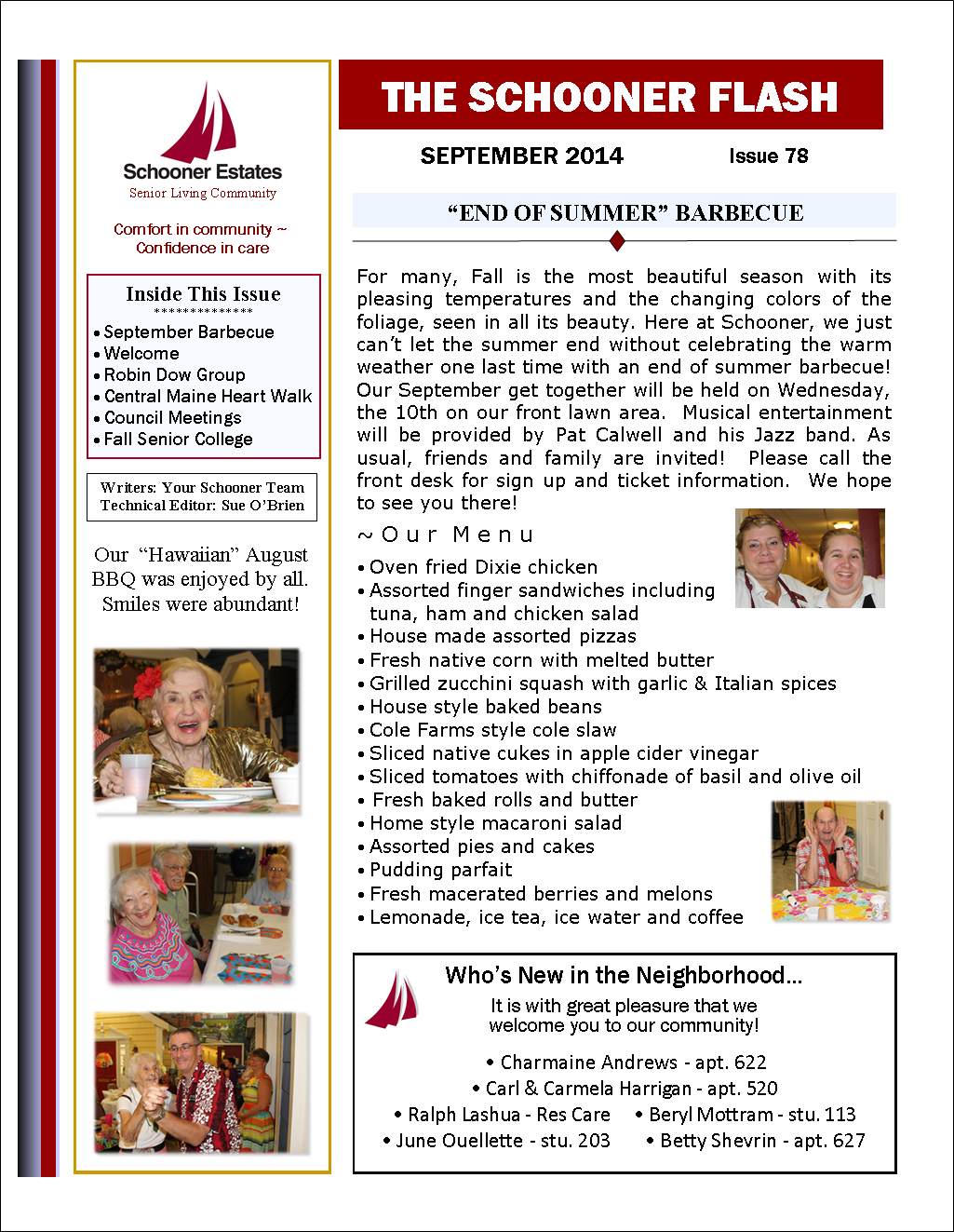 Inside This Issue
· September Barbecue
· Welcome
· Robin Dow Group
· Central Maine Heart Walk
· Council Meetings
· Fall Senior College
For many, Fall is the most beautiful season with its pleasing temperatures and the changing colors of the foliage, seen in all its beauty. Here at Schooner, we just can't let the summer end without celebrating the warm weather one last time with an end of summer barbecue! Our September get together will be held on Wednesday, the 10th on our front lawn area.  Musical entertainment will be provided by Pat Calwell and his Jazz band. As usual, friends and family are invited!  Please call the front desk for sign up and ticket information.  We hope to see you there!
Our September BBQ Menu
•Oven fried Dixie chicken
•Assorted finger sandwiches including
tuna, ham and chicken salad
•House made assorted pizzas
•Fresh native corn with melted butter
•Grilled zucchini squash with garlic & Italian spices
•House style baked beans
•Cole Farms style cole slaw
•Sliced native cukes in apple cider vinegar
•Sliced tomatoes with chiffonade of basil and olive oil
• Fresh baked rolls and butter
•Home style macaroni salad
•Assorted pies and cakes
•Pudding parfait
•Fresh macerated berries and melons
•Lemonade, ice tea, ice water and coffee
Robin Dow Group comes to Schooner
Schooner Estates is pleased to have the opportunity to host the Lewiston/Auburn Robin Dow Senior Citizen group for their monthly meetings, starting in September 2014. Meeting on the second and fourth Wednesday of each month, January through October, this senior social group is looking forward to their new home at Schooner. Their members are located in Lewiston and Auburn as well as surrounding towns.  Currently they have five members living at Schooner Estates.
The meetings are filled with many social events. Free fresh coffee, an opening and closing prayer by their Chaplain, singing, business meetings, birthday recognitions, raffle drawings, bag lunches and Bingo games are enjoyed by their members.
Schooner resident, Irving Grant is an active board member and is their liaison with our community.  Please feel free to drop in for a visit during one of their meetings or become a member of the club. The Robin Dow Group will be meeting in the Tenants Harbor Room on September 24th, October 8th and October 22nd from 11:30 a.m (doors open at 11) until around 3:00 p.m.
2014 Central Maine Heart Walk
In keeping with our commitment to health and wellness, we are putting together a team this year to participate in the AHA, 2014 Central Maine Heart Walk.  Our goal is to encourage everyone to build healthier lives by incorporating Wellness activities into their daily routine.  This special event will be held on Sunday, September 14th at 9:30 a.m. at the Hilton Garden Inn.  The events of the day include a  slow paced 1-mile walk, a 5K walk or fun run.  Healthy food, health screenings, music and activities will also be available.  Go ahead and sign up (at the front desk), you will be glad you did!
If you have any questions, we have two team captains available to help, Donna Vachon and Mark Prevost.  Keep fit and stay healthy!
Tenant Council Meetings begin
The start of Fall means the start of many things, along with your monthly Resident Council meetings. We encourage all Schooner residents to take advantage of these meetings.  Along with receiving important, helpful information, it is also a great way to participate in what is happening in your community. The first meeting is scheduled for Tuesday, September 16th at 2:30 in the Tenants Harbor Room. Cookies and refreshments will be available.
Fall Senior College
Get a jumpstart on registering for threeupcoming fall senior college courses. Here are each of the classes and their starting dates: "Stories of Life: Autobiographical Writing", Sep. 23rd, "Sensation, Perception and the Aging Process", Sep. 25th, and "U.S.  National Parks", Oct. 9th.  Since all classes are Schooner hosted, this is a great amenity and convenience for you, our residents! For information and class availability for each course, see Mark Prevost our Resident Services Director.  Also, pick up a copy of the new Fall 2014 catalog, at Mark's office.  Coffee and Danish are provided for all attendees, conveniently located in our Camden coffee bar area for the morning break. As always, there are no tests or homework. You are here to enjoy life and Schooner has it all right here!