October 2016 Schooner Flash Newsletter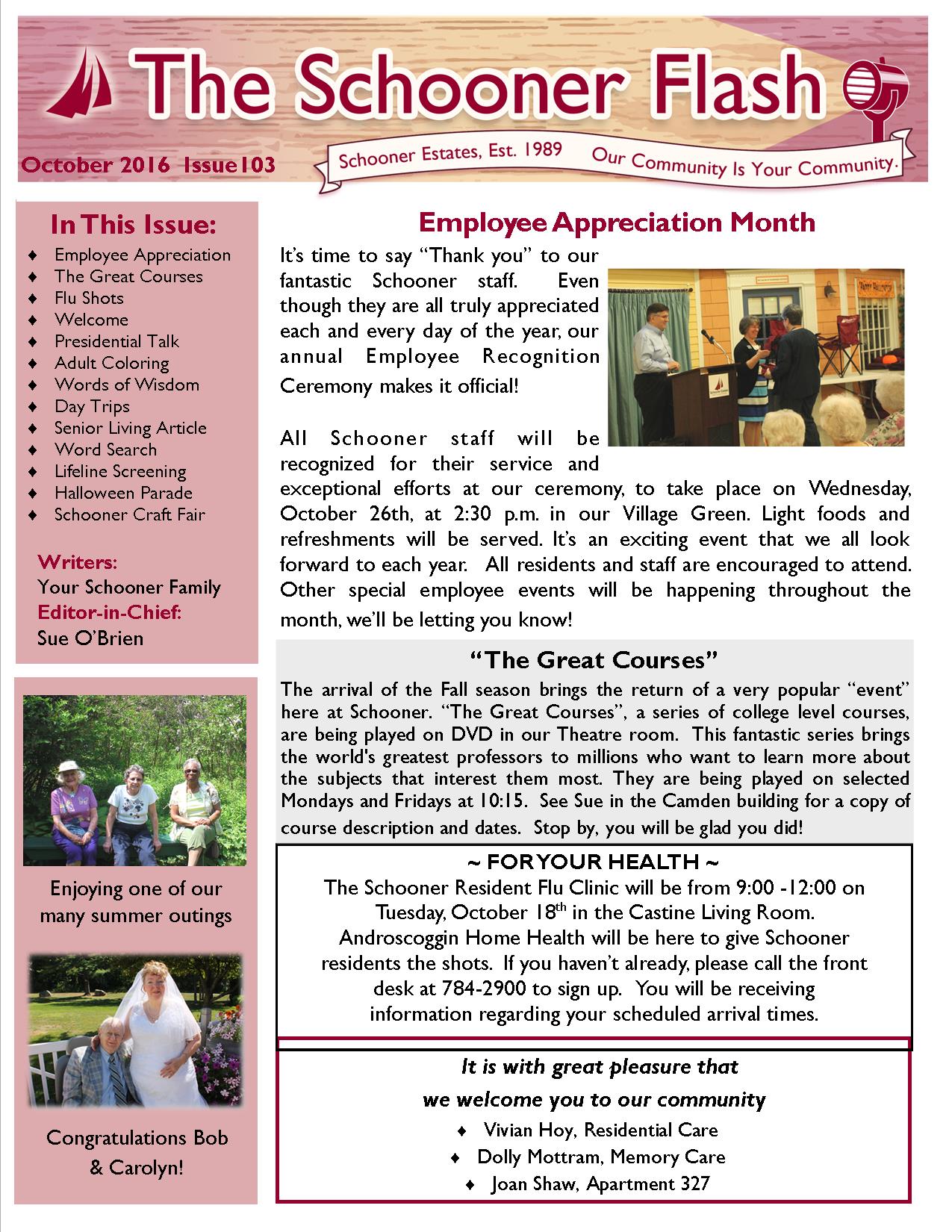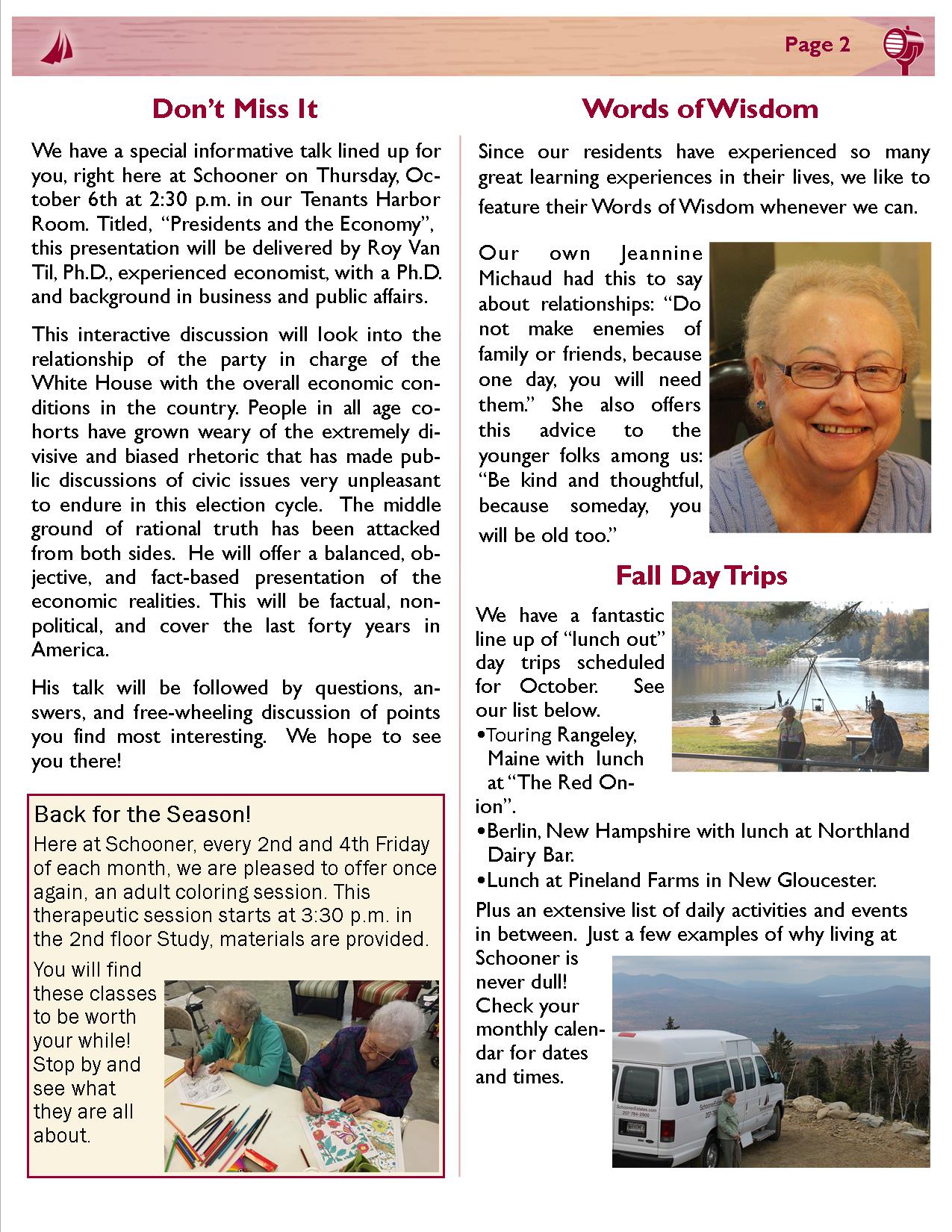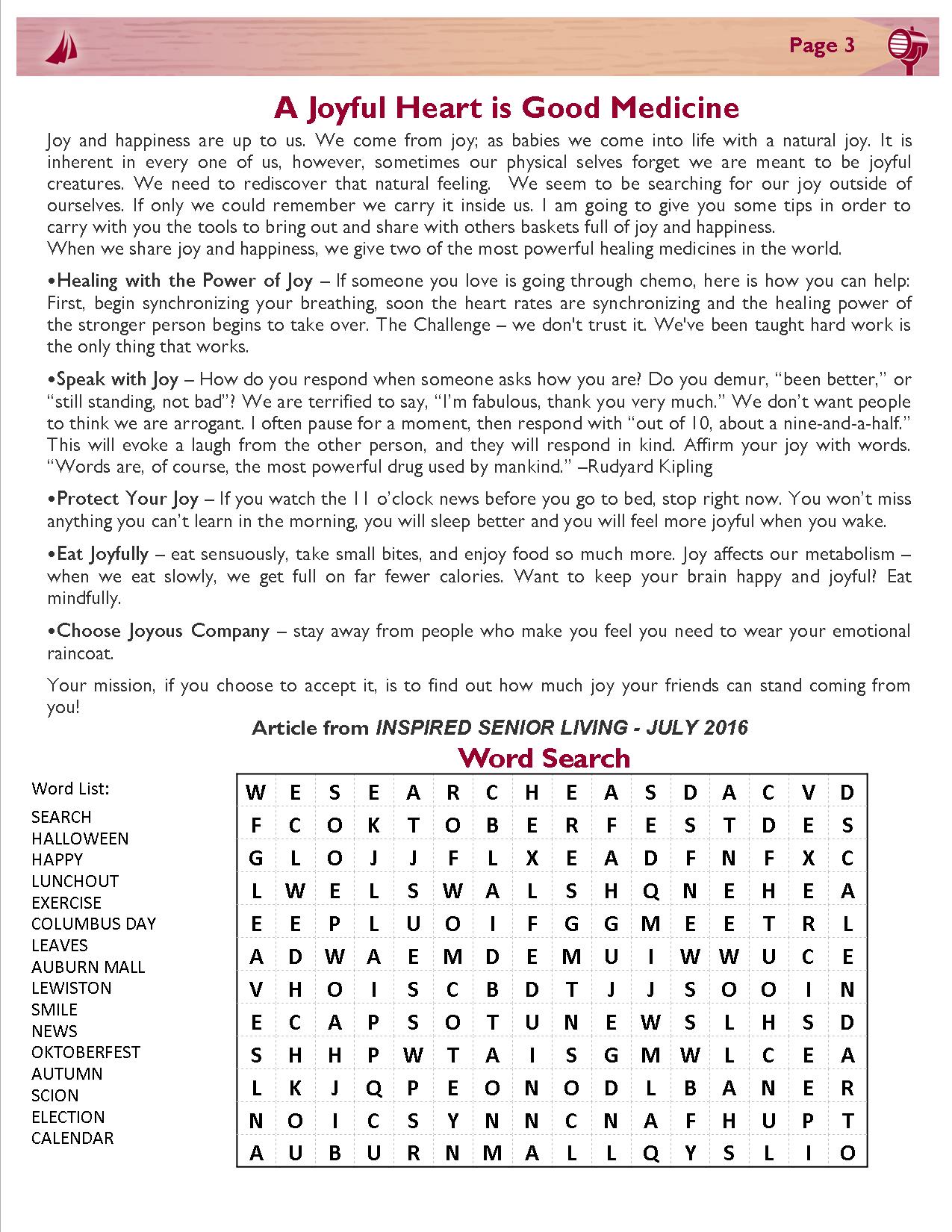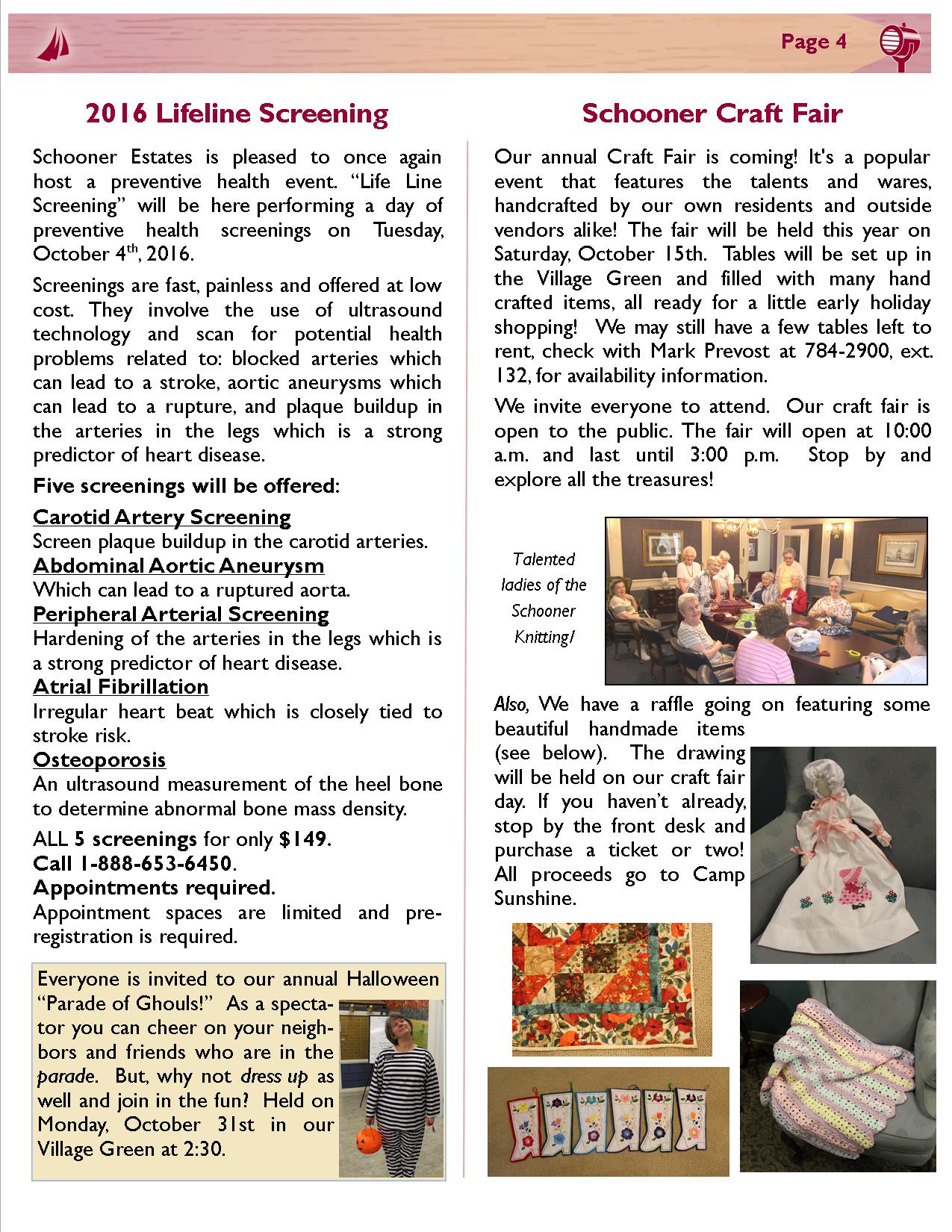 Schooner Flash
October 2016
Issue 103
Writers:
Your Schooner Family
Editor-in-Chief:
Sue O'Brien
Designer/Co-Editor:
Linda Hildonen
Inside this Issue:
Employee Appreciation
The Great Courses
Flu Shots
Welcome
Presidential Talk
Adult Coloring
Words of Wisdom
Day Trips
Senior Living Article
Word Search
Lifeline Screening
Halloween Parade
Schooner Craft Fair
Employee Appreciation Month
It's time to say "Thank you" to our fantastic Schooner staff. Even though they are all truly appreciated each and every day of the year, our annual Employee Recognition Ceremony makes it official!
All Schooner staff will be recognized for their service and exceptional efforts at our ceremony, to take place on Wednesday, October 26th, at 2:30 p.m. in our Village Green. Light foods and refreshments will be served. It's an exciting event that we all look forward to each year. All residents and staff are encouraged to attend. Other special employee events will be happening throughout the month, we'll be letting you know!
The Great Courses
The arrival of the Fall season brings the return of a very popular "event" here at Schooner. "The Great Courses", a series of college level courses, are being played on DVD in our Theatre room. This fantastic series brings the world's greatest professors to millions who want to learn more about the subjects that interest them most. They are being played on selected Mondays and Fridays at 10:15. See Sue in the Camden building for a copy of course description and dates. Stop by, you will be glad you did!
~ FOR YOUR HEALTH ~
The Schooner Resident Flu Clinic will be from 9:00 -12:00 on Tuesday, October 18th in the Castine Living Room. Androscoggin Home Health will be here to give Schooner residents the shots. If you haven't already, please call the front desk at 784-2900 to sign up. You will be receiving information regarding your scheduled arrival times.
Flu shots 2nd week in October….
It is With Great Pleasure that We Welcome You Into the Community
Vivian Hoy, Residential Care
Dolly Mottram, Memory Care
Joan Shaw, Apartment 327
Don't Miss It
We have a special informative talk lined up for you, right here at Schooner on Thursday, October 6th at 2:30 p.m. in our Tenants Harbor Room. Titled, "Presidents and the Economy", this presentation will be delivered by Roy Van Til, Ph.D., experienced economist, with a Ph.D. and background in business and public affairs.
This interactive discussion will look into the relationship of the party in charge of the White House with the overall economic conditions in the country. People in all age cohorts have grown weary of the extremely divisive and biased rhetoric that has made public discussions of civic issues very unpleasant to endure in this election cycle.  The middle ground of rational truth has been attacked from both sides.  He will offer a balanced, objective, and fact-based presentation of the economic realities. This will be factual, non-political, and cover the last forty years in America.
His talk will be followed by questions, answers, and free-wheeling discussion of points you find most interesting. We hope to see you there!
Back for the Season!
Here at Schooner, every 2nd and 4th Friday of each month, we are pleased to offer once again, an adult coloring session. This therapeutic session starts at 3:30 p.m. in the 2nd floor Study, materials are provided.
You will find these classes to be worth your while! Stop by and see what they are all about.
Words of Wisdom
Since our residents have experienced so many great learning experiences in their lives, we like to feature their Words of Wisdom whenever we can.
Our own Jeannine Michaud had this to say about relationships: "Do not make enemies of family or friends, because one day, you will need them." She also offers this advice to the younger folks among us: "Be kind and thoughtful, because someday, you will be old too."
Fall Day Trips
We have a fantastic line up of "lunch out" day trips scheduled for October. See our list below.
•Touring Rangeley, Maine with lunch at "The Red Onion".
•Berlin, New Hampshire with lunch at Northland Dairy Bar.
•Lunch at Pineland Farms in New Gloucester.
Plus an extensive list of daily activities and events in between. Just a few examples of why living at Schooner is never dull! Check your monthly calendar for dates and times.
A Joyful Heart is Good Medicine
Joy and happiness are up to us. We come from joy; as babies we come into life with a natural joy. It is inherent in every one of us, however, sometimes our physical selves forget we are meant to be joyful creatures. We need to rediscover that natural feeling. We seem to be searching for our joy outside of ourselves. If only we could remember we carry it inside us. I am going to give you some tips in order to carry with you the tools to bring out and share with others baskets full of joy and happiness. When we share joy and happiness, we give two of the most powerful healing medicines in the world.
•Healing with the Power of Joy – If someone you love is going through chemo, here is how you can help: First, begin synchronizing your breathing, soon the heart rates are synchronizing and the healing power of the stronger person begins to take over. The Challenge – we don't trust it. We've been taught hard work is the only thing that works.
•Speak with Joy – How do you respond when someone asks how you are? Do you demur, "been better," or "still standing, not bad"? We are terrified to say, "I'm fabulous, thank you very much." We don't want people to think we are arrogant. I often pause for a moment, then respond with "out of 10, about a nine-and-a-half." This will evoke a laugh from the other person, and they will respond in kind. Affirm your joy with words. "Words are, of course, the most powerful drug used by mankind." –Rudyard Kipling
•Protect Your Joy – If you watch the 11 o'clock news before you go to bed, stop right now. You won't miss anything you can't learn in the morning, you will sleep better and you will feel more joyful when you wake.
•Eat Joyfully – eat sensuously, take small bites, and enjoy food so much more. Joy affects our metabolism – when we eat slowly, we get full on far fewer calories. Want to keep your brain happy and joyful? Eat mindfully.
•Choose Joyous Company – stay away from people who make you feel you need to wear your emotional raincoat.
Your mission, if you choose to accept it, is to find out how much joy your friends can stand coming from you!
Article from INSPIRED SENIOR LIVING – JULY 2016
Life Line Screenings
Schooner Estates is pleased to once again host a preventive health event. "Life Line Screening" will be here performing a day of preventive health screenings on Tuesday, October 4th, 2016.
Screenings are fast, painless and offered at low cost. They involve the use of ultrasound technology and scan for potential health problems related to: blocked arteries which can lead to a stroke, aortic aneurysms which can lead to a rupture, and plaque buildup in the arteries in the legs which is a strong predictor of heart disease.
Five screenings will be offered:
Carotid Artery Screening
Screen plaque buildup in the carotid arteries.
Abdominal Aortic Aneurysm
Which can lead to a ruptured aorta.
Peripheral Arterial Screening
Hardening of the arteries in the legs which is a strong predictor of heart disease.
Atrial Fibrillation
Irregular heart beat which is closely tied to stroke risk.
Osteoporosis
An ultrasound measurement of the heel bone to determine abnormal bone mass density.
ALL 5 screenings for only $149.
Call 1-888-653-6450.
Appointments required.
Appointment spaces are limited and pre-registration is required.
Schooner Craft Fair
Our annual Craft Fair is coming! It's a popular event that features the talents and wares, handcrafted by our own residents and outside vendors alike! The fair will be held this year on Saturday, October 15th. Tables will be set up in the Village Green and filled with many hand crafted items, all ready for a little early holiday shopping! We may still have a few tables left to rent, check with Mark Prevost at 784-2900, ext. 132, for availability information.
We invite everyone to attend. Our craft fair is open to the public. The fair will open at 10:00 a.m. and last until 3:00 p.m. Stop by and explore all the treasures!
Also, We have a raffle going on featuring some beautiful handmade items (see below). The drawing will be held on our craft fair day. If you haven't already, stop by the front desk and purchase a ticket or two! All proceeds go to Camp Sunshine.