October 2015 Schooner Flash Newsletter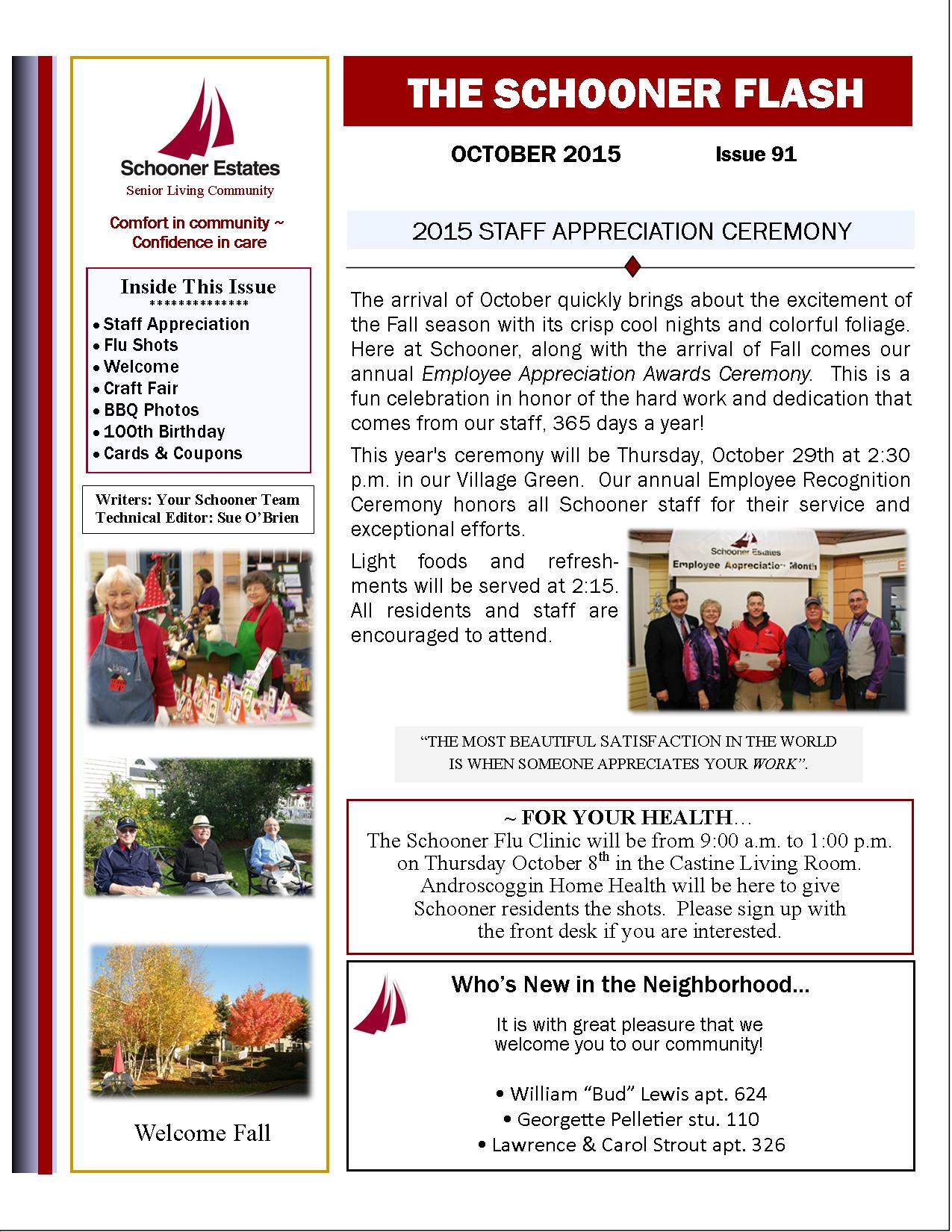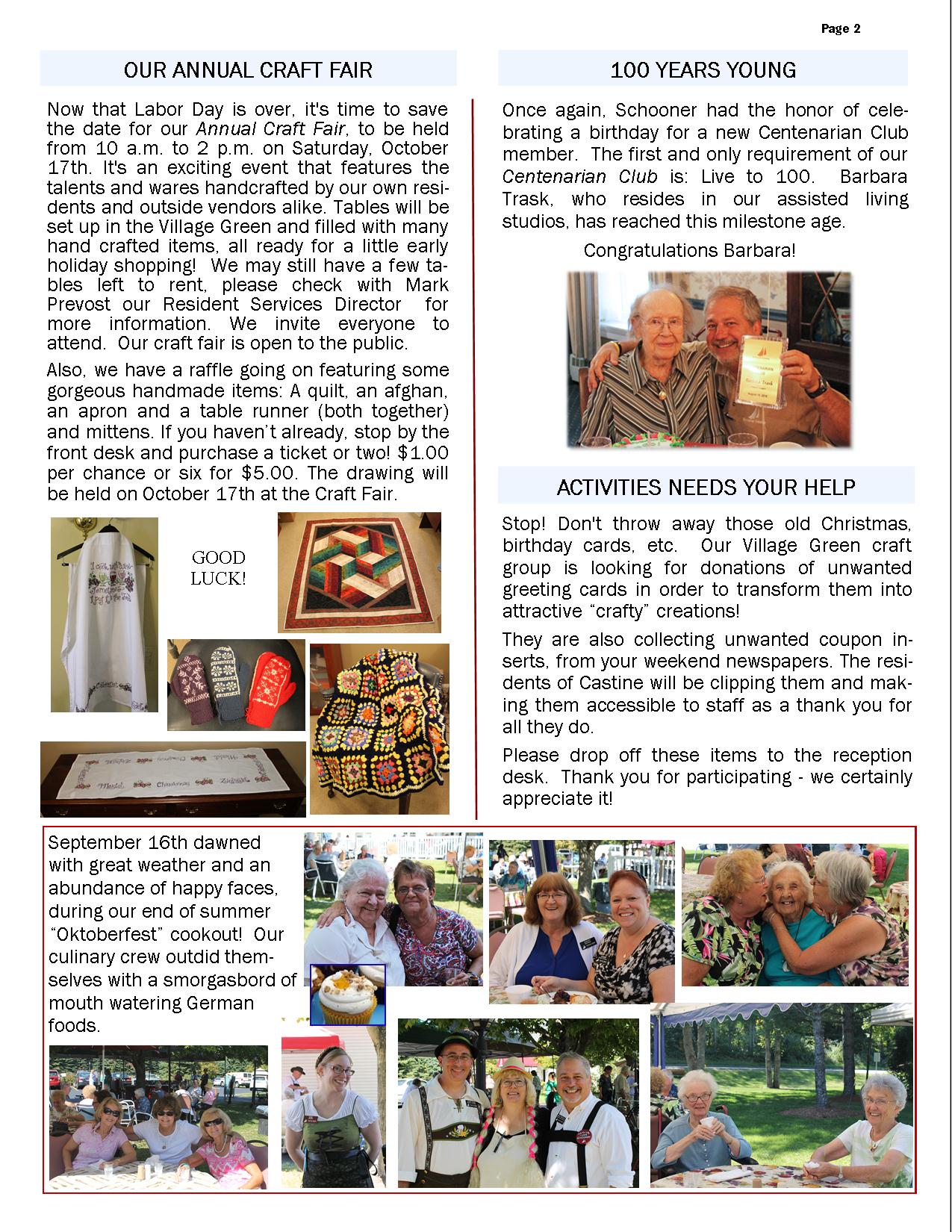 THE SCHOONER FLASH
October 2015
Issue 91
Writers: Your Schooner Team
Technical Editor: Sue O'Brien
Inside This Issue
**************
• Staff Appreciation
• Flu Shots
• Welcome
• Craft Fair
• BBQ Photos
• 100th Birthday
• Cards & Coupons
2015 STAFF APPRECIATION CEREMONY
The arrival of October quickly brings about the excitement of the Fall season with its crisp cool nights and colorful foliage. Here at Schooner, along with the arrival of Fall comes our annual Employee Appreciation Awards Ceremony. This is a fun celebration in honor of the hard work and dedication that comes from our staff, 365 days a year!
This year's ceremony will be Thursday, October 29th at 2:30 p.m. in our Village Green. Our annual Employee Recognition Ceremony honors all Schooner staff for their service and exceptional efforts.
Light foods and refreshments will be served at 2:15. All residents and staff are encouraged to attend.
"THE MOST BEAUTIFUL SATISFACTION IN THE WORLD IS WHEN SOMEONE APPRECIATES YOUR WORK".
FOR YOUR HEALTH…
The Schooner Flu Clinic will be from 9:00 a.m. to 1:00 p.m. on Thursday October 8th in the Castine Living Room. Androscoggin Home Health will be here to give Schooner residents the shots. Please sign up with the front desk if you are interested.
Flu shots 2nd week in October….
Who's New in the Neighborhood…
• William "Bud" Lewis apt. 624
• Georgette Pelletier stu. 110
• Lawrence & Carol Strout apt. 326
Our Annual Craft Fair
Now that Labor Day is over, it's time to save the date for our Annual Craft Fair, to be held from 10 a.m. to 2 p.m. on Saturday, October 17th. It's an exciting event that features the talents and wares handcrafted by our own residents and outside vendors alike. Tables will be set up in the Village Green and filled with many hand crafted items, all ready for a little early holiday shopping! We may still have a few tables left to rent, please check with Mark Prevost our Resident Services Director for more information. We invite everyone to attend. Our craft fair is open to the public.
Also, we have a raffle going on featuring some gorgeous handmade items: A quilt, an afghan, an apron and a table runner (both together) and mittens. If you haven't already, stop by the front desk and purchase a ticket or two! $1.00 per chance or six for $5.00. The drawing will be held on October 17th at the Craft Fair.
100 YEARS YOUNG
Once again, Schooner had the honor of celebrating a birthday for a new Centenarian Club member. The first and only requirement of our Centenarian Club is: Live to 100. Barbara Trask, who resides in our assisted living studios, has reached this milestone age.
ACTIVITIES NEEDS YOUR HELP
Stop! Don't throw away those old Christmas, birthday cards, etc. Our Village Green craft group is looking for donations of unwanted greeting cards in order to transform them into attractive "crafty" creations!
They are also collecting unwanted coupon inserts, from your weekend newspapers. The residents of Castine will be clipping them and making them accessible to staff as a thank you for all they do.
Please drop off these items to the reception desk. Thank you for participating – we certainly appreciate it!