October 2014 Schooner Flash Newsletter Page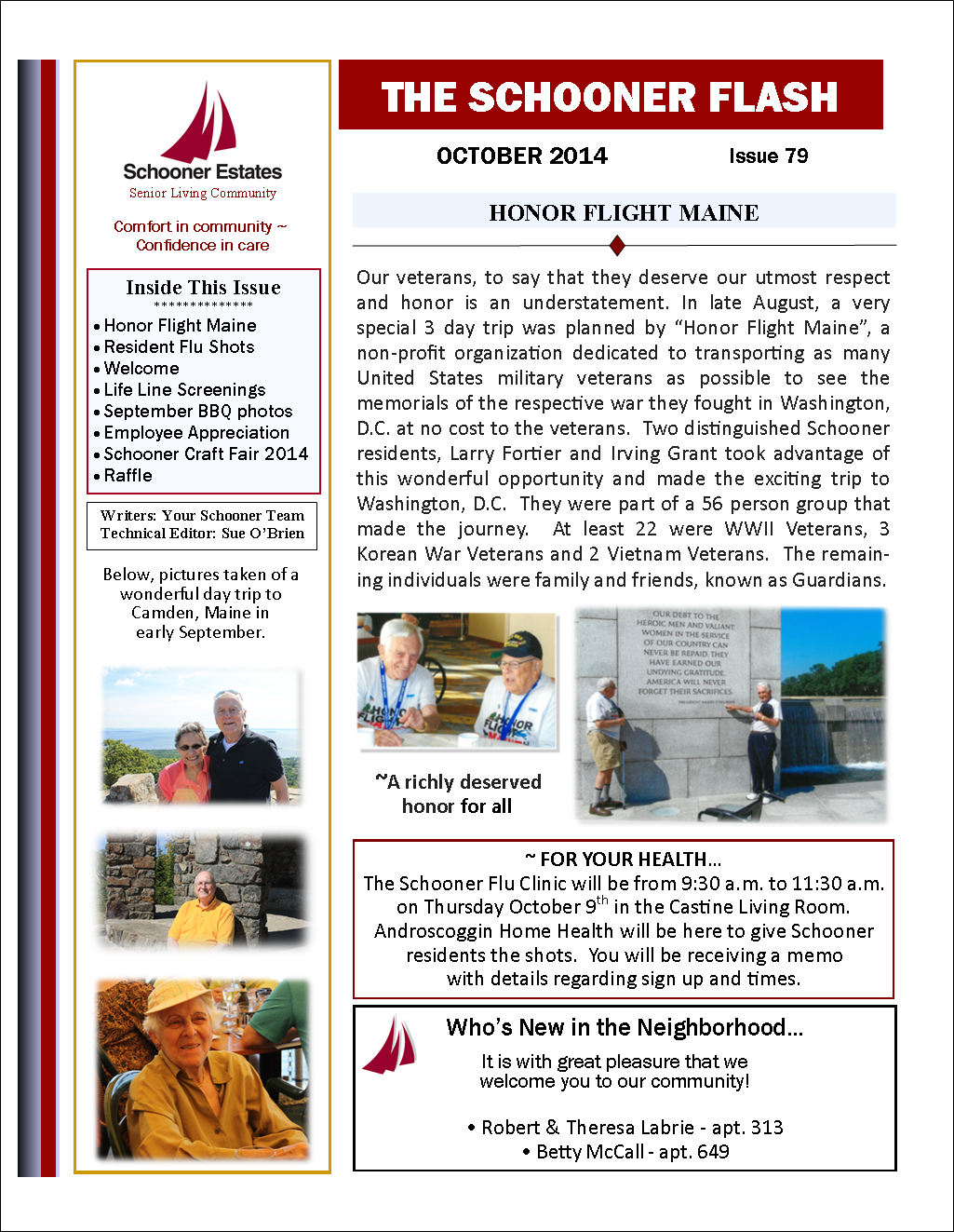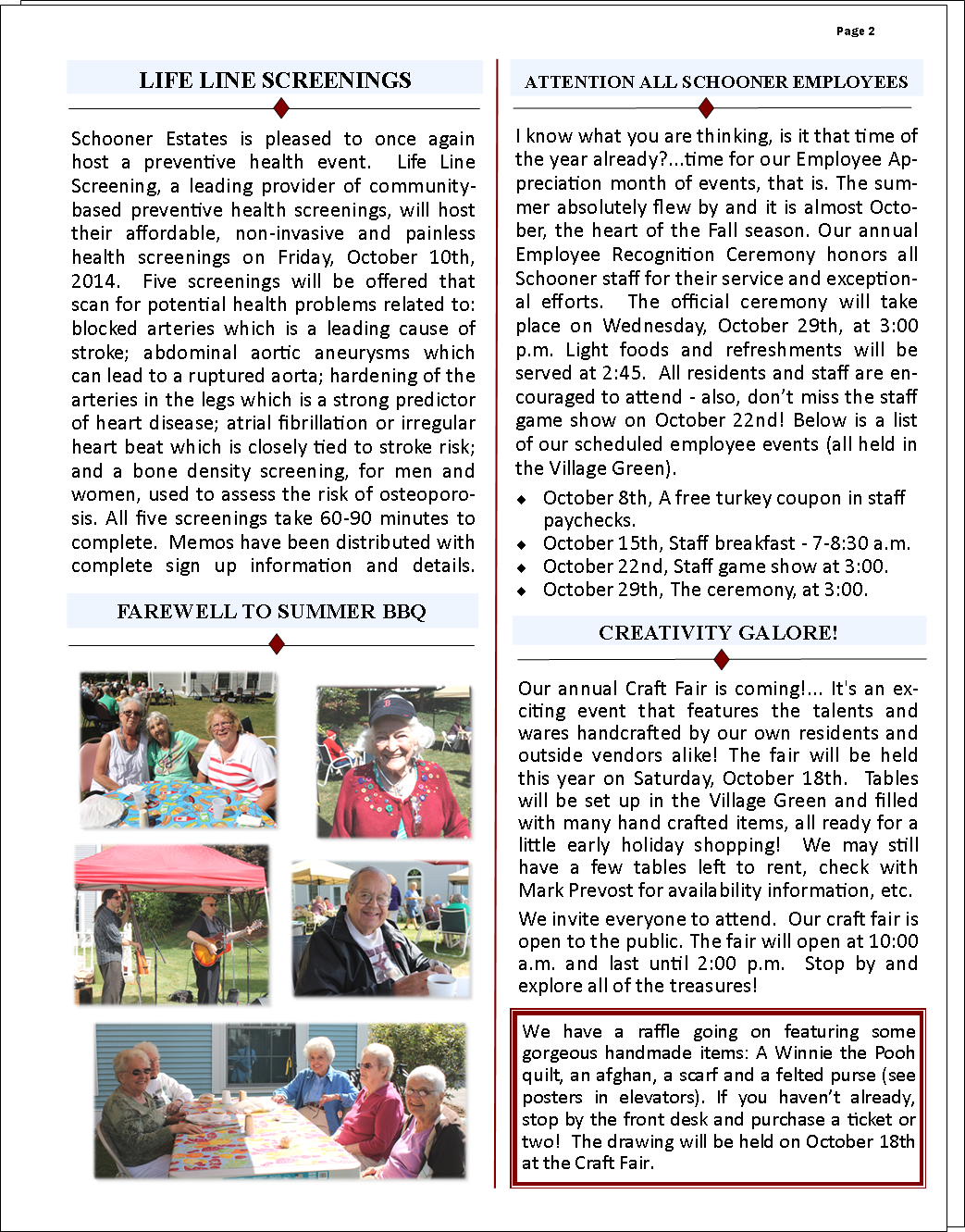 THE SCHOONER FLASH
Honor flight Maine
Our veterans, to say that they deserve our utmost respect and honor is an understatement. In late August, a very special 3 day trip was planned by "Honor Flight Maine", a non-profit organization dedicated to transporting as many United States military veterans as possible to see the memorials of the respective war they fought in Washington, D.C. at no cost to the veterans.  Two distinguished Schooner residents, Larry Fortier and Irving Grant took advantage of this wonderful opportunity and made the exciting trip to Washington, D.C.  They were part of a 56 person group that made the journey.  At least 22 were WWII Veterans, 3 Korean War Veterans and 2 Vietnam Veterans.  The remaining individuals were family and friends, known as Guardians.
FOR YOUR HEALTH…
The Schooner Flu Clinic will be from 9:30 a.m. to 11:30 a.m. on Thursday October 9th in the Castine Living Room.
Androscoggin Home Health will be here to give Schooner residents the shots.  You will be receiving a memo with details regarding sign up and times.
Flu shots 2nd week in October….
Who's New in the Neighborhood… 
It is with great pleasure that we welcome you to our community!
• Robert & Theresa Labrie – apt. 313
• Betty McCall – apt. 649
Life line screenings
Schooner Estates is pleased to once again host a preventive health event.  Life Line Screening, a leading provider of community-based preventive health screenings, will host their affordable, non-invasive and painless health screenings on Friday, October 10th, 2014.  Five screenings will be offered that scan for potential health problems related to: blocked arteries which is a leading cause of stroke; abdominal aortic aneurysms which can lead to a ruptured aorta; hardening of the arteries in the legs which is a strong predictor of heart disease; atrial fibrillation or irregular heart beat which is closely tied to stroke risk; and a bone density screening, for men and women, used to assess the risk of osteoporosis. All five screenings take 60-90 minutes to complete.  Memos have been distributed with complete sign up information and details.
Attention all Schooner employees
I know what you are thinking, is it that time of the year already?…time for our Employee Appreciation month of events, that is. The summer absolutely flew by and it is almost October, the heart of the Fall season. Our annual Employee Recognition Ceremony honors all Schooner staff for their service and exceptional efforts.  The official ceremony will take place on Wednesday, October 29th, at 3:00 p.m. Light foods and refreshments will be served at 2:45.  All residents and staff are encouraged to attend – also, don't miss the staff game show on October 22nd! Below is a list of our scheduled employee events (all held in the Village Green).
¨ October 8th, A free turkey coupon in staff paychecks.
¨ October 15th, Staff breakfast – 7-8:30 a.m.
¨ October 22nd, Staff game show at 3:00.
¨ October 29th, The ceremony, at 3:00.
Creativity galore!
Our annual Craft Fair is coming!… It's an exciting event that features the talents and wares handcrafted by our own residents and outside vendors alike! The fair will be held this year on Saturday, October 18th.  Tables will be set up in the Village Green and filled with many hand crafted items, all ready for a little early holiday shopping!  We may still have a few tables left to rent, check with Mark Prevost for availability information, etc.
We invite everyone to attend.  Our craft fair is open to the public. The fair will open at 10:00 a.m. and last until 2:00 p.m.  Stop by and explore all of the treasures!
We have a raffle going on featuring some gorgeous handmade items: A Winnie the Pooh quilt, an afghan, a scarf and a felted purse (see posters in elevators). If you haven't already, stop by the front desk and purchase a ticket or two!  The drawing will be held on October 18th at the Craft Fair.