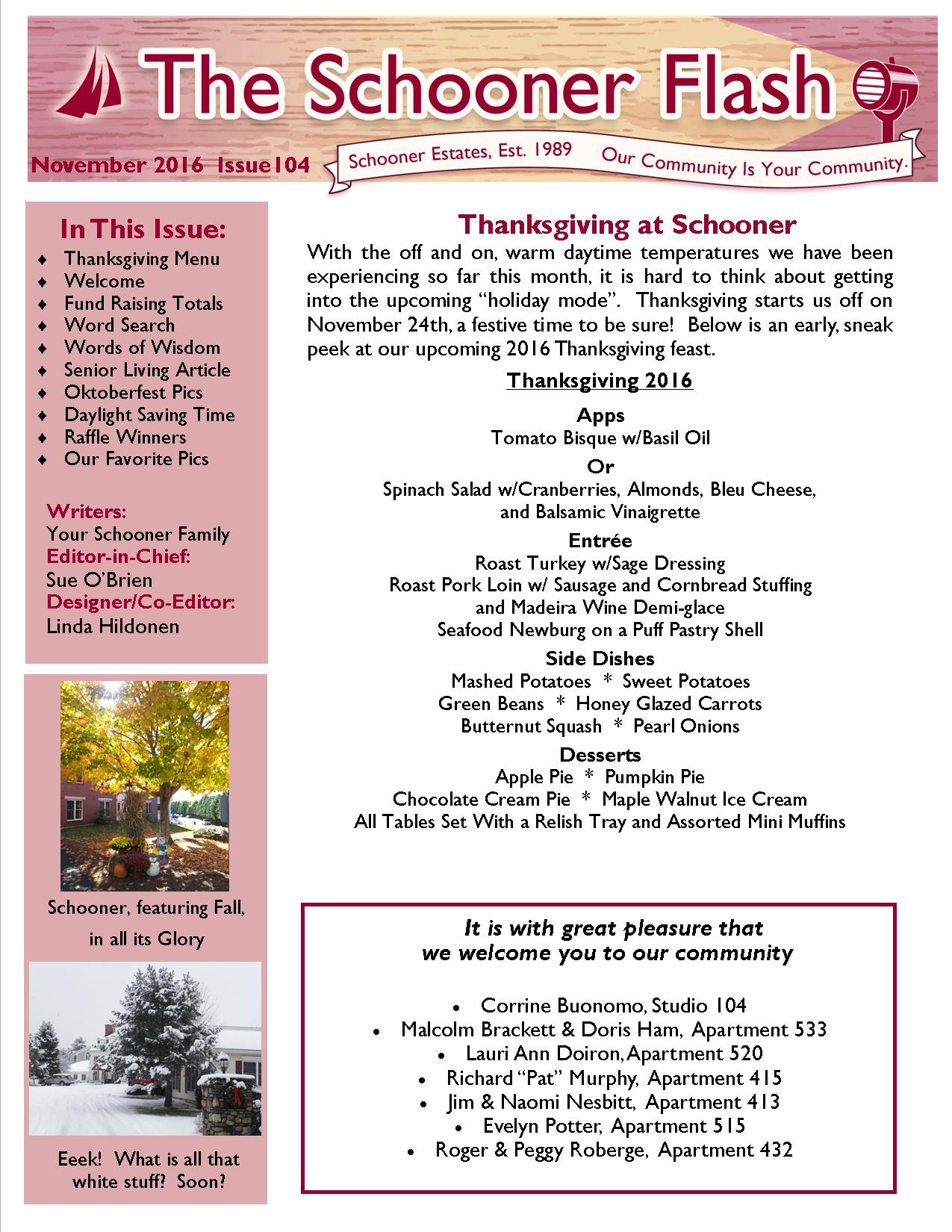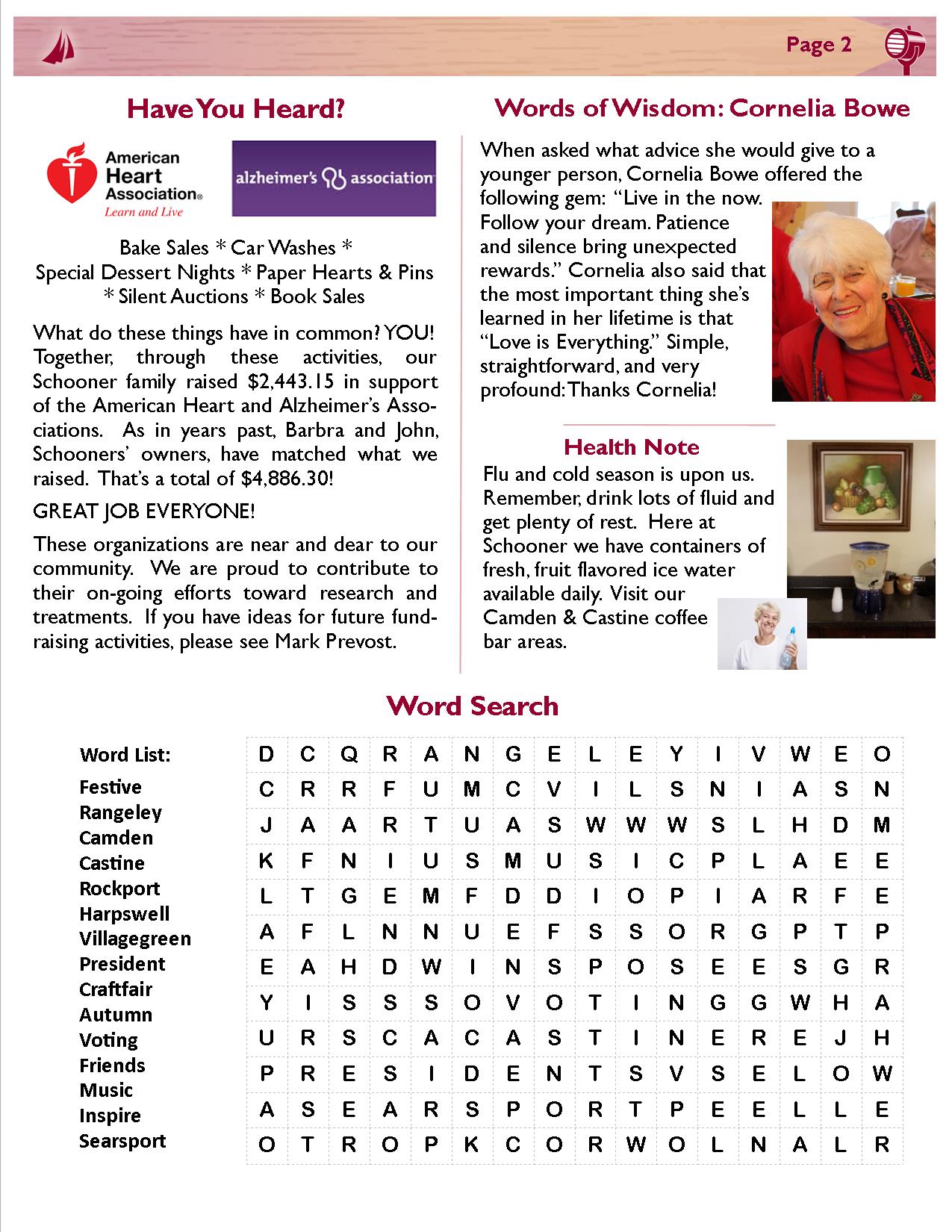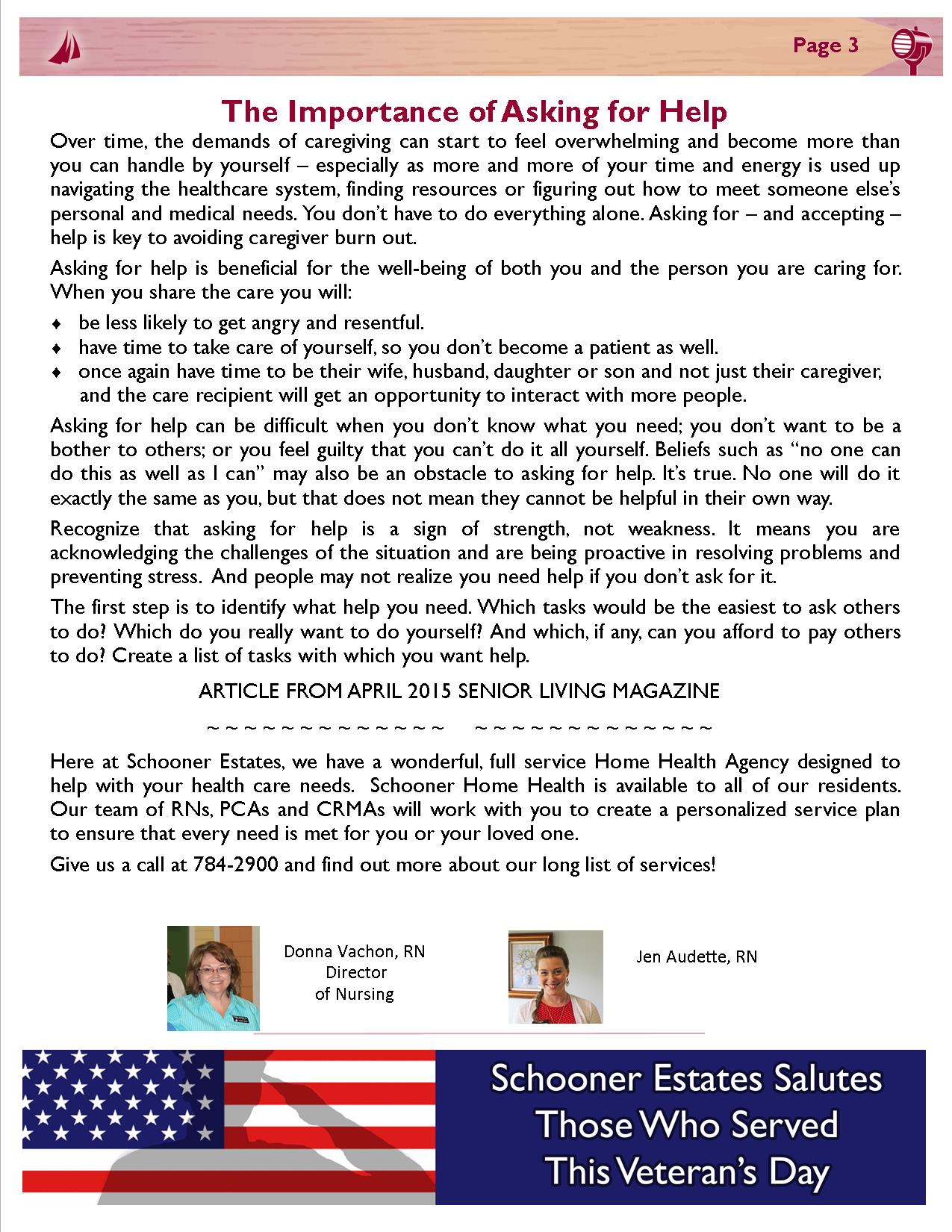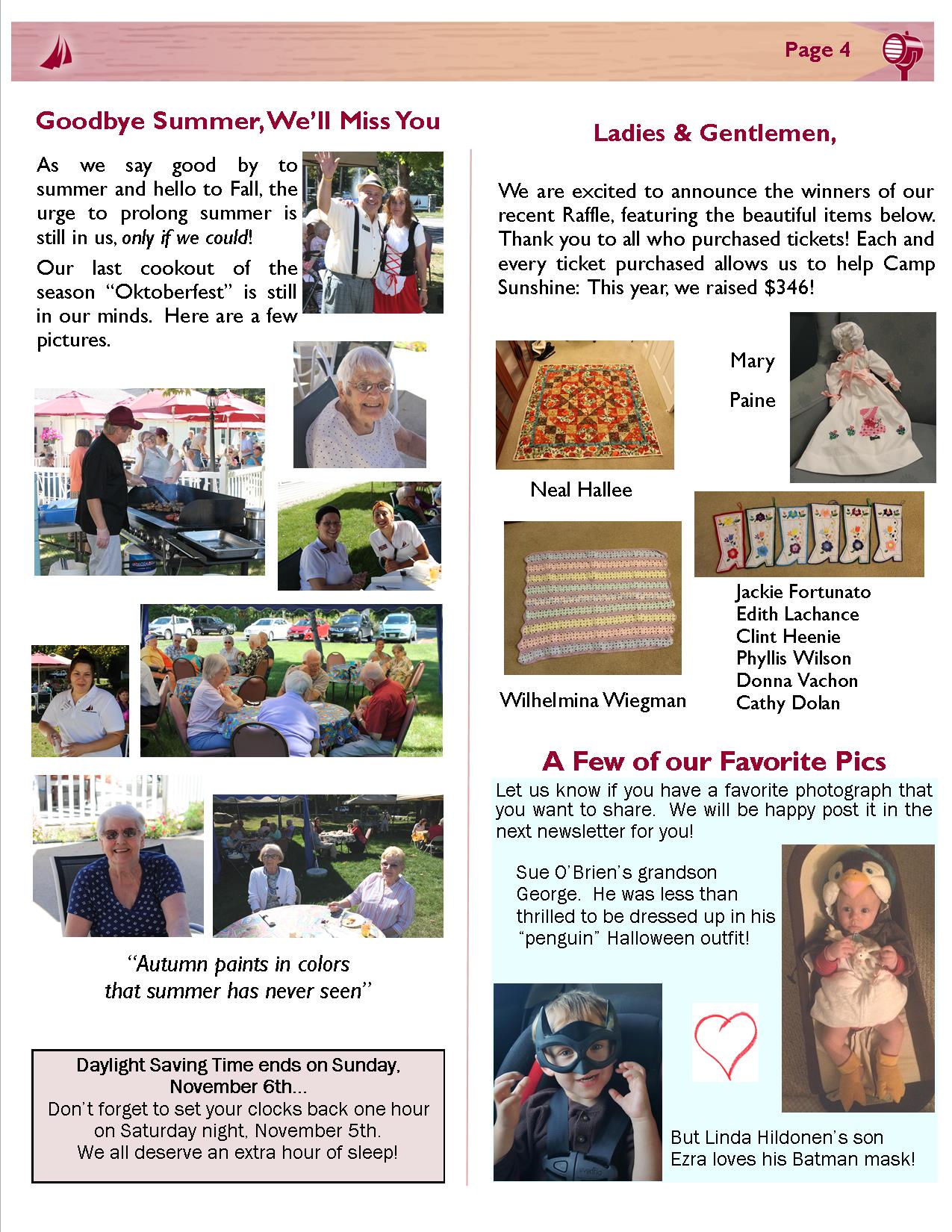 November 2016 Schooner Flash Newsletter
The Schooner Flash
November 2016
Issue 104
Writers:
Your Schooner Family
Editor-in-Chief:
Sue O'Brien
Designer/Co-Editor:
Linda Hildonen
In This Issue:
Thanksgiving Menu
Welcome
Fund Raising Totals
Word Search
Words of Wisdom
Senior Living Article
Oktoberfest Pics
Daylight Saving Time
Raffle Winners
Thanksgiving at Schooner
With the off and on, warm daytime temperatures we have been experiencing so far this month, it is hard to think about getting into the upcoming "holiday mode". Thanksgiving starts us off on November 24th, a festive time to be sure! Below is an early, sneak peek at our upcoming 2016 Thanksgiving feast.
 Thanksgiving 2016

Apps
Tomato Bisque w/Basil Oil
Or
Spinach Salad w/Cranberries, Almonds, Bleu Cheese, and Balsamic Vinaigrette.
Entrée
Roast Turkey w/Sage Dressing
Roast Pork Loin w/ Sausage and Cornbread Stuffing
and Madeira Wine Demi-glace
Seafood Newburg on a Puff Pastry Shell
Side Dishes
Mashed Potatoes
Sweet Potatoes
Green Beans
Honey Glazed Carrots
Butternut Squash
Pearl Onions
Desserts
Apple Pie
Pumpkin Pie
Chocolate Cream Pie
Maple Walnut Ice Cream
All Tables Set With a Relish Tray and Assorted Mini Muffins
It is with great pleasure that we welcome you to our community!
Corrine Buonomo, Studio 104
Malcolm Brackett & Doris Ham, Apartment 533
Lauri Ann Doiron, Apartment 520
Richard "Pat" Murphy, Apartment 415
Jim & Naomi Nesbitt, Apartment 413
Evelyn Potter, Apartment 515
Roger & Peggy Roberge, Apartment 432
Have You Heard?
Bake Sales
Car Washes
Special Dessert Nights
Paper Hearts & Pins
Silent Auctions
Book Sales
What do these things have in common? YOU!
Together, through these activities, our Schooner family raised $2,443.15 in support of the American Heart and Alzheimer's Associations. As in years past, Barbra and John, Schooners' owners, have matched what we raised. That's a total of $4,886.30!
GREAT JOB EVERYONE!
These organizations are near and dear to our community. We are proud to contribute to their on-going efforts toward research and treatments. If you have ideas for future fundraising activities, please see Mark Prevost.
Words of Wisdom: Cornelia Bowe
When asked what advice she would give to a younger person, Cornelia Bowe offered the following gem: "Live in the now. Follow your dream. Patience and silence bring unexpected rewards." Cornelia also said that the most important thing she's learned in her lifetime is that "Love is Everything." Simple, straightforward, and very profound: Thanks Cornelia!
Health Note
Flu and cold season is upon us. Remember, drink lots of fluid and get plenty of rest. Here at Schooner we have containers of fresh, fruit flavored ice water available daily. Visit our Camden & Castine coffee bar areas.
The Importance of Asking for Help
Over time, the demands of caregiving can start to feel overwhelming and become more than you can handle by yourself – especially as more and more of your time and energy is used up navigating the healthcare system, finding resources or figuring out how to meet someone else's personal and medical needs. You don't have to do everything alone. Asking for – and accepting – help is key to avoiding caregiver burn out.
Asking for help is beneficial for the well-being of both you and the person you are caring for. When you share the care you will:
¨ be less likely to get angry and resentful.
¨ have time to take care of yourself, so you don't become a patient as well.
¨ once again have time to be their wife, husband, daughter or son and not just their caregiver, and the care recipient will get an opportunity to interact with more people.
Asking for help can be difficult when you don't know what you need; you don't want to be a bother to others; or you feel guilty that you can't do it all yourself. Beliefs such as "no one can do this as well as I can" may also be an obstacle to asking for help. It's true. No one will do it exactly the same as you, but that does not mean they cannot be helpful in their own way.
Recognize that asking for help is a sign of strength, not weakness. It means you are acknowledging the challenges of the situation and are being proactive in resolving problems and preventing stress. And people may not realize you need help if you don't ask for it.
The first step is to identify what help you need. Which tasks would be the easiest to ask others to do? Which do you really want to do yourself? And which, if any, can you afford to pay others to do? Create a list of tasks with which you want help.
ARTICLE FROM APRIL 2015 SENIOR LIVING MAGAZINE
Here at Schooner Estates, we have a wonderful, full service Home Health Agency designed to help with your health care needs. Schooner Home Health is available to all of our residents. Our team of RNs, PCAs and CRMAs will work with you to create a personalized service plan to ensure that every need is met for you or your loved one.
Give us a call at 784-2900 and find out more about our long list of services!
Ladies & Gentlemen
We are excited to announce the winners of our recent Raffle, featuring the beautiful items below. Thank you to all who purchased tickets! Each and every ticket purchased allows us to help Camp Sunshine: This year, we raised $346!
Mary Paine
Neal Hallee
Wilhemina Wiegman
Jackie Fortunato
Edith Lachance
Clint Heenie
Phyllis Wilson
Donna Vachon
Cathy Dolan