November 2015 Schooner Flash Newsletter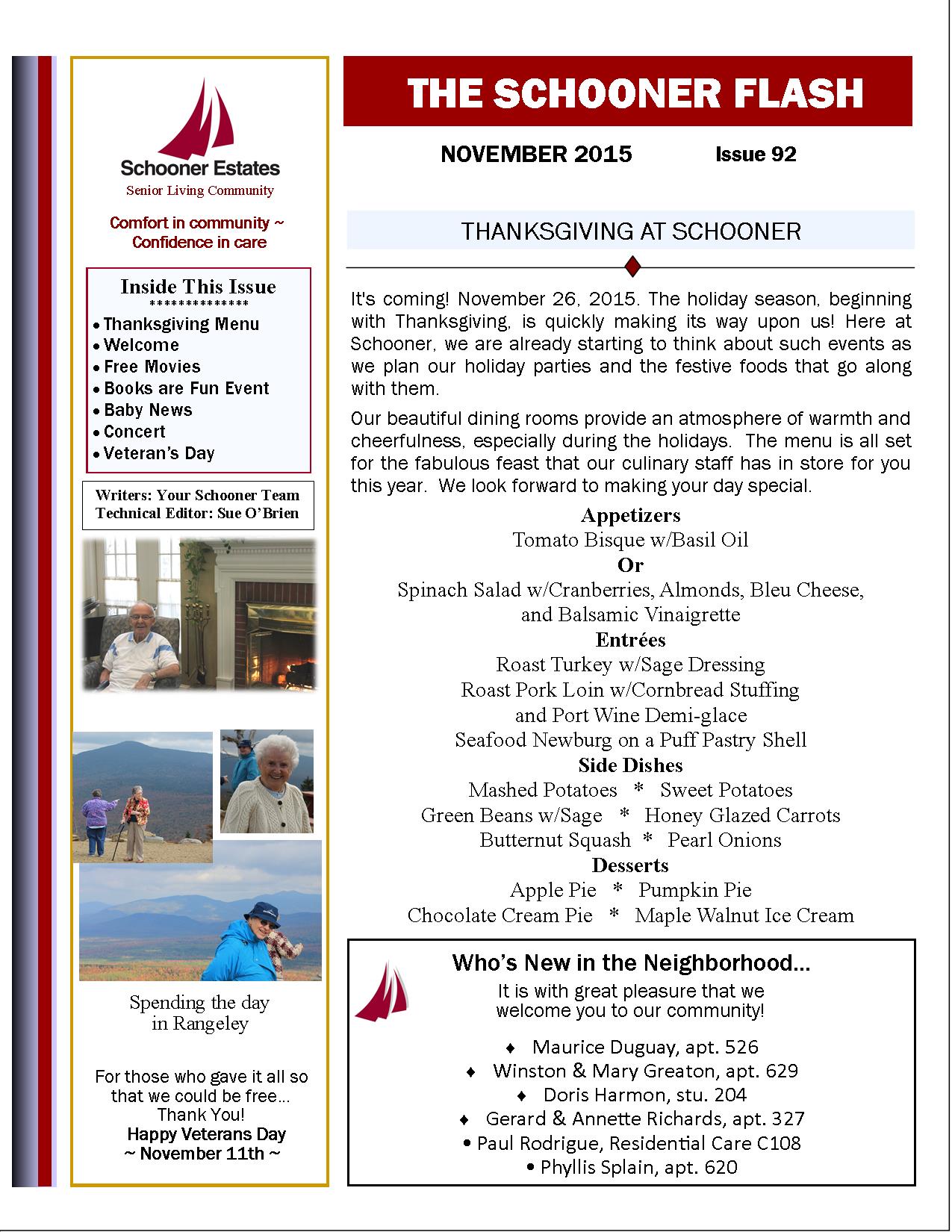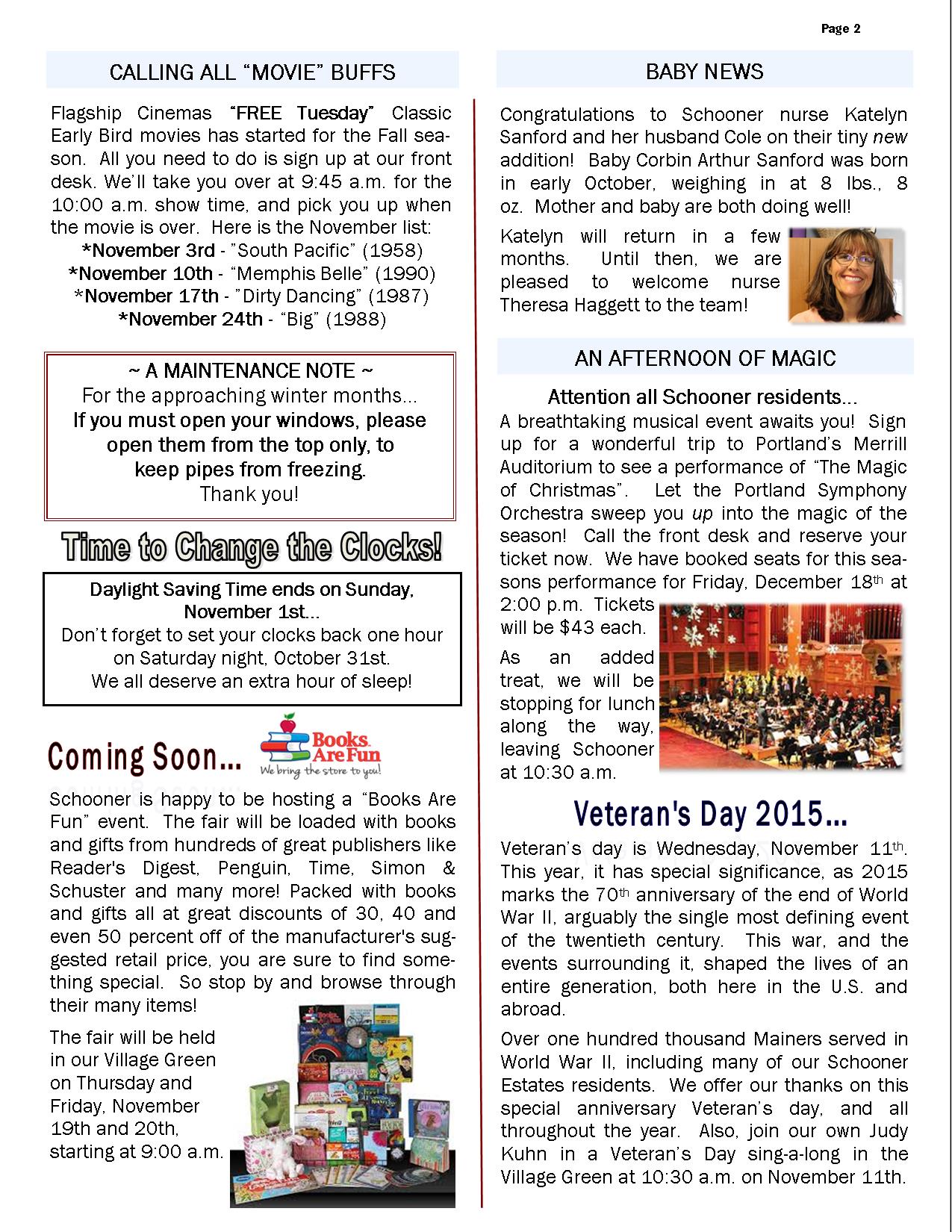 The Schooner Flash
November 2015
Issue 92
Writers: Your Schooner Team
Technical Editor: Sue O'Brien
Inside this Issue
• Thanksgiving Menu
• Welcome
• Free Movies
• Books are Fun Event
• Baby News
• Concert
• Veteran's Day
Thanksgiving at Schooner
It's coming! November 26, 2015. The holiday season, beginning with Thanksgiving, is quickly making its way upon us! Here at Schooner, we are already starting to think about such events as we plan our holiday parties and the festive foods that go along with them.
Our beautiful dining rooms provide an atmosphere of warmth and cheerfulness, especially during the holidays. The menu is all set for the fabulous feast that our culinary staff has in store for you this year. We look forward to making your day special.
Appetizers
Tomato Bisque w/Basil Oil
Or
Spinach Salad w/Cranberries, Almonds, Bleu Cheese, and Balsamic Vinaigrette
Entrées
Roast Turkey w/Sage Dressing
Roast Pork Loin w/Cornbread Stuffing and Port Wine Demi-glace
Seafood Newburg on a Puff Pastry Shell
Side Dishes
Mashed Potatoes
Sweet Potatoes
Green Beans w/Sage
Honey Glazed Carrots
Butternut Squash
Pearl Onions
Desserts
Apple Pie
Pumpkin Pie
Chocolate Cream Pie
Maple Walnut Ice Cream
All Tables Set With a Relish Tray and Assorted Mini Muffins w/ Whipped Sweet Butter
Who's New in the Neighborhood…
It is with great pleasure that we welcome you to our community!
• Maurice Duguay, apt. 526
• Winston & Mary Greaton, apt. 629
• Doris Harmon, stu. 204
• Gerard & Annette Richards, apt. 327
• Paul Rodrigue, Residential Care C108
• Phyllis Splain, apt. 620
Calling All Movie Buffs!
Flagship Cinemas "FREE Tuesday" Classic Early Bird movies has started for the Fall season. All you need to do is sign up at our front desk. We'll take you over at 9:45 a.m. for the 10:00 a.m. show time, and pick you up when the movie is over. Here is the November list:
*November 3rd – "South Pacific" (1958)
*November 10th – "Memphis Belle" (1990)
*November 17th – "Dirty Dancing" (1987)
*November 24th – "Big" (1988)
Baby News!
Congratulations to Schooner nurse Katelyn Sanford and her husband Cole on their tiny new addition! Baby Corbin Arthur Sanford was born in early October, weighing in at 8 lbs., 8 oz. Mother and baby are both doing well!
Katelyn will return in a few months. Until then, we are pleased to welcome nurse Theresa Haggett to the team!
~ A MAINTENANCE NOTE ~
For the approaching winter months…
If you must open your windows, please open them from the top only, to keep pipes from freezing. Thank you!
AN AFTERNOON OF MAGIC
Attention all Schooner residents…
A breathtaking musical event awaits you! Sign up for a wonderful trip to Portland's Merrill Auditorium to see a performance of "The Magic of Christmas". Let the Portland Symphony Orchestra sweep you up into the magic of the season! Call the front desk and reserve your ticket now. We have booked seats for this seasons performance for Friday, December 18th at 2:00 p.m. Tickets will be $43 each.
As an added treat, we will be stopping for lunch along the way, leaving Schooner at 10:30 a.m.
This is an amazing event with something for everyone. Don't miss it!
Time to Change the Clocks!
Daylight Saving Time ends on Sunday, November 1st…
Don't forget to set your clocks back one hour on Saturday night, October 31st. We all deserve an extra hour of sleep!
Coming Soon
Schooner is happy to be hosting a "Books Are Fun" event. The fair will be loaded with books and gifts from hundreds of great publishers like Reader's Digest, Penguin, Time, Simon & Schuster and many more! Packed with books and gifts all at great discounts of 30, 40 and even 50 percent off of the manufacturer's suggested retail price, you are sure to find something special. So stop by and browse through their many items!
The fair will be held in our Village Green on Thursday and Friday, November 19th and 20th, starting at 9:00 a.m.
Veteran's Day 2015
Veteran's day is Wednesday, November 11th. This year, it has special significance, as 2015 marks the 70th anniversary of the end of World War II, arguably the single most defining event of the twentieth century. This war, and the events surrounding it, shaped the lives of an entire generation, both here in the U.S. and abroad.
Over one hundred thousand Mainers served in World War II, including many of our Schooner Estates residents. We offer our thanks on this special anniversary Veteran's day, and all throughout the year. Also, join our own Judy Kuhn in a Veteran's Day sing-a-long in the Village Green at 10:30 a.m. on November 11th.