May 2017 Schooner Flash Newsletter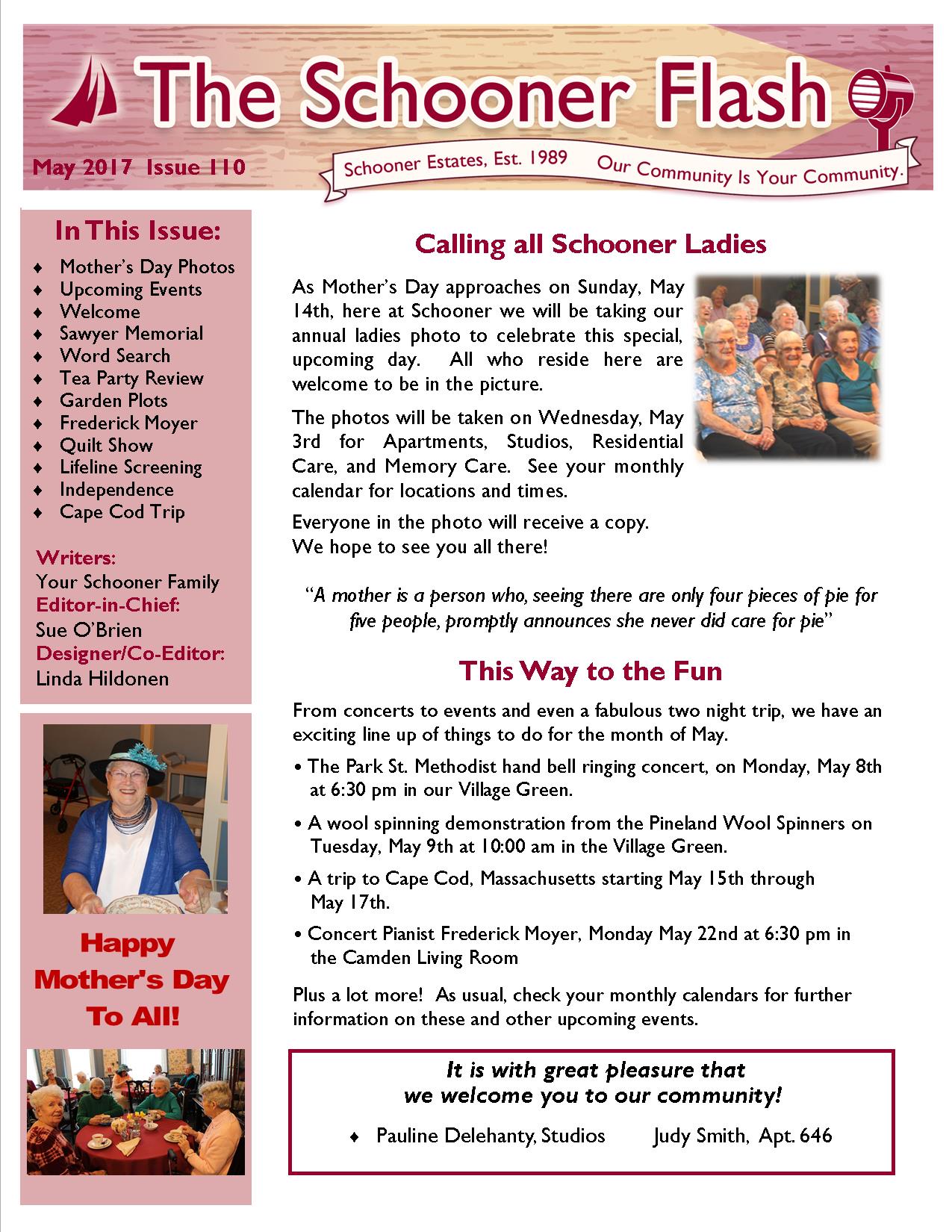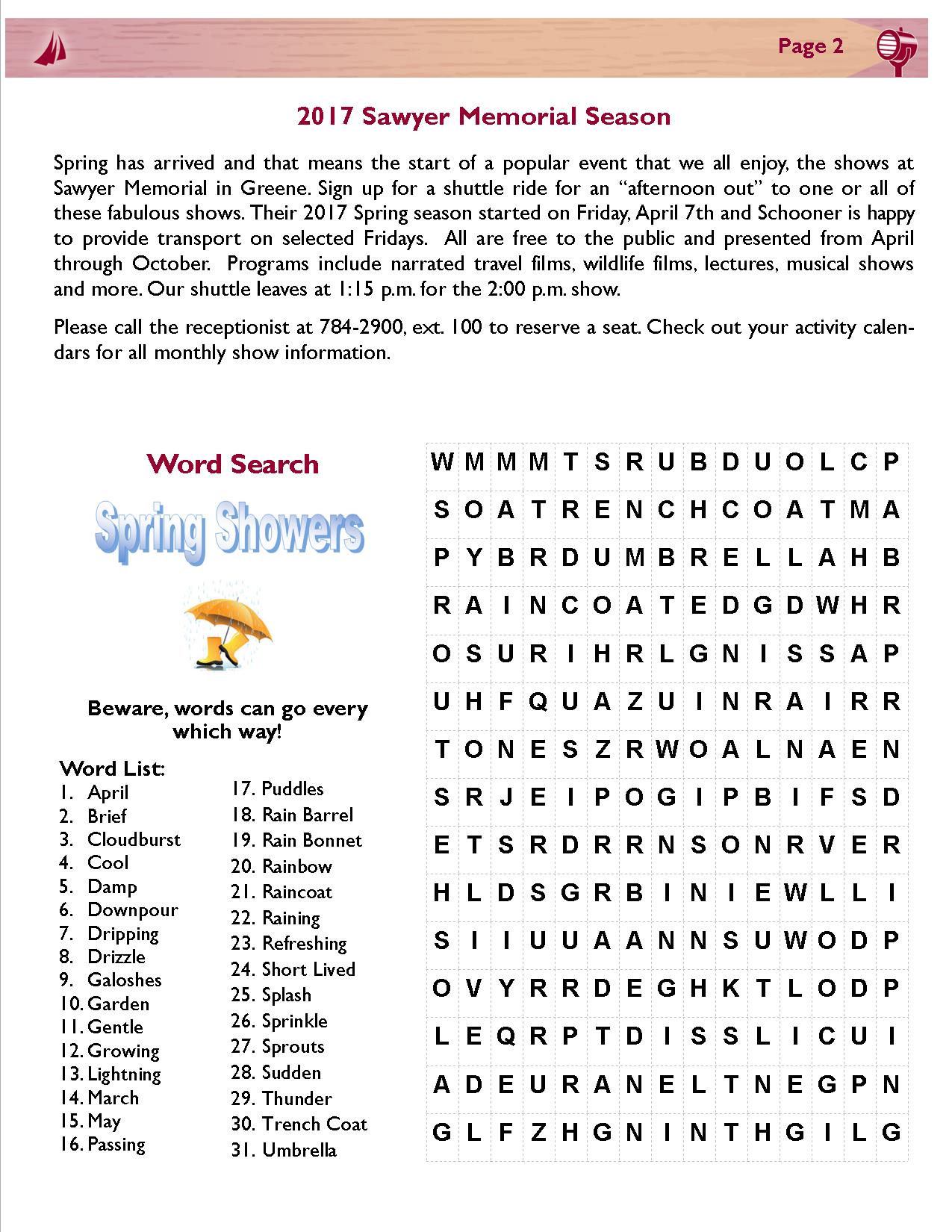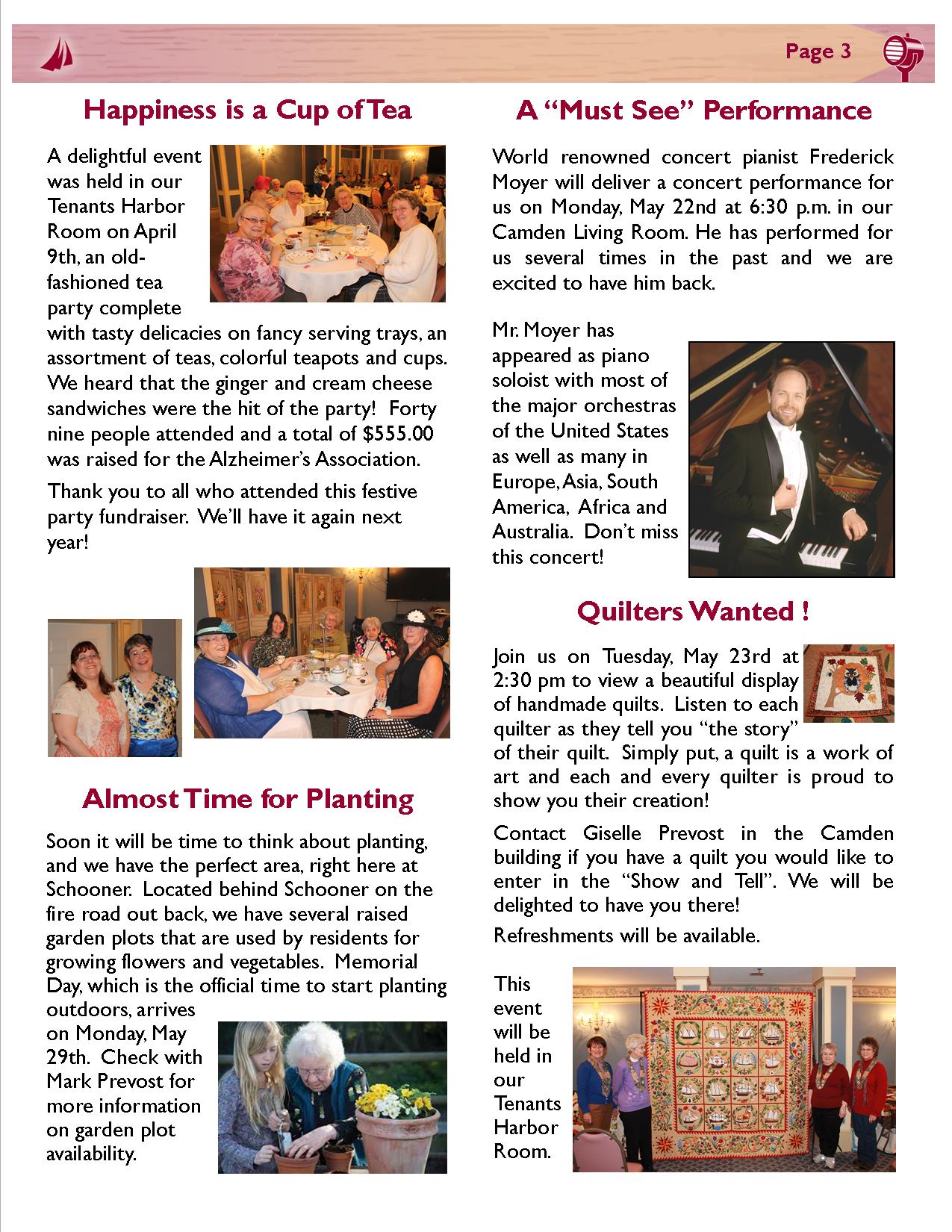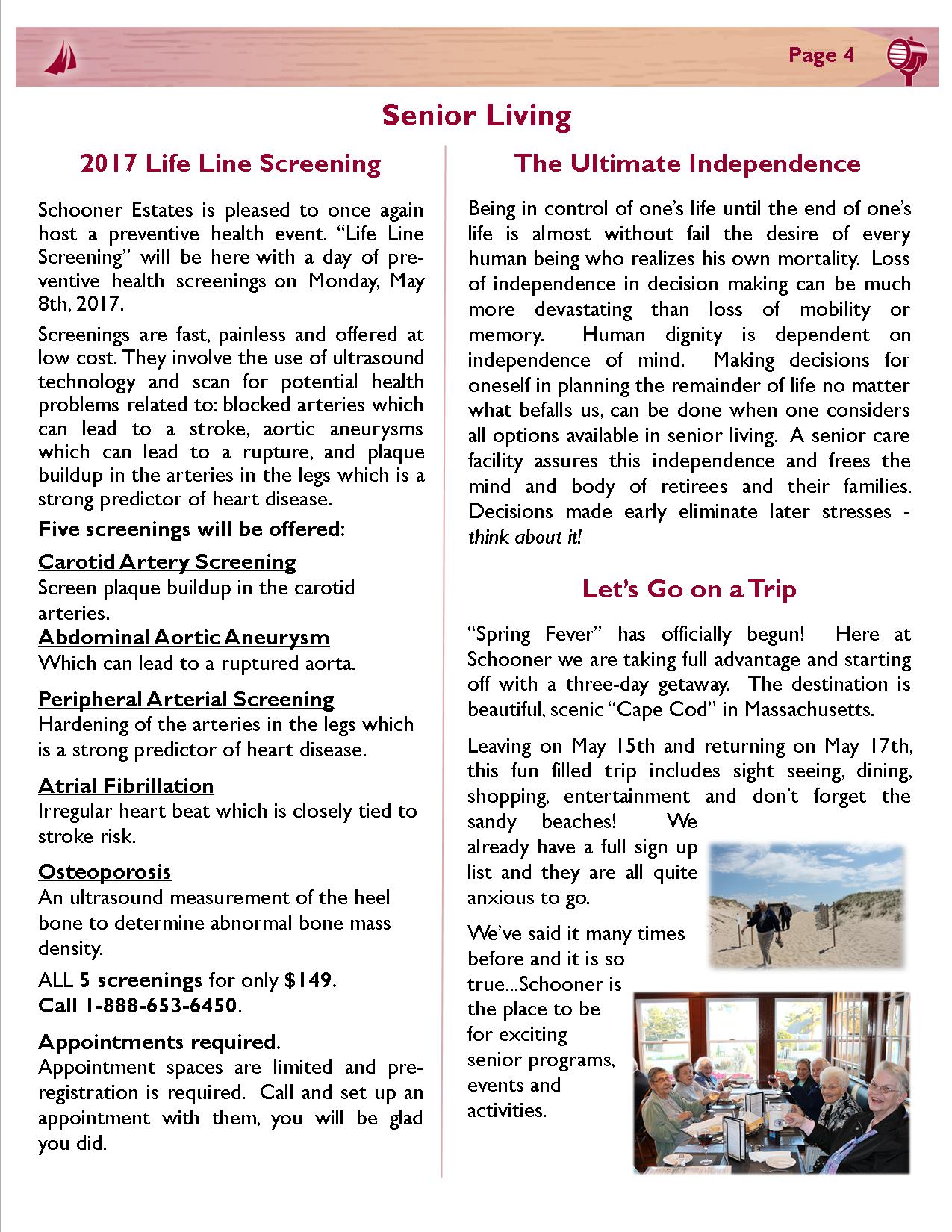 The Schooner Flash
May 2017
Issue 110
Writers:
Your Schooner Family
Editor-in-Chief:
Sue O'Brien
Designer/Co-Editor:
Linda Hildonen
In This Issue:
Mother's Day Photos
Upcoming Events
Welcome
Sawyer Memorial
Word Search
Tea Party Review
Garden Plots
Frederick Moyer
Quilt Show
Lifeline Screening
Independence
Cape Cod Trip
Calling all Schooner Ladies
As Mother's Day approaches on Sunday, May 14th, here at Schooner we will be taking our annual ladies photo to celebrate this special, upcoming day. All who reside here are welcome to be in the picture.
The photos will be taken on Wednesday, May 3rd for Apartments, Studios, Residential Care, and Memory Care. See your monthly calendar for locations and times.
Everyone in the photo will receive a copy. We hope to see you all there!
"A mother is a person who, seeing there are only four pieces of pie for five people, promptly announces she never did care for pie"
This Way to the Fun
From concerts to events and even a fabulous two night trip, we have an exciting line up of things to do for the month of May.
• The Park St. Methodist hand bell ringing concert, on Monday, May 8th at 6:30 pm in our Village Green.
• A wool spinning demonstration from the Pineland Wool Spinners on Tuesday, May 9th at 10:00 am in the Village Green.
• A trip to Cape Cod, Massachusetts starting May 15th through May 17th.
• Concert Pianist Frederick Moyer, Monday May 22nd at 6:30 pm in the Camden Living Room
Plus a lot more! As usual, check your monthly calendars for further information on these and other upcoming events.
It is with great pleasure that we welcome you to our community!
Pauline Delehanty, Studios
Judy Smith, Apt. 646
2017 Sawyer Memorial Season
Spring has arrived and that means the start of a popular event that we all enjoy, the shows at Sawyer Memorial in Greene. Sign up for a shuttle ride for an "afternoon out" to one or all of these fabulous shows. Their 2017 Spring season started on Friday, April 7th and Schooner is happy to provide transport on selected Fridays. All are free to the public and presented from April through October. Programs include narrated travel films, wildlife films, lectures, musical shows and more. Our shuttle leaves at 1:15 p.m. for the 2:00 p.m. show.
Please call the receptionist at 784-2900, ext. 100 to reserve a seat. Check out your activity calendars for all monthly show information.
Happiness is a Cup of Tea
A delightful event was held in our Tenants Harbor Room on April 9th, an old-fashioned tea party complete with tasty delicacies on fancy serving trays, an assortment of teas, colorful teapots and cups. We heard that the ginger and cream cheese sandwiches were the hit of the party! Forty nine people attended and a total of $555.00 was raised for the Alzheimer's Association.
Thank you to all who attended this festive party fundraiser. We'll have it again next year!
A "Must See" Performance
World renowned concert pianist Frederick Moyer will deliver a concert performance for us on Monday, May 22nd at 6:30 p.m. in our Camden Living Room. He has performed for us several times in the past and we are excited to have him back.
Mr. Moyer has appeared as piano soloist with most of the major orchestras of the United States as well as many in Europe, Asia, South America, Africa and Australia. Don't miss this concert!
Almost Time for Planting
Soon it will be time to think about planting, and we have the perfect area, right here at Schooner. Located behind Schooner on the fire road out back, we have several raised garden plots that are used by residents for growing flowers and vegetables. Memorial Day, which is the official time to start planting outdoors, arrives on Monday, May 29th. Check with Mark Prevost for more information on garden plot availability.
Quilters Wanted!
Join us on Tuesday, May 23rd at 2:30 pm to view a beautiful display of handmade quilts. Listen to each quilter as they tell you "the story" of their quilt. Simply put, a quilt is a work of art and each and every quilter is proud to show you their creation!
Contact Giselle Prevost in the Camden building if you have a quilt you would like to enter in the "Show and Tell". We will be delighted to have you there!
Refreshments will be available.
This event will be held in our Tenants Harbor Room.
2017 Life Line Screening
Schooner Estates is pleased to once again host a preventive health event. "Life Line Screening" will be here with a day of preventive health screenings on Monday, May 8th, 2017.
Screenings are fast, painless and offered at low cost. They involve the use of ultrasound technology and scan for potential health problems related to: blocked arteries which can lead to a stroke, aortic aneurysms which can lead to a rupture, and plaque buildup in the arteries in the legs which is a strong predictor of heart disease.
Five screenings will be offered:
Carotid Artery Screening
Screen plaque buildup in the carotid arteries.
Abdominal Aortic Aneurysm
Which can lead to a ruptured aorta.
Peripheral Arterial Screening
Hardening of the arteries in the legs which is a strong predictor of heart disease.
Atrial Fibrillation
Irregular heart beat which is closely tied to stroke risk.
Osteoporosis
An ultrasound measurement of the heel bone to determine abnormal bone mass density.
ALL 5 screenings for only $149.
Call 1-888-653-6450.
Appointments required.
Appointment spaces are limited and pre-registration is required. Call and set up an appointment with them, you will be glad you did.
The Ultimate Independence
Being in control of one's life until the end of one's life is almost without fail the desire of every human being who realizes his own mortality. Loss of independence in decision making can be much more devastating than loss of mobility or memory. Human dignity is dependent on independence of mind. Making decisions for oneself in planning the remainder of life no matter what befalls us, can be done when one considers all options available in senior living. A senior care facility assures this independence and frees the mind and body of retirees and their families. Decisions made early eliminate later stresses – think about it!
Let's Go on a Trip
"Spring Fever" has officially begun! Here at Schooner we are taking full advantage and starting off with a three-day getaway. The destination is beautiful, scenic "Cape Cod" in Massachusetts.
Leaving on May 15th and returning on May 17th, this fun filled trip includes sight seeing, dining, shopping, entertainment and don't forget the sandy beaches! We already have a full sign up list and they are all quite anxious to go.
We've said it many times before and it is so true…Schooner is the place to be for exciting senior programs, events and activities.