June 2018 Schooner Flash Newsletter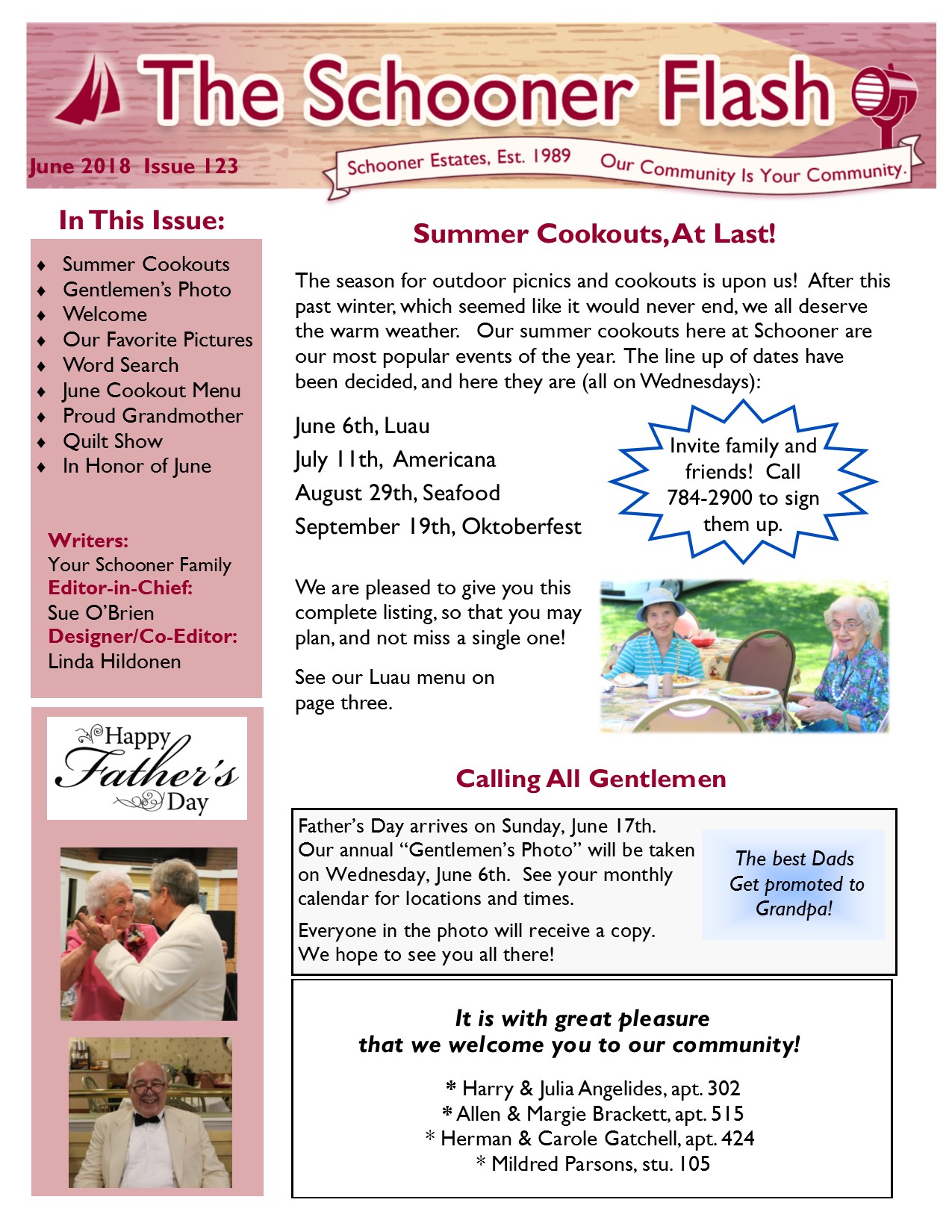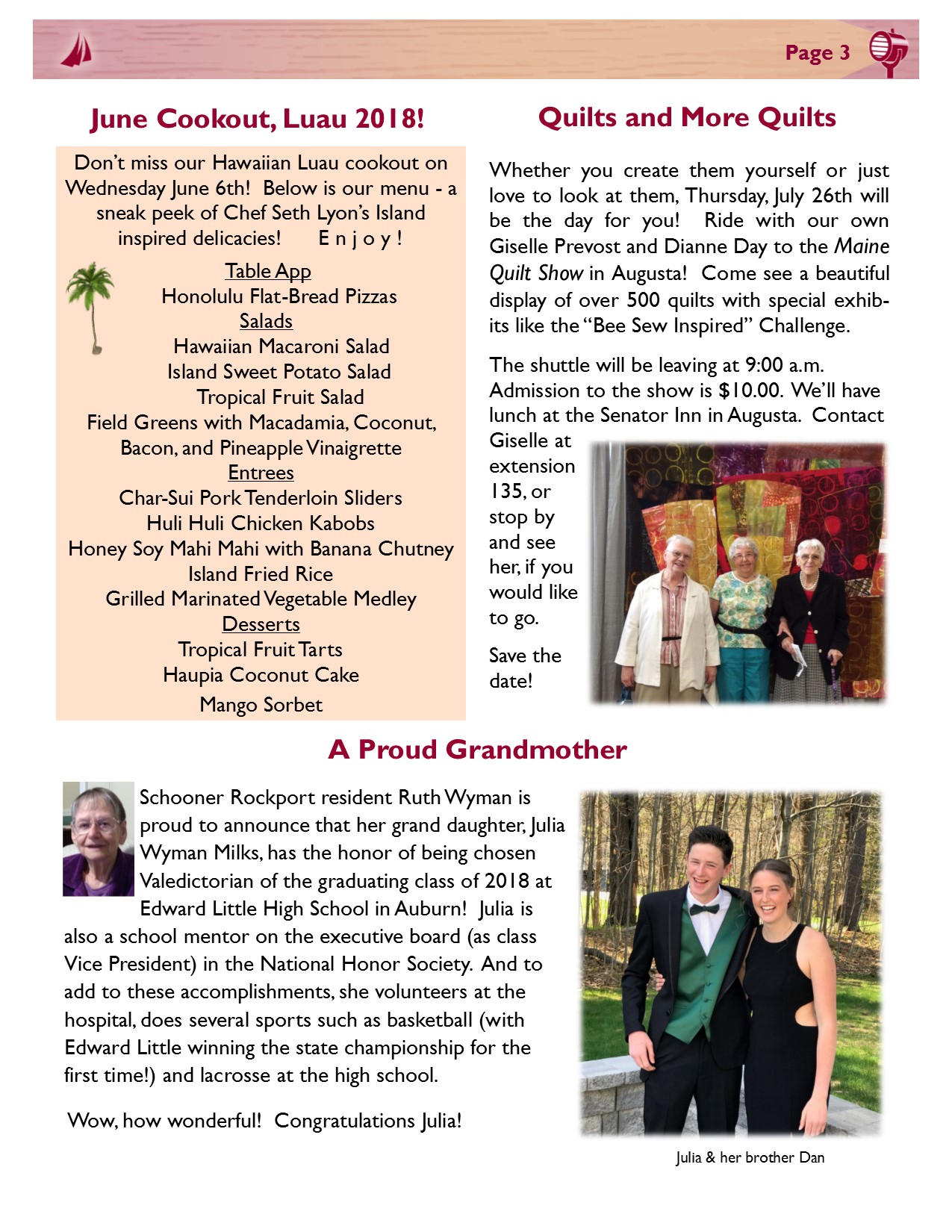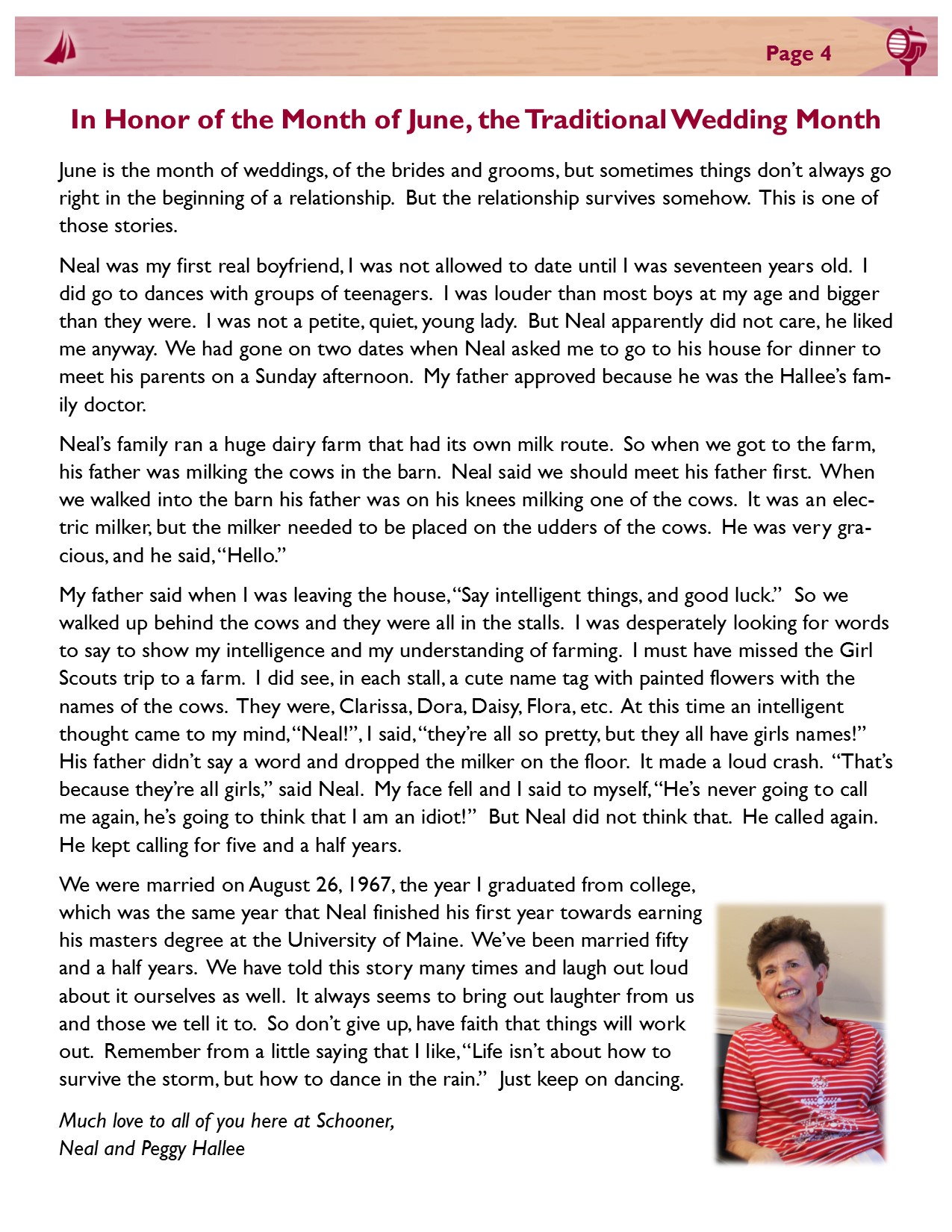 The Schooner Flash
June 2018
Issue 123
Writers:
Your Schooner Family
Editor-In-Chief:
Sue O'Brien
Assistant Editor:
Linda Hildonen
In This Issue:
Summer Cookouts
Gentlemen's Photo
Welcome
Our Favorite Pictures
Word Search
June Cookout Menu
Proud Grandmother
Quilt Show
In Honor of June
Summer Cookouts, At Last!
The season for outdoor picnics and cookouts is upon us! After this past winter, which seemed like it would never end, we all deserve the warm weather. Our summer cookouts here at Schooner are our most popular events of the year. The line up of dates have been decided, and here they are (all on Wednesdays):
June 6th, Luau
July 11th, Americana
August 29th, Seafood
September 19th, Oktoberfest
We are pleased to give you this complete listing, so that you may plan, and not miss a single one!
June Cookout, Luau 2018
Don't miss our Hawaiian Luau cookout on Wednesday June 6th! Below is our menu – a sneak peek of Chef Seth Lyon's Island inspired delicacies! E n j o y !
Table App
Honolulu Flat-Bread Pizzas

Salads
Hawaiian Macaroni Salad
Island Sweet Potato Salad
Tropical Fruit Salad
Field Greens with Macadamia, Coconut, Bacon, and Pineapple Vinaigrette
Entrees
Char-Sui Pork Tenderloin Sliders
Huli Huli Chicken Kabobs
Honey Soy Mahi Mahi with Banana Chutney
Island Fried Rice
Grilled Marinated Vegetable Medley
Desserts
Tropical Fruit Tarts
Haupia Coconut Cake
Mango Sorbet
Calling All Gentlemen!
Father's Day arrives on Sunday, June 17th.
Our annual "Gentlemen's Photo" will be taken on Wednesday, June 6th. See your monthly calendar for locations and times.
Everyone in the photo will receive a copy. We hope to see you all there!
It is with great pleasure that we welcome you to our community!
Quilts and More Quilts
Whether you create them yourself or just love to look at them, Thursday, July 26th will be the day for you! Ride with our own Giselle Prevost and Dianne Day to the Maine Quilt Show in Augusta! Come see a beautiful display of over 500 quilts with special exhibits like the "Bee Sew Inspired" Challenge.
The shuttle will be leaving at 9:00 a.m. Admission to the show is $10.00. We'll have lunch at the Senator Inn in Augusta. Contact Giselle at extension 135, or stop by and see her, if you would like to go.
Save the date!
A Proud Grandmother
Schooner Rockport resident Ruth Wyman is proud to announce that her grand daughter, Julia Wyman Milks, has the honor of being chosen Valedictorian of the graduating class of 2018 at Edward Little High School in Auburn! Julia is also a school mentor on the executive board (as class Vice President) in the National Honor Society. And to add to these accomplishments, she volunteers at the hospital, does several sports such as basketball (with Edward Little winning the state championship for the first time!) and lacrosse at the high school.
Wow, how wonderful! Congratulations Julia!
In Honor of June – The Wedding Month!
By Peggy Hallee
June is the month of weddings, of the brides and grooms, but sometimes things don't always go right in the beginning of a relationship. But the relationship survives somehow. This is one of those stories.
Neal was my first real boyfriend, I was not allowed to date until I was seventeen years old. I did go to dances with groups of teenagers. I was louder than most boys at my age and bigger than they were. I was not a petite, quiet, young lady. But Neal apparently did not care, he liked me anyway. We had gone on two dates when Neal asked me to go to his house for dinner to meet his parents on a Sunday afternoon. My father approved because he was the Hallee's family doctor.
Neal's family ran a huge dairy farm that had its own milk route. So when we got to the farm, his father was milking the cows in the barn. Neal said we should meet his father first. When we walked into the barn his father was on his knees milking one of the cows. It was an electric milker, but the milker needed to be placed on the udders of the cows. He was very gracious, and he said, "Hello."
My father said when I was leaving the house, "Say intelligent things, and good luck." So we walked up behind the cows and they were all in the stalls. I was desperately looking for words to say to show my intelligence and my understanding of farming. I must have missed the Girl Scouts trip to a farm. I did see, in each stall, a cute name tag with painted flowers with the names of the cows. They were, Clarissa, Dora, Daisy, Flora, etc. At this time an intelligent thought came to my mind, "Neal!", I said, "they're all so pretty, but they all have girls names!"
His father didn't say a word and dropped the milker on the floor. It made a loud crash. "That's because they're all girls," said Neal. My face fell and I said to myself, "He's never going to call me again, he's going to think that I am an idiot!" But Neal did not think that. He called again. He kept calling for five and a half years.
We were married on August 26, 1967, the year I graduated from college, which was the same year that Neal finished his first year towards earning his masters degree at the University of Maine. We've been married fifty and a half years. We have told this story many times and laugh out loud about it ourselves as well. It always seems to bring out laughter from us and those we tell it to. So don't give up, have faith that things will work out. Remember from a little saying that I like, "Life isn't about how to survive the storm, but how to dance in the rain." Just keep on dancing.
Much love to all of you here at Schooner,
Neal and Peggy Hallee