July 2017 Schooner Flash Newsletter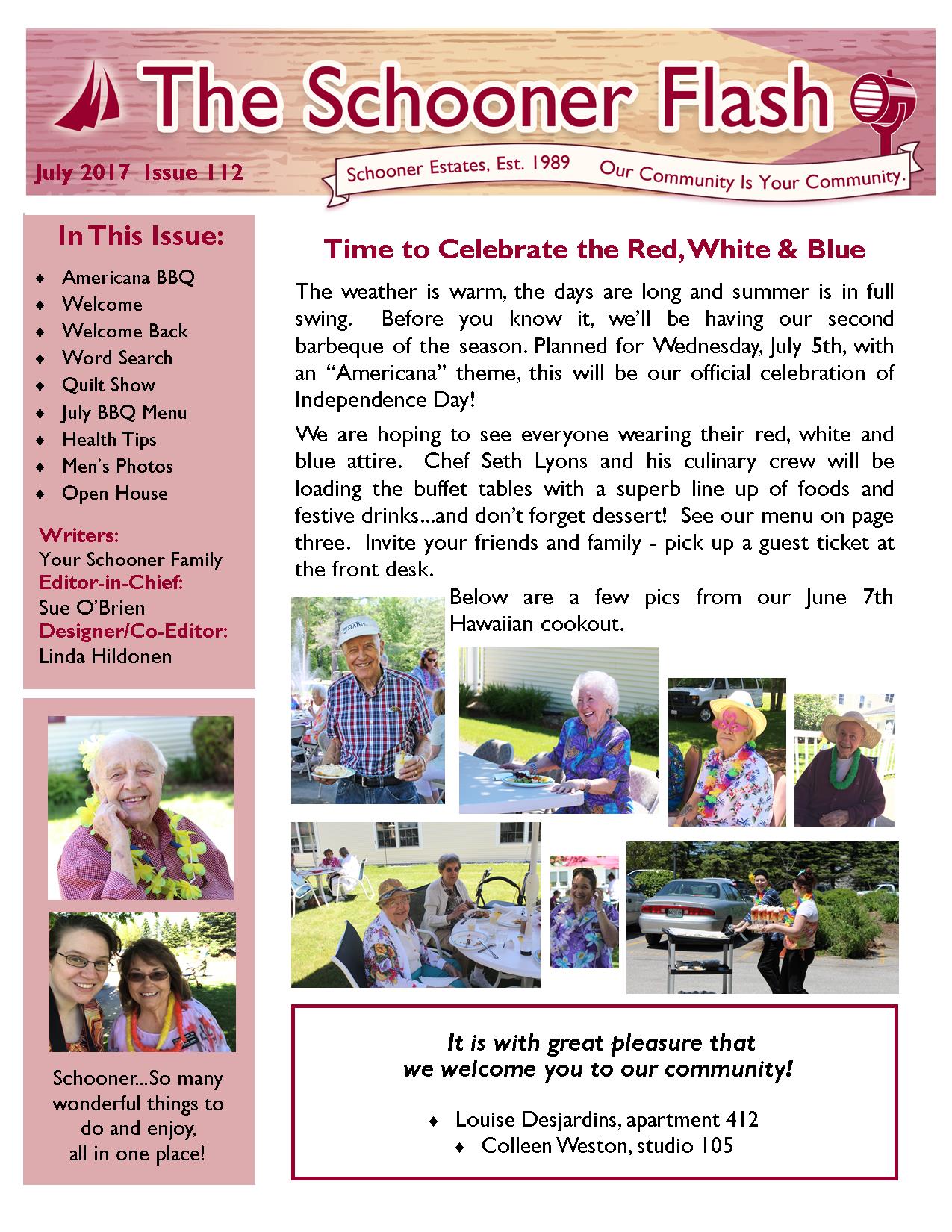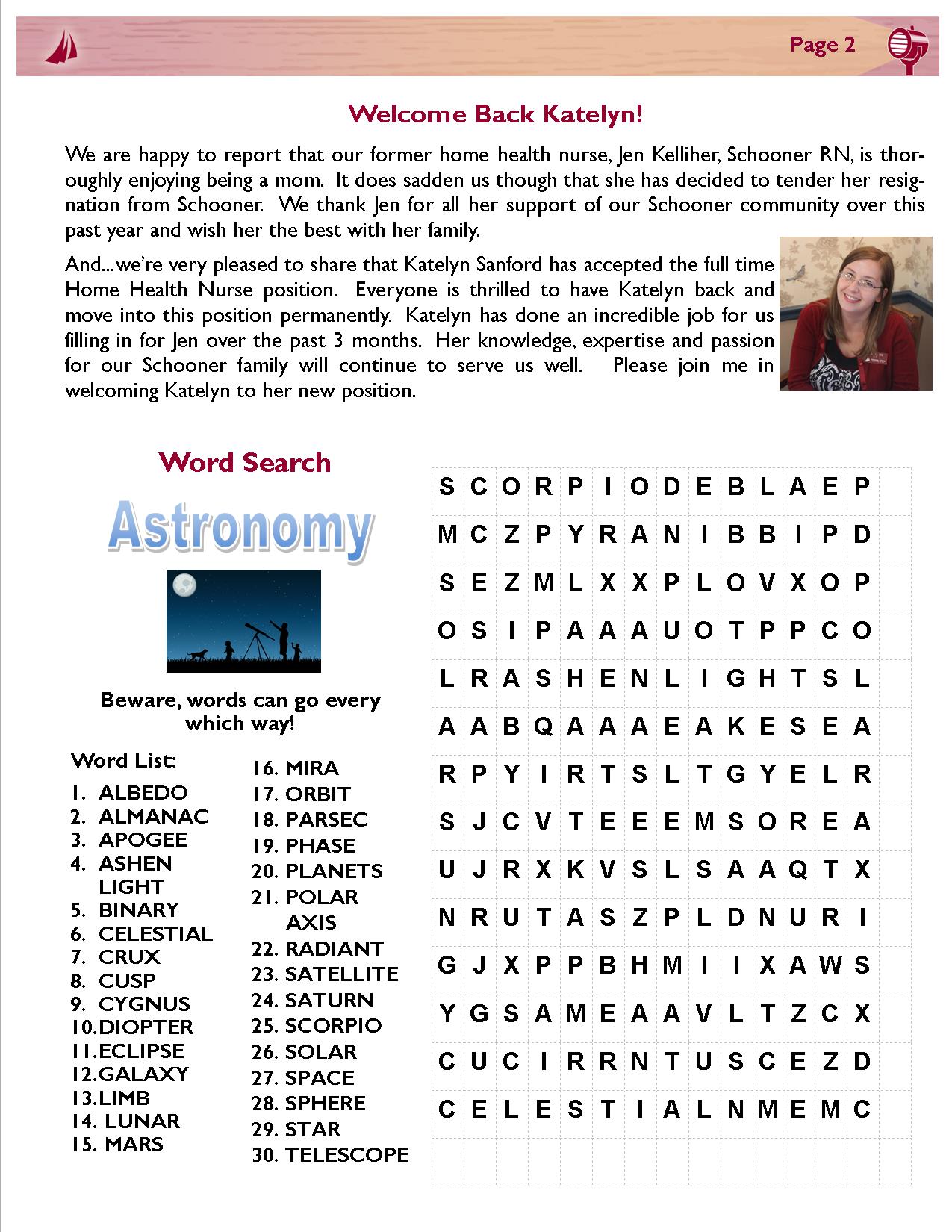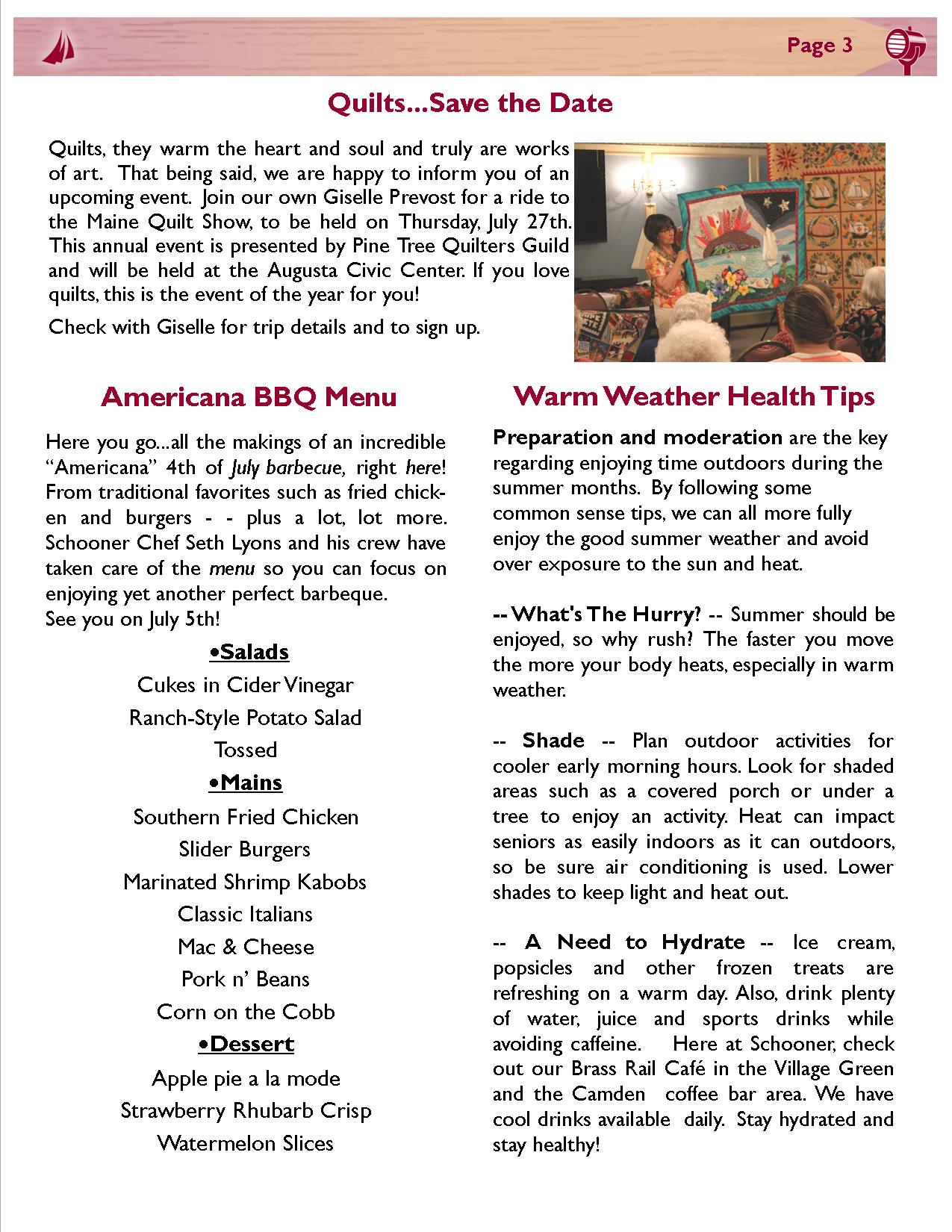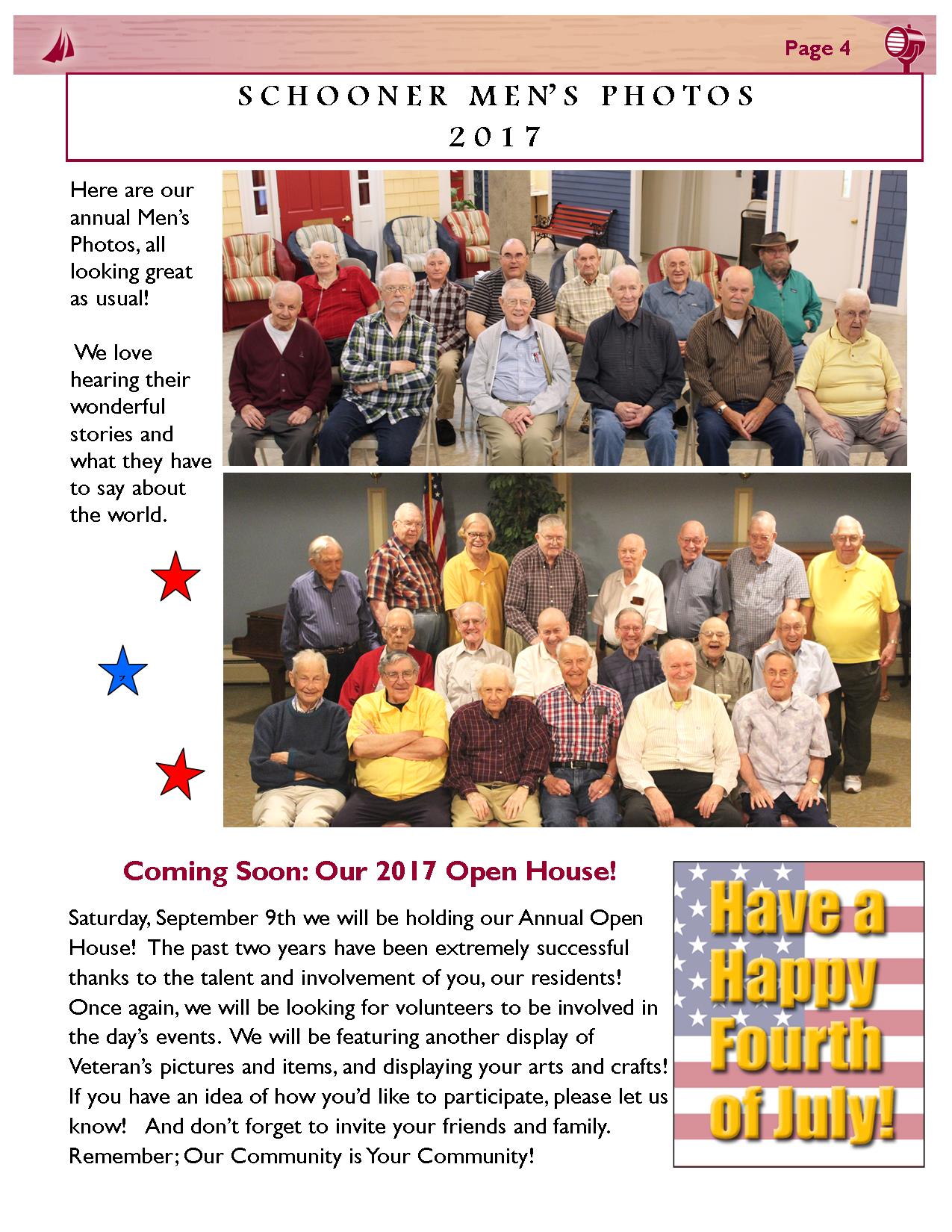 Schooner Flash Newsletter
July 2017
Issue 112
Writers:
Your Schooner Family
Editor-in-Chief:
Sue O'Brien
Designer/Co-Editor:
Linda Hildonen
In This Issue:
Americana BBQ
Welcome
Welcome Back
Word Search
Quilt Show
July BBQ Menu
Health Tips
Men's Photos
Open House
Time to Celebrate the Red, White & Blue
The weather is warm, the days are long and summer is in full swing. Before you know it, we'll be having our second barbeque of the season. Planned for Wednesday, July 5th, with an "Americana" theme, this will be our official celebration of Independence Day!
We are hoping to see everyone wearing their red, white and blue attire. Chef Seth Lyons and his culinary crew will be loading the buffet tables with a superb line up of foods and festive drinks…and don't forget dessert! See our menu on page
three. Invite your friends and family – pick up a guest ticket at the front desk.
Below are a few pics from our June 7th Hawaiian cookout.
It is with great pleasure that we welcome you to our community!
Louise Desjardins, apartment 412
Colleen Weston, studio 105
Welcome Back Katelyn!
We are happy to report that our former home health nurse, Jen Kelliher, Schooner RN, is thoroughly enjoying being a mom. It does sadden us though that she has decided to tender her resignation from Schooner. We thank Jen for all her support of our Schooner community over this past year and wish her the best with her family.
And…we're very pleased to share that Katelyn Sanford has accepted the full time Home Health Nurse position. Everyone is thrilled to have Katelyn back and move into this position permanently. Katelyn has done an incredible job for us filling in for Jen over the past 3 months. Her knowledge, expertise and passion for our Schooner family will continue to serve us well. Please join me in welcoming Katelyn to her new position.
Quilts…Save the Date
Quilts, they warm the heart and soul and truly are works of art. That being said, we are happy to inform you of an upcoming event. Join our own Giselle Prevost for a ride to the Maine Quilt Show, to be held on Thursday, July 27th. This annual event is presented by Pine Tree Quilters Guild and will be held at the Augusta Civic Center. If you love quilts, this is the event of the year for you!
Check with Giselle for trip details and to sign up.
Americana BBQ Menu
Here you go…all the makings of an incredible "Americana" 4th of July barbecue, right here! From traditional favorites such as fried chicken and burgers – – plus a lot, lot more. Schooner Chef Seth Lyons and his crew have taken care of the menu so you can focus on enjoying yet another perfect barbeque.
See you on July 5th!
•Salads
Cukes in Cider Vinegar
Ranch-Style Potato Salad
Tossed
•Mains
Southern Fried Chicken
Slider Burgers
Marinated Shrimp Kabobs
Classic Italians
Mac & Cheese
Pork n' Beans
Corn on the Cobb
•Dessert
Apple pie a la mode
Strawberry Rhubarb Crisp
Watermelon Slices
Warm Weather Health Tips
Preparation and moderation are the key regarding enjoying time outdoors during the summer months. By following some common sense tips, we can all more fully enjoy the good summer weather and avoid over exposure to the sun and heat.
— What's The Hurry? — Summer should be enjoyed, so why rush? The faster you move the more your body heats, especially in warm weather.
— Shade — Plan outdoor activities for cooler early morning hours. Look for shaded areas such as a covered porch or under a tree to enjoy an activity. Heat can impact seniors as easily indoors as it can outdoors, so be sure air conditioning is used. Lower shades to keep light and heat out.
— A Need to Hydrate — Ice cream, popsicles and other frozen treats are refreshing on a warm day. Also, drink plenty of water, juice and sports drinks while avoiding caffeine. Here at Schooner, check out our Brass Rail Café in the Village Green and the Camden coffee bar area. We have cool drinks available daily. Stay hydrated and stay healthy!
Coming Soon: Our 2017 Open House!
Saturday, September 9th we will be holding our Annual Open House! The past two years have been extremely successful thanks to the talent and involvement of you, our residents! Once again, we will be looking for volunteers to be involved in the day's events. We will be featuring another display of Veteran's pictures and items, and displaying your arts and crafts! If you have an idea of how you'd like to participate, please let us know! And don't forget to invite your friends and family. Remember; Our Community is Your Community!