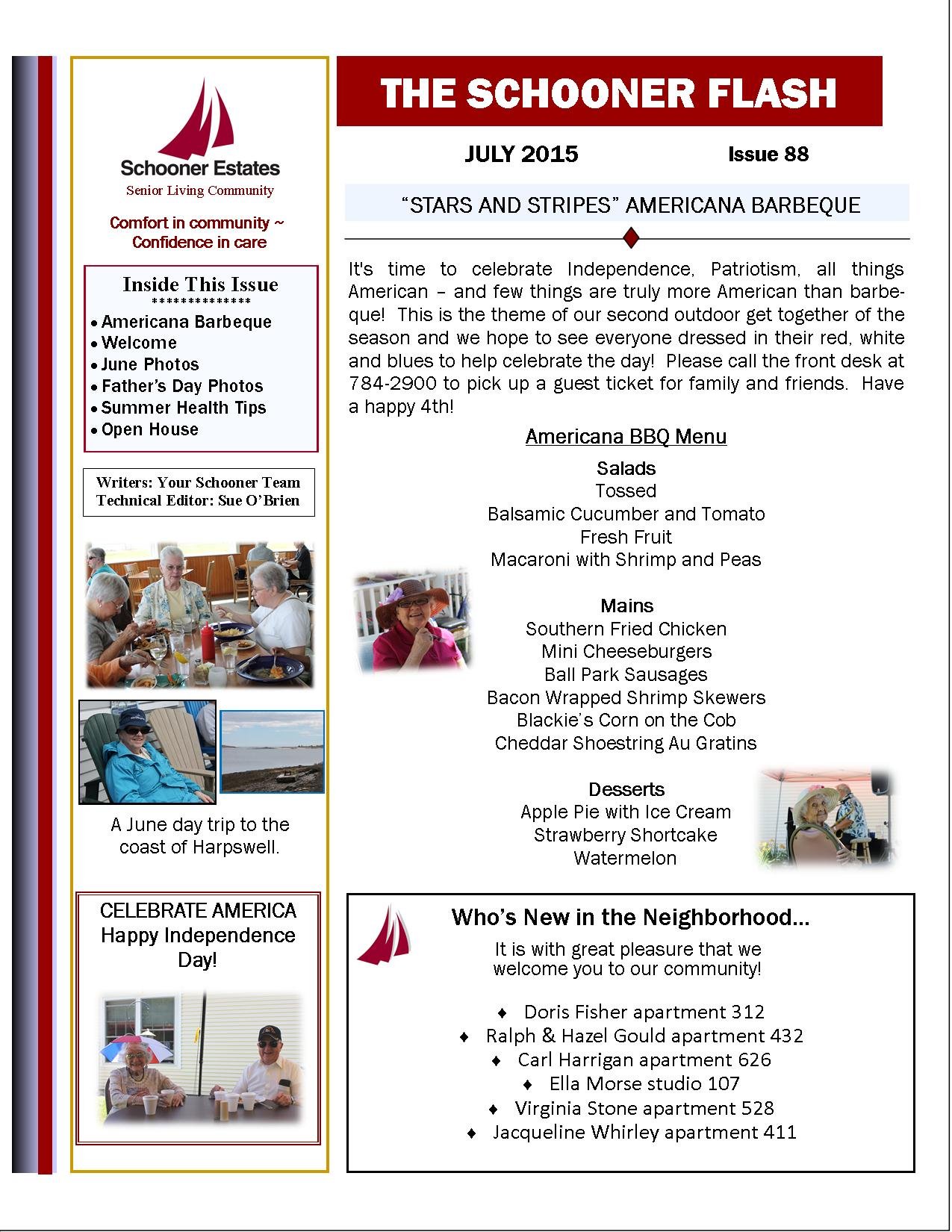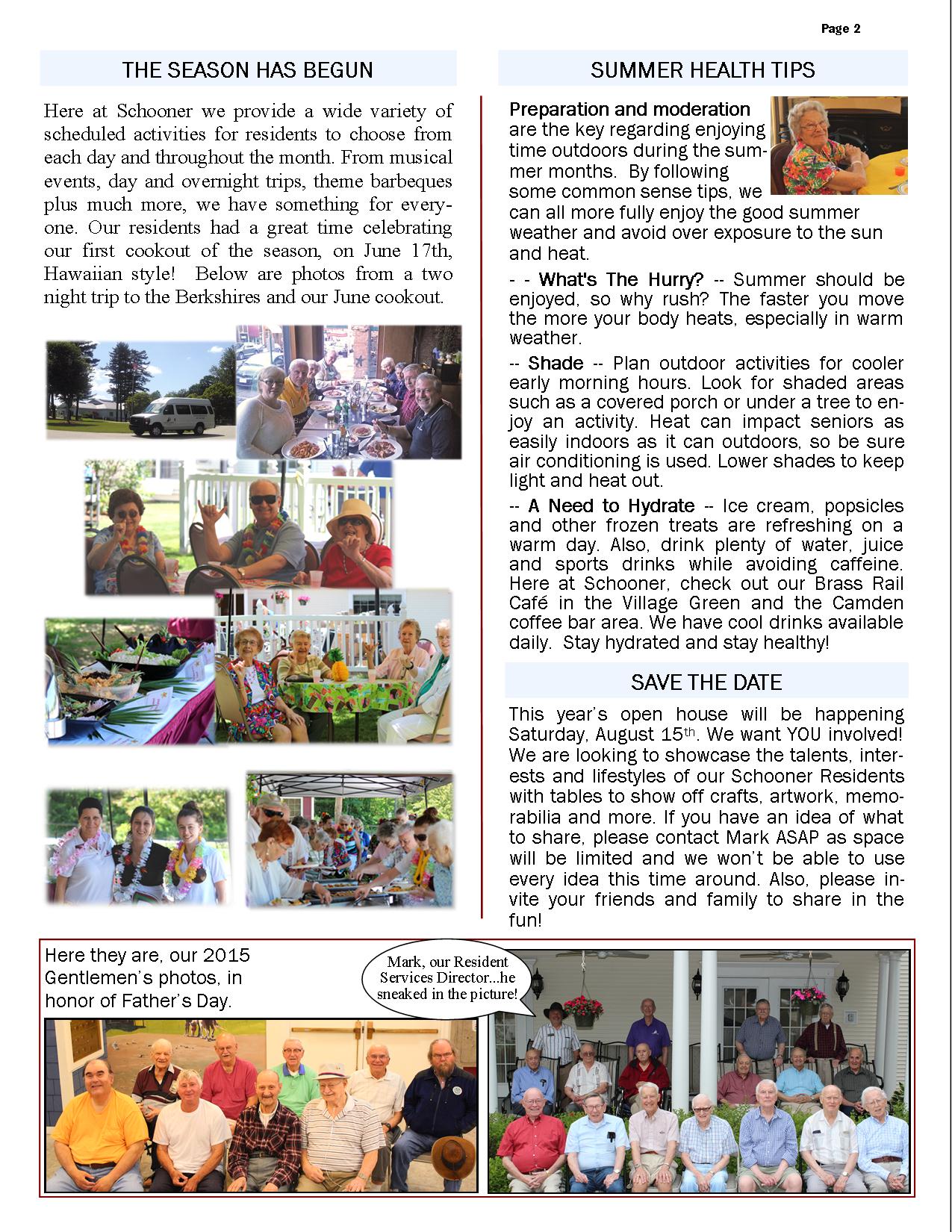 The Schooner Flash
July 2015
Inside This Issue
**************
· Americana Barbeque
· Welcome
· June Photos
· Father's Day Photos
· Summer Health Tips
· Open House
"Stars and Stripes" American Barbecue
It's time to celebrate Independence, Patriotism, all things American – and few things are truly more American than barbeque! This is the theme of our second outdoor get together of the season and we hope to see everyone dressed in their red, white and blues to help celebrate the day! Please call the front desk at 784-2900 to pick up a guest ticket for family and friends. Have a happy 4th!
Americana BBQ Menu
Salads
Tossed
Balsamic Cucumber and Tomato
Fresh Fruit
Macaroni with Shrimp and Peas
Mains
Southern Fried Chicken
Mini Cheeseburgers
Ball Park Sausages
Bacon Wrapped Shrimp Skewers
Blackie's Corn on the Cob
Cheddar Shoestring Au Gratins
Desserts
Apple Pie with Ice Cream
Strawberry Shortcake
Watermelon
Who's New in the Neighborhood…
It is with great pleasure that we welcome you to our community!
• Doris Fisher apartment 312
• Ralph & Hazel Gould apartment 432
• Carl Harrigan apartment 626
• Ella Morse studio 107
• Virginia Stone apartment 528
• Jacqueline Whirley apartment 411
THE SEASON HAS BEGUN
Here at Schooner we provide a wide variety of scheduled activities for residents to choose from each day and throughout the month. From musical events, day and overnight trips, theme barbeques plus much more, we have something for everyone. Our residents had a great time celebrating our first cookout of the season, on June 17th, Hawaiian style! Below are photos from a two night trip to the Berkshires and our June cookout.
SUMMER HEALTH TIPS
Preparation and moderation are the key regarding enjoying time outdoors during the summer months. By following some common sense tips, we can all more fully enjoy the good summer weather and avoid over exposure to the sun and heat.
– – What's The Hurry? — Summer should be enjoyed, so why rush? The faster you move the more your body heats, especially in warm weather.
— Shade — Plan outdoor activities for cooler early morning hours. Look for shaded areas such as a covered porch or under a tree to enjoy an activity. Heat can impact seniors as easily indoors as it can outdoors, so be sure air conditioning is used. Lower shades to keep light and heat out.
— A Need to Hydrate — Ice cream, popsicles and other frozen treats are refreshing on a warm day. Also, drink plenty of water, juice and sports drinks while avoiding caffeine. Here at Schooner, check out our Brass Rail Café in the Village Green and the Camden coffee bar area. We have cool drinks available daily. Stay hydrated and stay healthy!
SAVE THE DATE
This year's open house will be happening Saturday, August 15th. We want YOU involved! We are looking to showcase the talents, interests and lifestyles of our Schooner Residents with tables to show off crafts, artwork, memorabilia and more. If you have an idea of what to share, please contact Mark ASAP as space will be limited and we won't be able to use every idea this time around. Also, please invite your friends and family to share in the fun!