January 2015 Schooner Flash Newsletter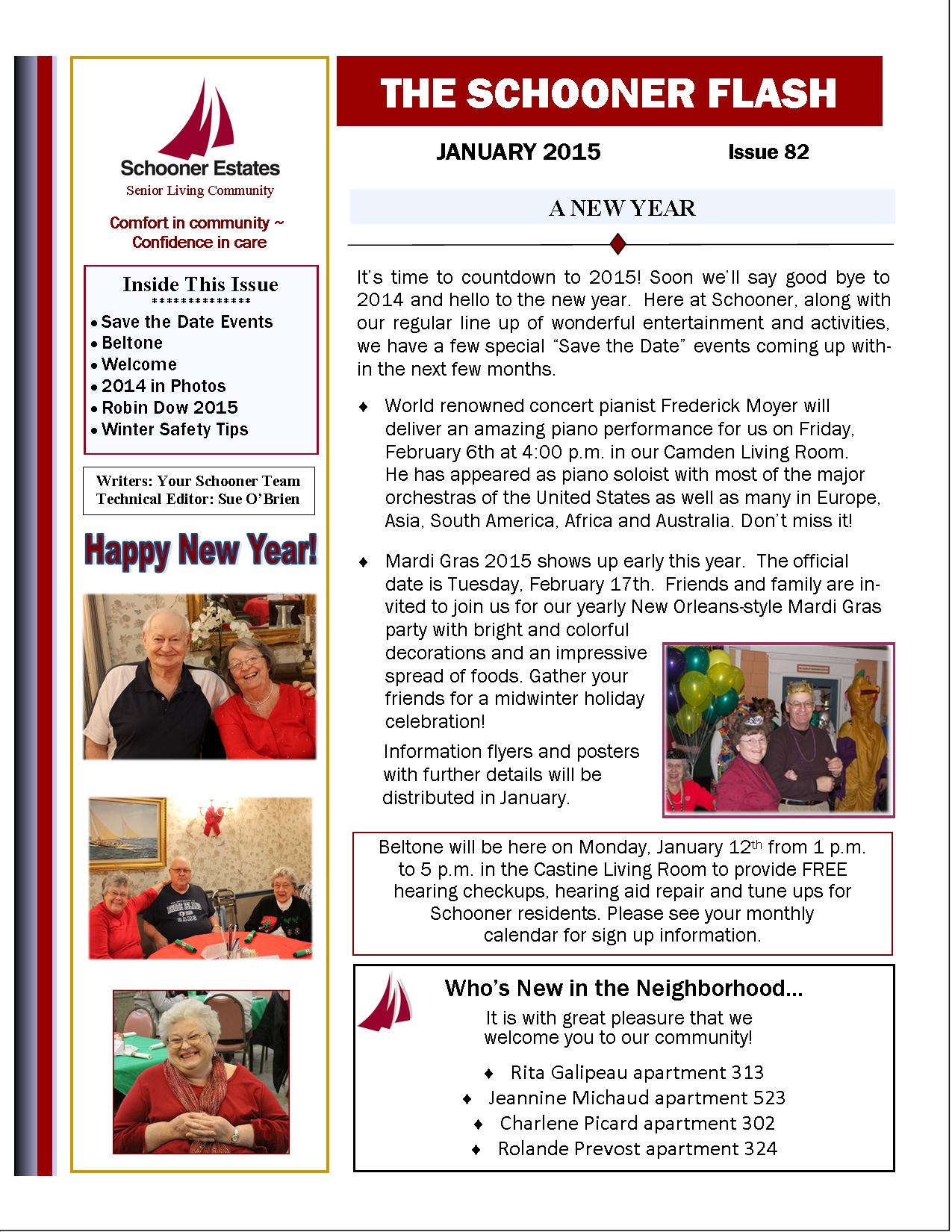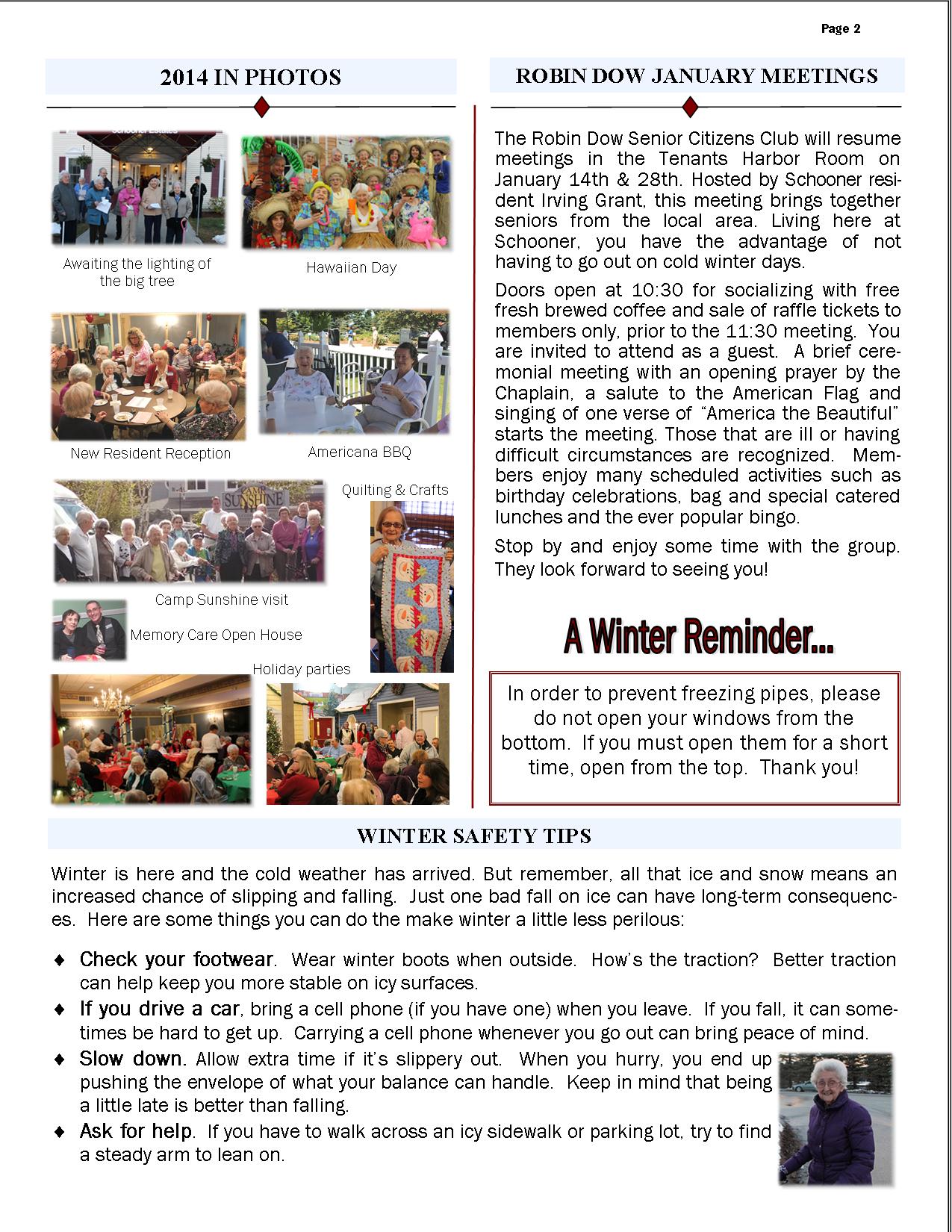 Inside This Issue
**************
• Save the Date Events
• Beltone
• Welcome
• 2014 in Photos
• Robin Dow 2015
• Winter Safety Tips
A New Year
It's time to countdown to 2015! Soon we'll say good bye to 2014 and hello to the new year. Here at Schooner, along with our regular line up of wonderful entertainment and activities, we have a few special "Save the Date" events coming up within the next few months.
• World renowned concert pianist Frederick Moyer will deliver an amazing piano performance for us on Friday, February 6th at 4:00 p.m. in our Camden Living Room. He has appeared as piano soloist with most of the major orchestras of the United States as well as many in Europe, Asia, South America, Africa and Australia. Don't miss it!
• Mardi Gras 2015 shows up early this year. The official date is Tuesday, February 17th. Friends and family are invited to join us for our yearly New Orleans-style Mardi Gras party with bright and colorful decorations and an impressive spread of foods. Gather your friends for a midwinter holiday celebration!
Information flyers and posters with further details will be distributed in January.
Beltone
Beltone will be here on Monday, January 12th from 1 p.m. to 5 p.m. in the Castine Living Room to provide FREE hearing checkups, hearing aid repair and tune ups for Schooner residents. Please see your monthly calendar for sign up information.
Spread the word…
Robin Dow January Meetings
The Robin Dow Senior Citizens Club will resume meetings in the Tenants Harbor Room on January 14th & 28th. Hosted by Schooner resident Irving Grant, this meeting brings together seniors from the local area. Living here at Schooner, you have the advantage of not having to go out on cold winter days.
Doors open at 10:30 for socializing with free fresh brewed coffee and sale of raffle tickets to members only, prior to the 11:30 meeting. You are invited to attend as a guest. A brief ceremonial meeting with an opening prayer by the Chaplain, a salute to the American Flag and singing of one verse of "America the Beautiful" starts the meeting. Those that are ill or having difficult circumstances are recognized. Members enjoy many scheduled activities such as birthday celebrations, bag and special catered lunches and the ever popular bingo.
Stop by and enjoy some time with the group. They look forward to seeing you!
Winter Safety Tips
Winter is here and the cold weather has arrived. But remember, all that ice and snow means an increased chance of slipping and falling. Just one bad fall on ice can have long-term consequences. Here are some things you can do the make winter a little less perilous:
• Check your footwear. Wear winter boots when outside. How's the traction? Better traction can help keep you more stable on icy surfaces.
• If you drive a car, bring a cell phone (if you have one) when you leave. If you fall, it can sometimes be hard to get up. Carrying a cell phone whenever you go out can bring peace of mind.
• Slow down. Allow extra time if it's slippery out. When you hurry, you end up pushing the envelope of what your balance can handle. Keep in mind that being a little late is better than falling.
• Ask for help. If you have to walk across an icy sidewalk or parking lot, try to find a steady arm to lean on.