February 2016 Schooner Flash Newsletter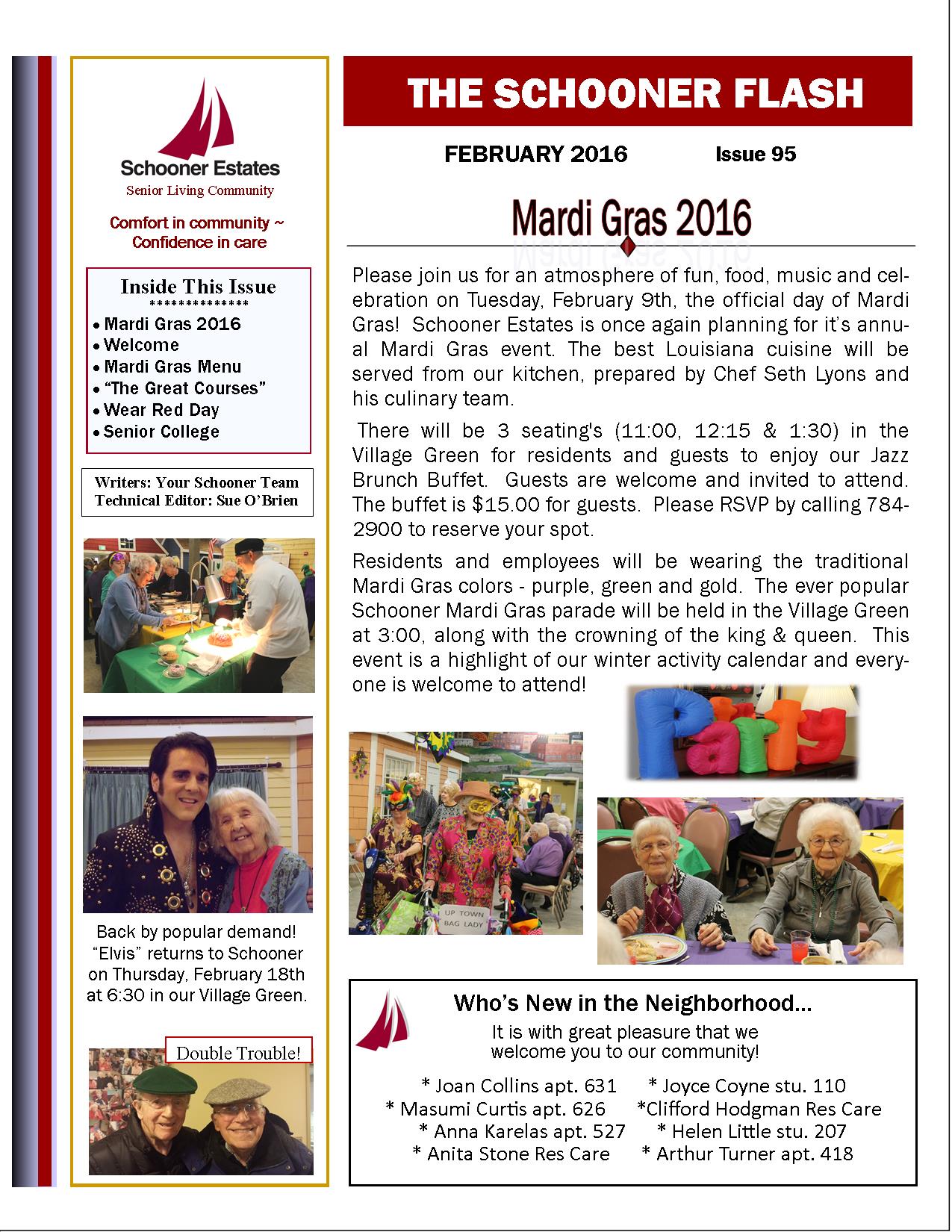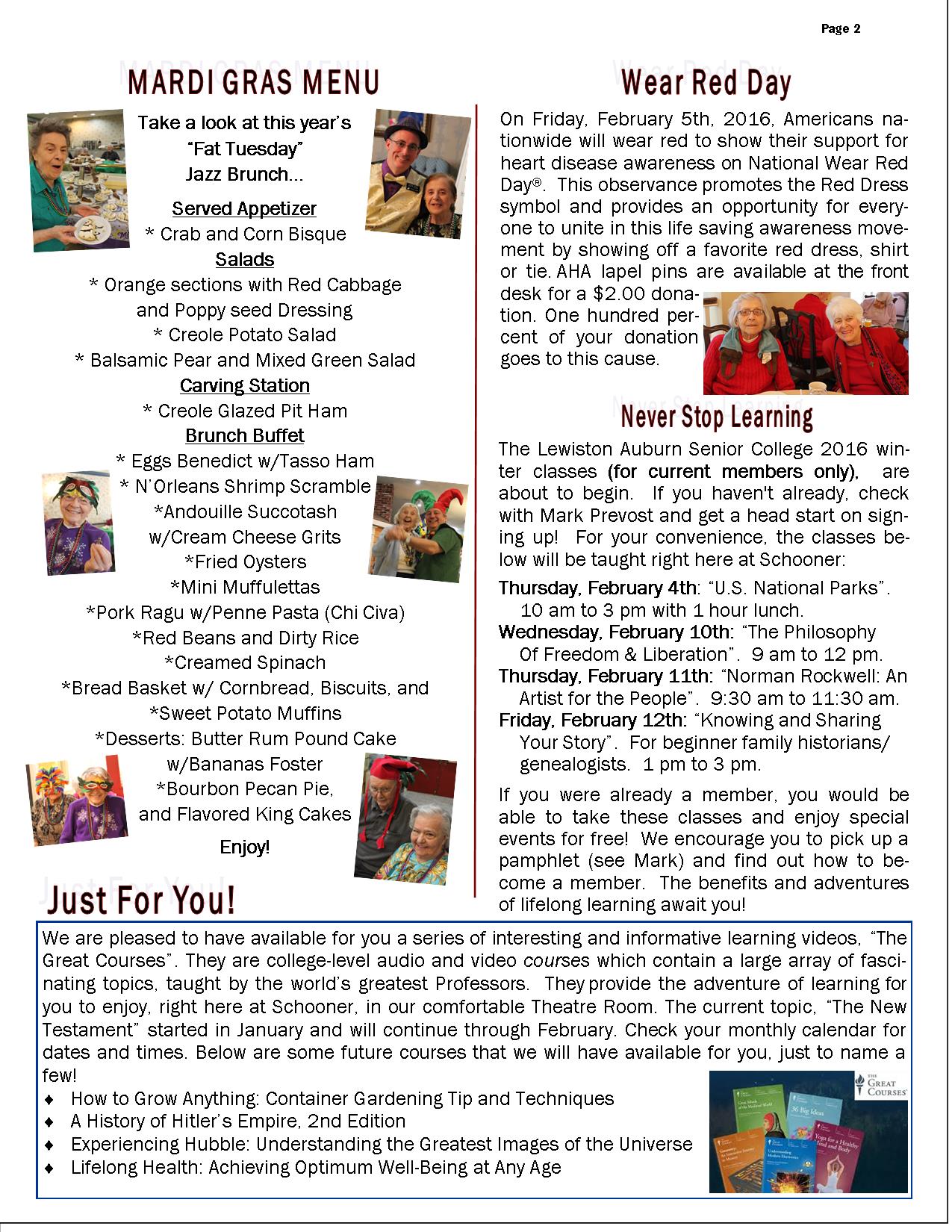 The Schooner Flash
February 2016
Issue 95
Writers: Your Schooner Team
Technical Editor: Sue O'Brien
Inside This Issue
**************
Mardi Gras 2016
Welcome
Mardi Gras Menu
"The Great Courses"
Wear Red Day
Senior College
Mardi Gras 2016
Please join us for an atmosphere of fun, food, music and celebration on Tuesday, February 9th, the official day of Mardi Gras! Schooner Estates is once again planning for it's annual Mardi Gras event. The best Louisiana cuisine will be served from our kitchen, prepared by Chef Seth Lyons and his culinary team.
There will be 3 seating's (11:00, 12:15 & 1:30) in the Village Green for residents and guests to enjoy our Jazz Brunch Buffet. Guests are welcome and invited to attend. The buffet is $15.00 for guests. Please RSVP by calling 784-2900 to reserve your spot.
Residents and employees will be wearing the traditional Mardi Gras colors – purple, green and gold. The ever popular Schooner Mardi Gras parade will be held in the Village Green at 3:00, along with the crowning of the king & queen. This event is a highlight of our winter activity calendar and everyone is welcome to attend!
Who's New in the Neighborhood…
* Joan Collins apt. 631
* Joyce Coyne stu. 110
* Masumi Curtis apt. 626
*Clifford Hodgman Res Care
* Anna Karelas apt. 527
* Helen Little stu. 207
* Anita Stone Res Care
* Arthur Turner apt. 418
Mardi Gras Menu
Take a look at this year's "Fat Tuesday" Jazz Brunch…
Served Appetizer
Crab and Corn Bisque Salads
Orange sections with Red Cabbage and Poppy seed Dressing
Creole Potato Salad
Balsamic Pear and Mixed Green Salad
Carving Station
Brunch Buffet
Eggs Benedict w/Tasso Ham
N'Orleans Shrimp Scramble
Andouille Succotash w/Cream Cheese Grits
Fried Oysters
Mini Muffulettas
Pork Ragu w/Penne Pasta (Chi Civa)
Red Beans and Dirty Rice
Creamed Spinach
Bread Basket w/ Cornbread, Biscuits, and *Sweet Potato Muffins
Desserts: Butter Rum Pound Cake w/Bananas Foster
Bourbon Pecan Pie, and Flavored King Cakes
Enjoy!
Wear Red Day
On Friday, February 5th, 2016, Americans nationwide will wear red to show their support for heart disease awareness on National Wear Red Day®. This observance promotes the Red Dress symbol and provides an opportunity for everyone to unite in this life saving awareness movement by showing off a favorite red dress, shirt or tie. AHA lapel pins are available at the front desk for a $2.00 donation. One hundred percent of your donation goes to this cause.
Never Stop Learning!
The Lewiston Auburn Senior College 2016 winter classes (for current members only), are about to begin. If you haven't already, check with Mark Prevost and get a head start on signing up! For your convenience, the classes below will be taught right here at Schooner:
Thursday, February 4th: "U.S. National Parks". 10 am to 3 pm with 1 hour lunch.
Wednesday, February 10th: "The Philosophy  Of Freedom & Liberation". 9 am to 12 pm.
Thursday, February 11th: "Norman Rockwell: An Artist for the People". 9:30 am to 11:30 am.
Friday, February 12th: "Knowing and Sharing  Your Story". For beginner family historians/genealogists. 1 pm to 3 pm.
If you were already a member, you would be able to take these classes and enjoy special events for free! We encourage you to pick up a pamphlet (see Mark) and find out how to become a member. The benefits and adventures of lifelong learning await you!
Just For You!
We are pleased to have available for you a series of interesting and informative learning videos, "The Great Courses". They are college-level audio and video courses which contain a large array of fascinating topics, taught by the world's greatest Professors. They provide the adventure of learning for you to enjoy, right here at Schooner, in our comfortable Theatre Room. The current topic, "The New Testament" started in January and will continue through February. Check your monthly calendar for dates and times. Below are some future courses that we will have available for you, just to name a few!
How to Grow Anything: Container Gardening Tip and Techniques
A History of Hitler's Empire, 2nd Edition
Experiencing Hubble: Understanding the Greatest Images of the Universe
Lifelong Health: Achieving Optimum Well-Being at Any Age
Our Night Sky