February 2015 Flash Newsletter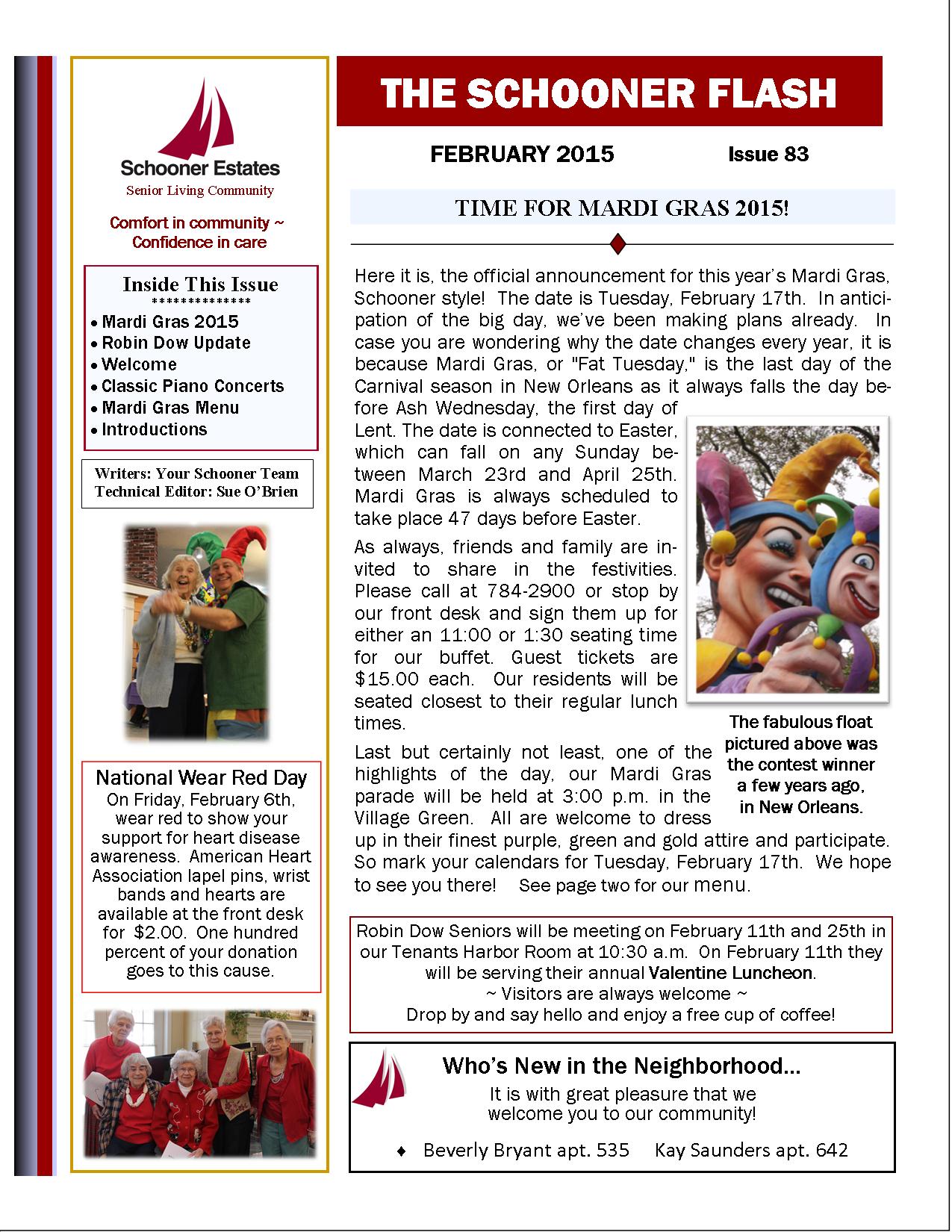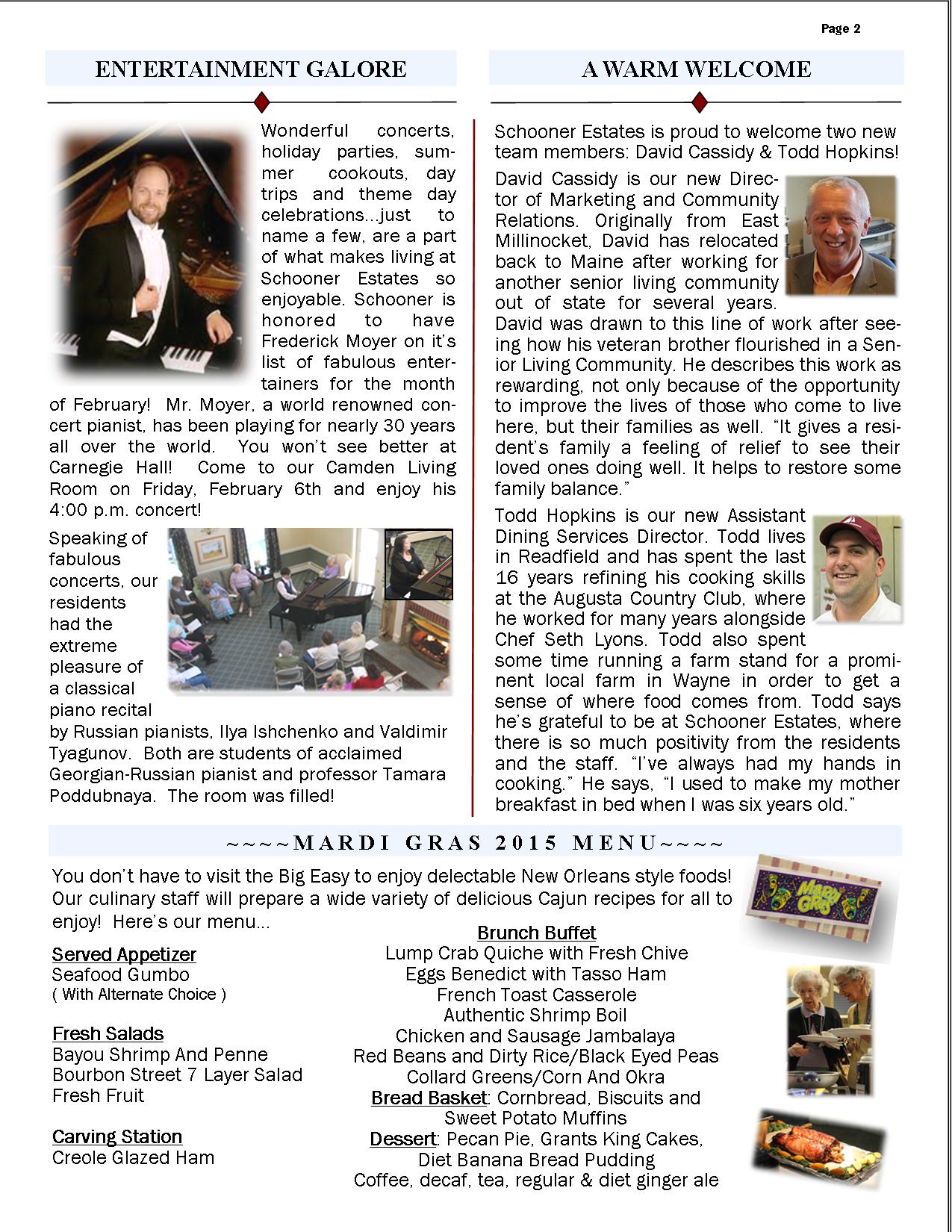 Flash Newsletter February 2015
Time for Mardi Gras 2015
Here it is, the official announcement for this year's Mardi Gras, Schooner style! The date is Tuesday, February 17th. In anticipation of the big day, we've been making plans already. In case you are wondering why the date changes every year, it is because Mardi Gras, or "Fat Tuesday," is the last day of the Carnival season in New Orleans as it always falls the day before Ash Wednesday, the first day of Lent. The date is connected to Easter, which can fall on any Sunday between March 23rd and April 25th. Mardi Gras is always scheduled to take place 47 days before Easter.
As always, friends and family are invited to share in the festivities. Please call at 784-2900 or stop by our front desk and sign them up for either an 11:00 or 1:30 seating time for our buffet. Guest tickets are $15.00 each. Our residents will be seated closest to their regular lunch times.
Last but certainly not least, one of the highlights of the day, our Mardi Gras   parade will be held at 3:00 p.m. in the   Village Green. All are welcome to dress up in their finest purple, green and gold attire and participate. So mark your calendars for Tuesday, February 17th. We hope to see you there!
You don't have to visit the Big Easy to enjoy delectable New Orleans style foods! Our culinary staff will prepare a wide variety of delicious Cajun recipes for all to   enjoy! Here's our menu…
Served Appetizer
Seafood Gumbo ( With Alternate Choice )
Fresh Salads
Bayou Shrimp And Penne
Bourbon Street 7 Layer Salad
Fresh Fruit
Carving Station
Creole Glazed Ham
Brunch Buffet
Lump Crab Quiche with Fresh Chive
Eggs Benedict with Tasso Ham
French Toast Casserole
Authentic Shrimp Boil
Chicken and Sausage Jambalaya
Red Beans and Dirty Rice/Black Eyed Peas
Collard Greens/Corn And Okra
Bread Basket
Cornbread, Biscuits and     Sweet Potato Muffins
Dessert:
Pecan Pie, Grants King Cakes Diet Banana Bread Pudding
Drinks:
Coffee, decaf, tea, regular & diet ginger ale
Robin Dow Announcement
Robin Dow Seniors will be meeting on February 11th and 25th in our Tenants Harbor Room at 10:30 a.m. On February 11th they will be serving their annual Valentine Luncheon.
~ Visitors are always welcome ~
Drop by and say hello and enjoy a free cup of coffee!
Entertainment Galore
Wonderful concerts, holiday parties, summer cookouts, day trips and theme day celebrations…just to name a few, are a part of what makes living at Schooner Estates so enjoyable. Schooner is honored to have   Frederick Moyer on it's list of fabulous entertainers for the month of February! Mr. Moyer, a world renowned concert pianist, has been playing for nearly 30 years all over the world. You won't see better at     Carnegie Hall! Come to our Camden Living Room on Friday, February 6th and enjoy his 4:00 p.m. concert!
Speaking of fabulous concerts, our residents had the   extreme pleasure of a classical   piano recital by Russian pianists, Ilya Ishchenko and Valdimir Tyagunov. Both are students of acclaimed Georgian-Russian pianist and professor Tamara   Poddubnaya. The room was filled!
A Warm Welcome
Schooner Estates is proud to welcome two new team members: David Cassidy & Todd Hopkins!
David Cassidy is our new Director of Marketing and Community Relations. Originally from East Millinocket, David has relocated back to Maine after working for another senior living community out of state for several years. David was drawn to this line of work after seeing how his veteran brother flourished in a Senior Living Community. He describes this work as rewarding, not only because of the opportunity to improve the lives of those who come to live here, but their families as well. "It gives a resident's family a feeling of relief to see their loved ones doing well. It helps to restore some family balance."
Todd Hopkins is our new Assistant Dining Services Director. Todd lives in Readfield and has spent the last 16 years refining his cooking skills at the Augusta Country Club, where he worked for many years alongside Chef Seth Lyons. Todd also spent some time running a farm stand for a prominent local farm in Wayne in order to get a sense of where food comes from. Todd says he's grateful to be at Schooner Estates, where there is so much positivity from the residents and the staff. "I've always had my hands in cooking." He says, "I used to make my mother breakfast in bed when I was six years old."