Exciting News at Schooner
1. The American Heart Association's Central Maine Heart Walk was September 18th.  Thank you to everyone who participated we raised over $3,000 this year.  Way to go Schooner!!!
3. Schooner Estates Wellness Fair was on September 28th.  A huge thank you to the YWCA, St. Mary's, Healthy Androscoggin, Beltone, Seniors Plus, Jack Desjardins, Greater Brunswick Physical Therapy and CMMC. What a great time.  If you missed signing up for our free give-away from the Wellness Commitee, see your supervisor or the Receptionist by October 15th to receive your gift.
4.  The Biggest Loser is coming to Schooner Estates.  Sign up with Christine and become the biggest loser at Schooner. The Challenge will run from November 1st through January 31st.  There will be weekly prizes for the winning team as well as a grand prize for the Biggest Losers at the end.
September Employee Of The Month
Congratulations To: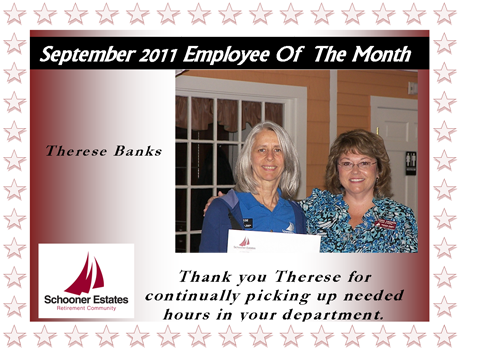 Who will win next month's Employee of the Month?
Don't forget to nominate your co-workers to thank them for displaying outstanding customer service.