December 2014 Flash Newsletter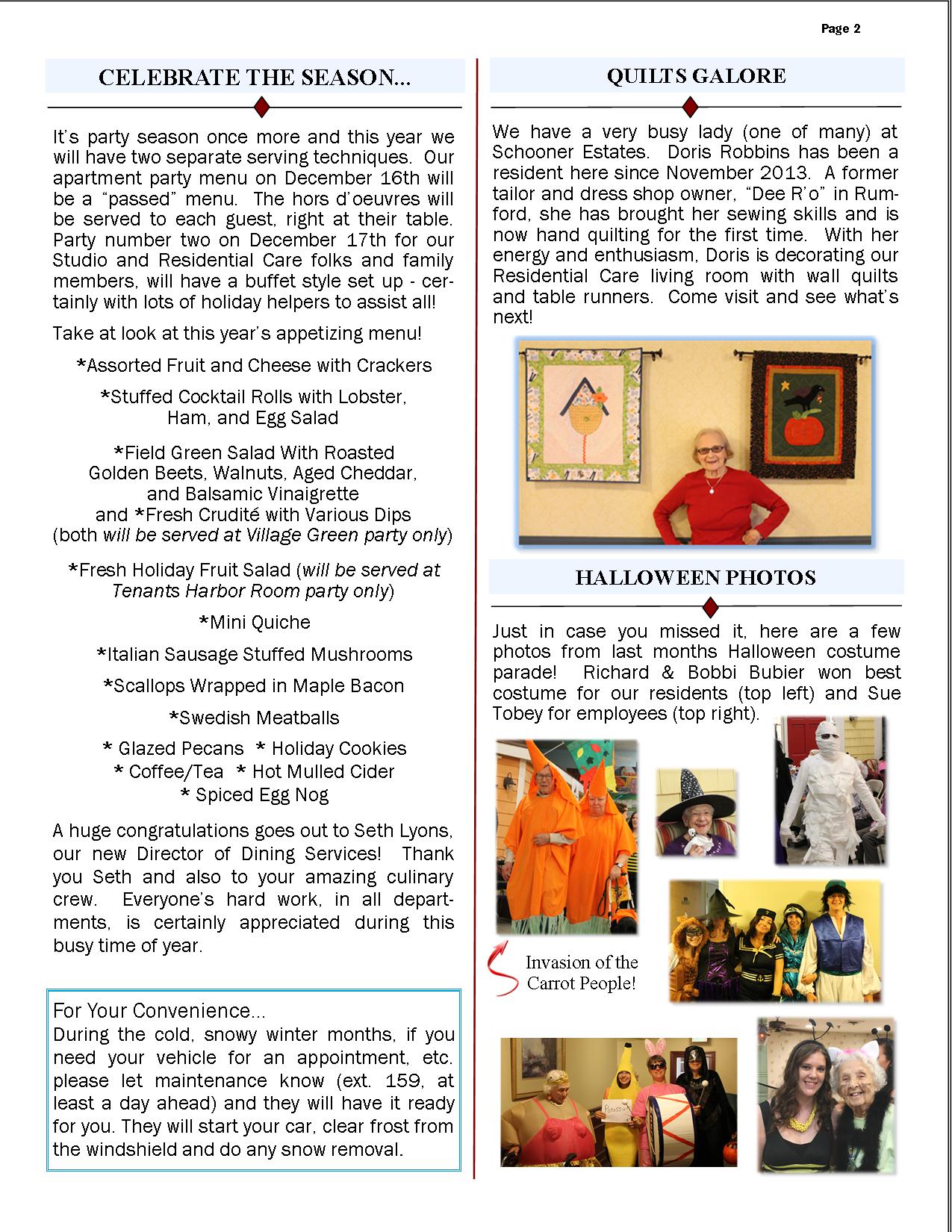 THE SCHOONER FLASH
DECEMBER 2014
Issue 81
Inside This Issue
**************
• Holiday Parties
• Who's New in the Neighborhood
• Party Menu
• Residential Care Quilting
A SPECIAL TIME OF YEAR
Celebrate the season and plan to attend your 2014 Schooner holiday parties! Join your friends and neighbors for a joyous evening of festivities. Each event will include live entertainment, many delightful items to eat & drink and of course, exceptional company! See page two, for your party menus.
On the entertainment side, vocalist Mary Murphy will provide the evening's music for both parties on the 16th and 17th. The Present Company Band will entertain at both New Year's Parties.
• Apartments Holiday Party: Tuesday, December 16th at 5:00 p.m. in the Tenants Harbor Room.
• Residential Care and Castine Studios Holiday Party: Wednesday, December 17th at 4:45 p.m. in the Village Green.
• Residential Care and Castine Studios New Year's Party: Wednesday, December 31st at 3:00 p.m. in the Village Green.
• Apartments New Year's Party: Wednesday, December 31st in the Tenants Harbor Room, at 5:00 p.m.
The annual decorating of the Camden Living Room Christmas tree will be held on Friday, December 12th at 10:00 a.m.
Who's New in the Neighborhood…
It is with great pleasure that we welcome you to our community!
• Judy Kuhn apartment 638
• Mario Scarpelli Residential Care
• Dorothy Sharp apartment 647
• Nancy Summers studio 109
CELEBRATE THE SEASON…
It's party season once more and this year we will have two separate serving techniques. Our apartment party menu on December 16th will be a "passed" menu. The hors d'oeuvres will be served to each guest, right at their table. Party number two on December 17th for our Studio and Residential Care folks and family members, will have a buffet style set up – certainly with lots of holiday helpers to assist all!
Take at look at this year's appetizing menu!
*Assorted Fruit and Cheese with Crackers
*Stuffed Cocktail Rolls with Lobster, Ham, and Egg Salad
*Field Green Salad With Roasted Golden Beets, Walnuts, Aged Cheddar,
and Balsamic Vinaigrette and *Fresh Crudité with Various Dips (both will be served at Village Green party only)
*Fresh Holiday Fruit Salad (will be served at Tenants Harbor Room party only)
*Mini Quiche
*Italian Sausage Stuffed Mushrooms
*Scallops Wrapped in Maple Bacon
*Swedish Meatballs
* Glazed Pecans
* Holiday Cookies
* Coffee/Tea
* Hot Mulled Cider
* Spiced Egg Nog
A huge congratulations goes out to Seth Lyons, our new Director of Dining Services! Thank you Seth and also to your amazing culinary crew. Everyone's hard work, in all departments, is certainly appreciated during this busy time of year.
QUILTS GALORE
We have a very busy lady (one of many) at Schooner Estates. Doris Robbins has been a resident here since November 2013. A former tailor and dress shop owner, "Dee R'o" in Rumford, she has brought her sewing skills and is now hand quilting for the first time. With her energy and enthusiasm, Doris is decorating our Residential Care living room with wall quilts and table runners. Come visit and see what's next!