August 2017 Schooner Flash Newsletter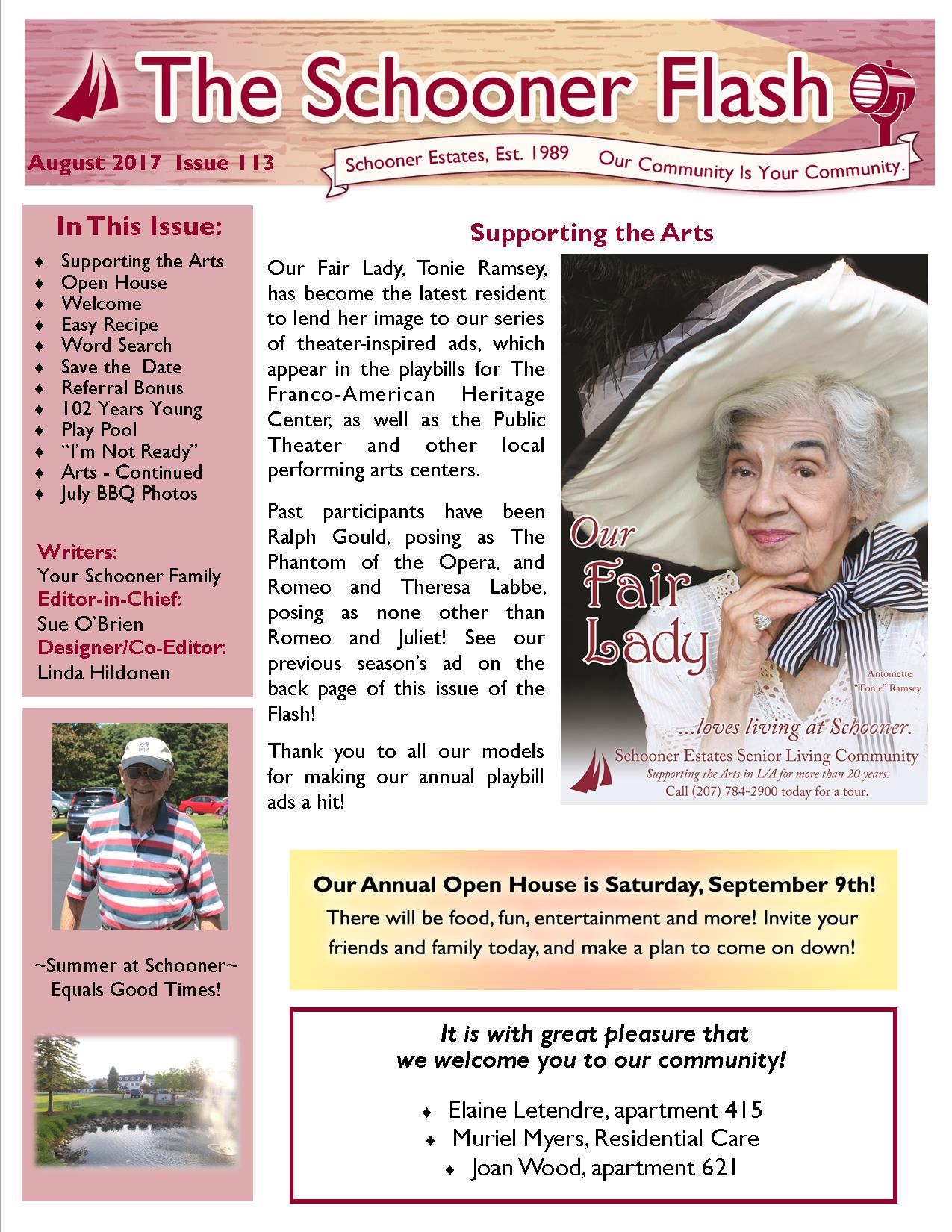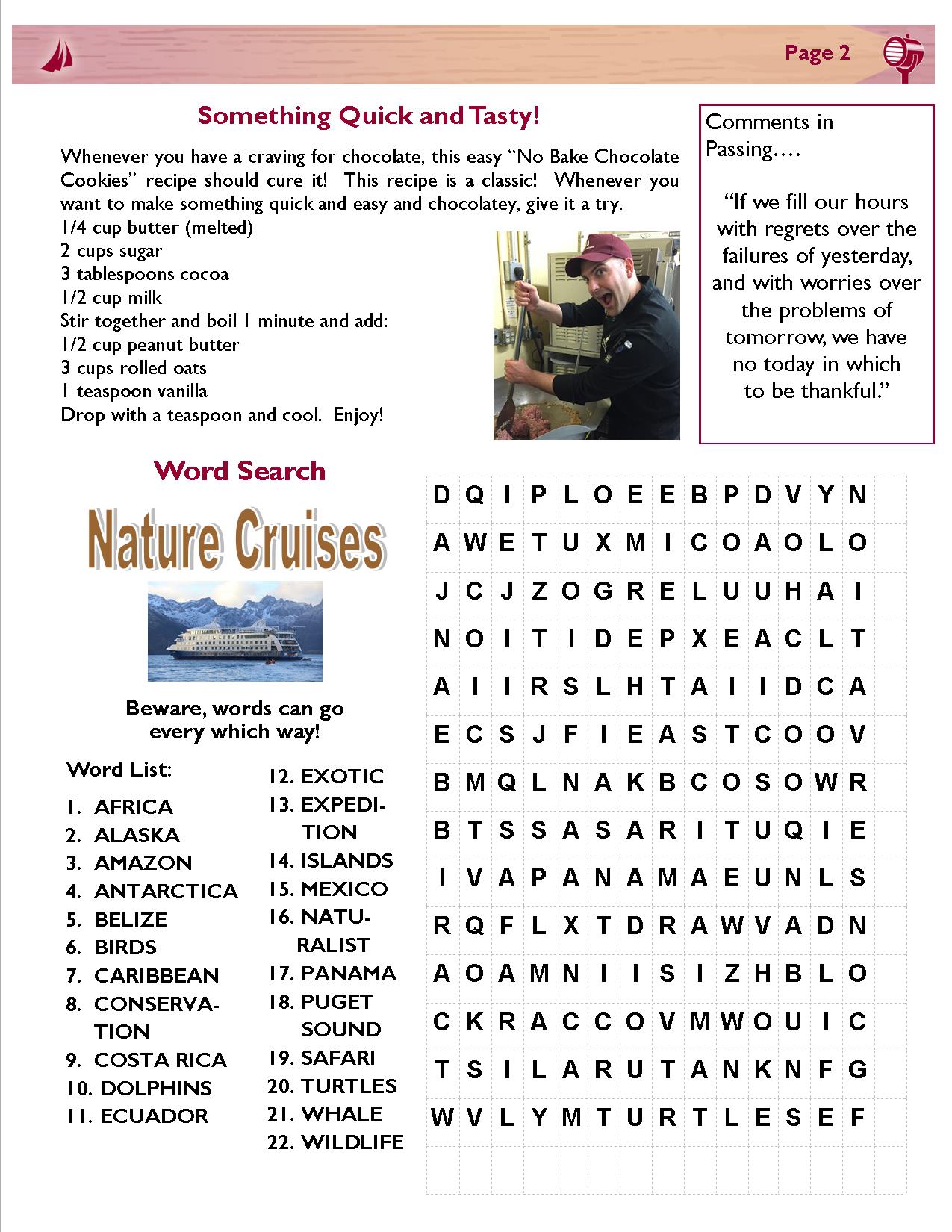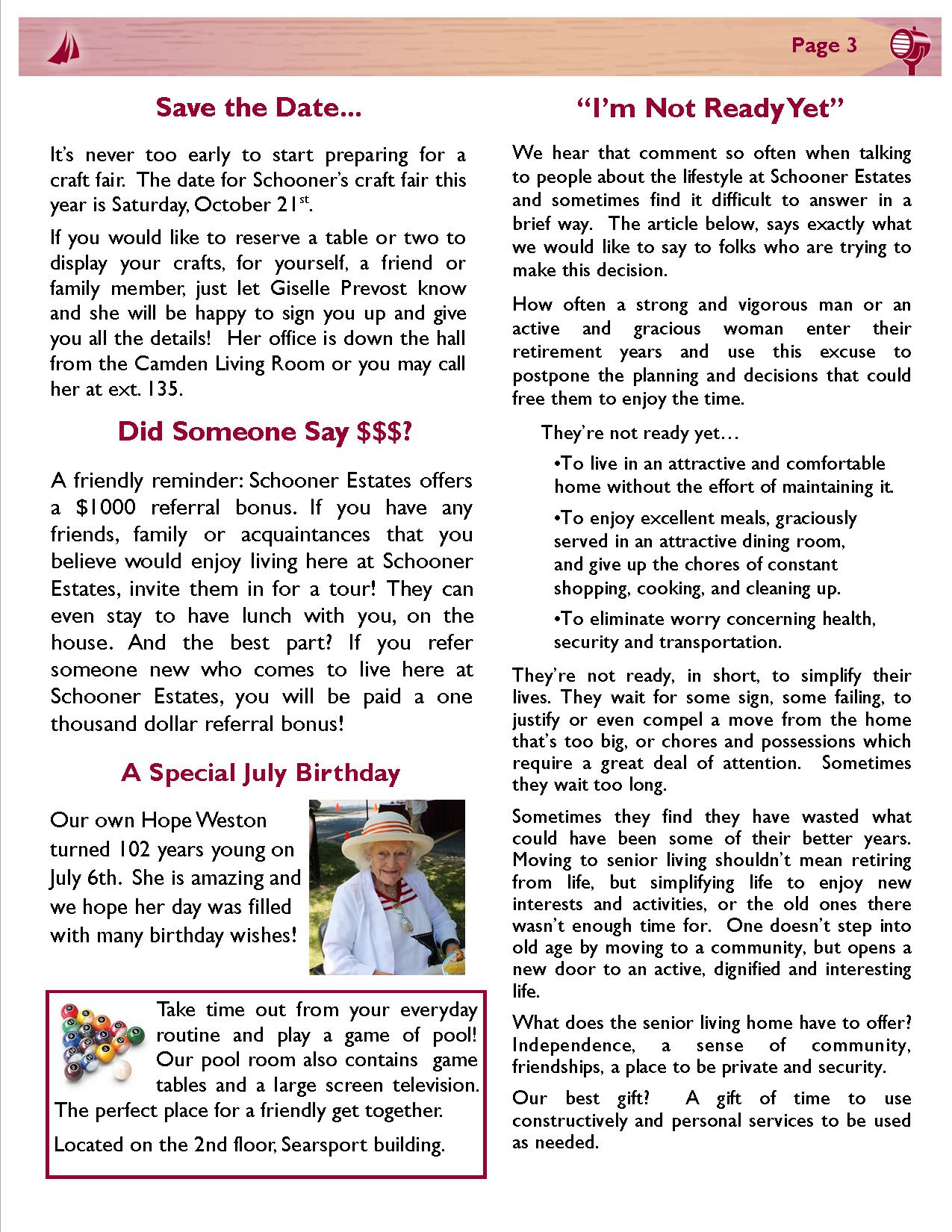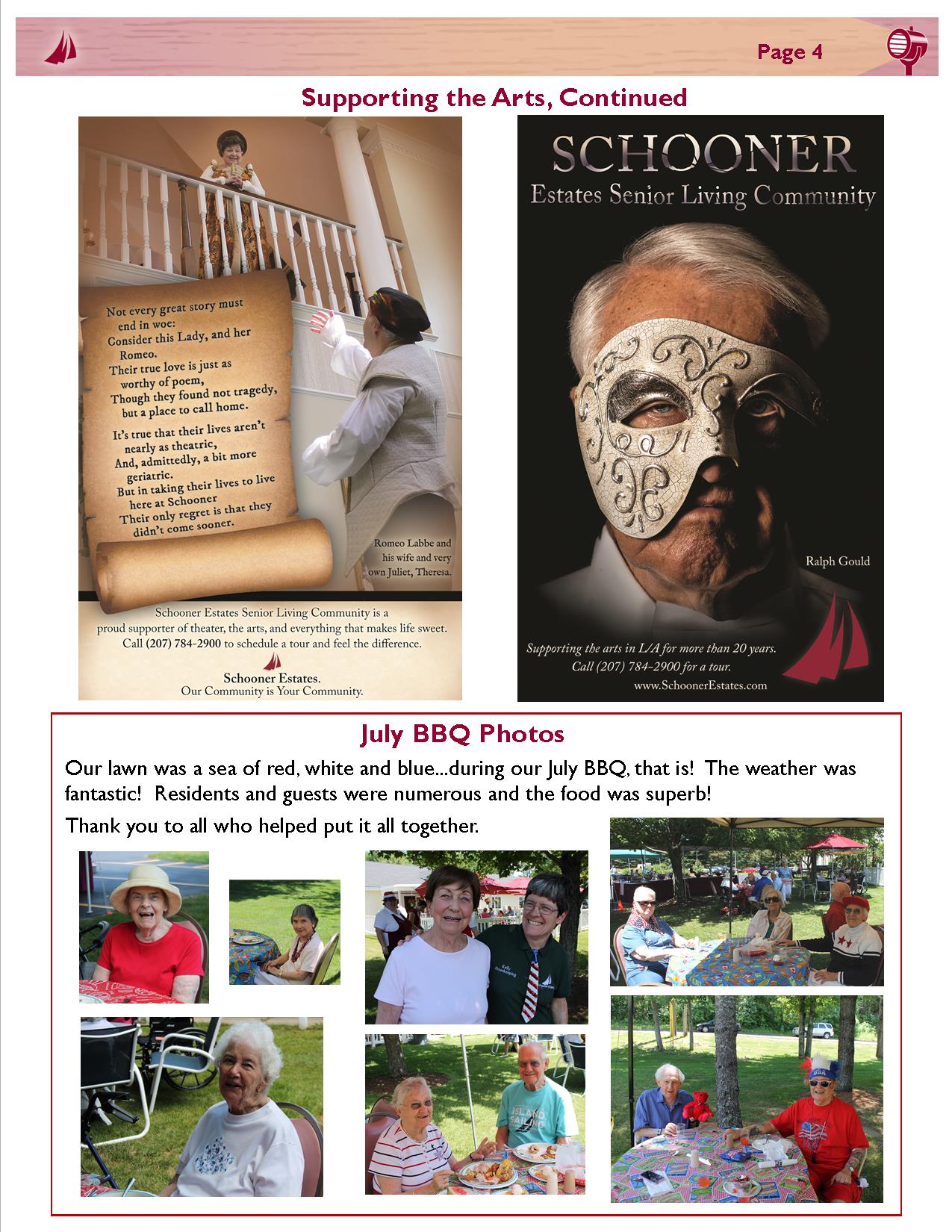 The Schooner Flash
August 2017 Issue 113
Writers:
Your Schooner Family
Editor-in-Chief:
Sue O'Brien
Designer/Co-Editor:
Linda Hildonen
In This Issue:
Supporting the Arts
Open House
Welcome
Easy Recipe
Word Search
Save the Date
Referral Bonus
102 Years Young
Play Pool
"I'm Not Ready"
Arts – Continued
July BBQ Photos
Supporting the Arts
Our Fair Lady, Tonie Ramsey, has become the latest resident to lend her image to our series of theater-inspired ads, which appear in the playbills for The Franco-American Heritage Center, as well as the Public Theater and other local performing arts centers.
Past participants have been Ralph Gould, posing as The Phantom of the Opera, and Romeo and Theresa Labbe, posing as none other than Romeo and Juliet! See our previous season's ad on the back page of this issue of the Flash!
Thank you to all our models for making our annual playbill ads a hit!
It is with great pleasure that we welcome you to our community!
Elaine Letendre, apartment 415
Muriel Myers, Residential Care
Joan Wood, apartment 621
Something Quick and Tasty
Whenever you have a craving for chocolate, this easy "No Bake Chocolate Cookies" recipe should cure it! This recipe is a classic! Whenever you want to make something quick and easy and chocolatey, give it a try.
1/4 cup butter (melted)
2 cups sugar
3 tablespoons cocoa
1/2 cup milkStir together and boil 1 minute and add:
1/2 cup peanut butter
3 cups rolled oats
1 teaspoon vanillaDrop with a teaspoon and cool. Enjoy!
Comments in Passing
"If we fill our hours with regrets over the failures of yesterday, and with worries over the problems of tomorrow, we have no today in which to be thankful."
Save the Date
It's never too early to start preparing for a craft fair.  The date for Schooner's craft fair this year is Saturday, October 21st.
If you would like to reserve a table or two to display your crafts, for yourself, a friend or family member, just let Giselle Prevost know and she will be happy to sign you up and give you all the details! Her office is down the hall from the Camden Living Room or you may call her at ext. 135.
Did Someone Say $$$$$?
A friendly reminder: Schooner Estates offers a $1000 referral bonus. If you have any friends, family or acquaintances that you believe would enjoy living here at Schooner Estates, invite them in for a tour! They can even stay to have lunch with you, on the house. And the best part? If you refer someone new who comes to live here at Schooner Estates, you will be paid a one thousand dollar referral bonus!
A Special July Birthday!
Our own Hope Weston turned 102 years young on July 6th. She is amazing and we hope her day was filled with many birthday wishes!
Play Pool
Take time out from your everyday routine and play a game of pool! Our pool room also contains game tables and a large screen television. The perfect place for a friendly get together.
Located on the 2nd floor, Searsport building.
"I'm Not Ready Yet"
We hear that comment so often when talking to people about the lifestyle at Schooner Estates and sometimes find it difficult to answer in a brief way. The article below, says exactly what we would like to say to folks who are trying to make this decision.
How often a strong and vigorous man or an active and gracious woman enter their retirement years and use this excuse to postpone the planning and decisions that could free them to enjoy the time.
They're not ready yet…
•To live in an attractive and comfortable home without the effort of maintaining it.
•To enjoy excellent meals, graciously served in an attractive dining room, and give up the chores of constant shopping, cooking, and cleaning up.
•To eliminate worry concerning health, security and transportation.
They're not ready, in short, to simplify their lives. They wait for some sign, some failing, to justify or even compel a move from the home that's too big, or chores and possessions which require a great deal of attention. Sometimes they wait too long.
Sometimes they find they have wasted what could have been some of their better years. Moving to senior living shouldn't mean retiring from life, but simplifying life to enjoy new interests and activities, or the old ones there wasn't enough time for. One doesn't step into old age by moving to a community, but opens a new door to an active, dignified and interesting life.
What does the senior living home have to offer? Independence, a sense of community, friendships, a place to be private and security.
Our best gift? A gift of time to use constructively and personal services to be used as needed.