August 2015 Schooner Flash Newsletter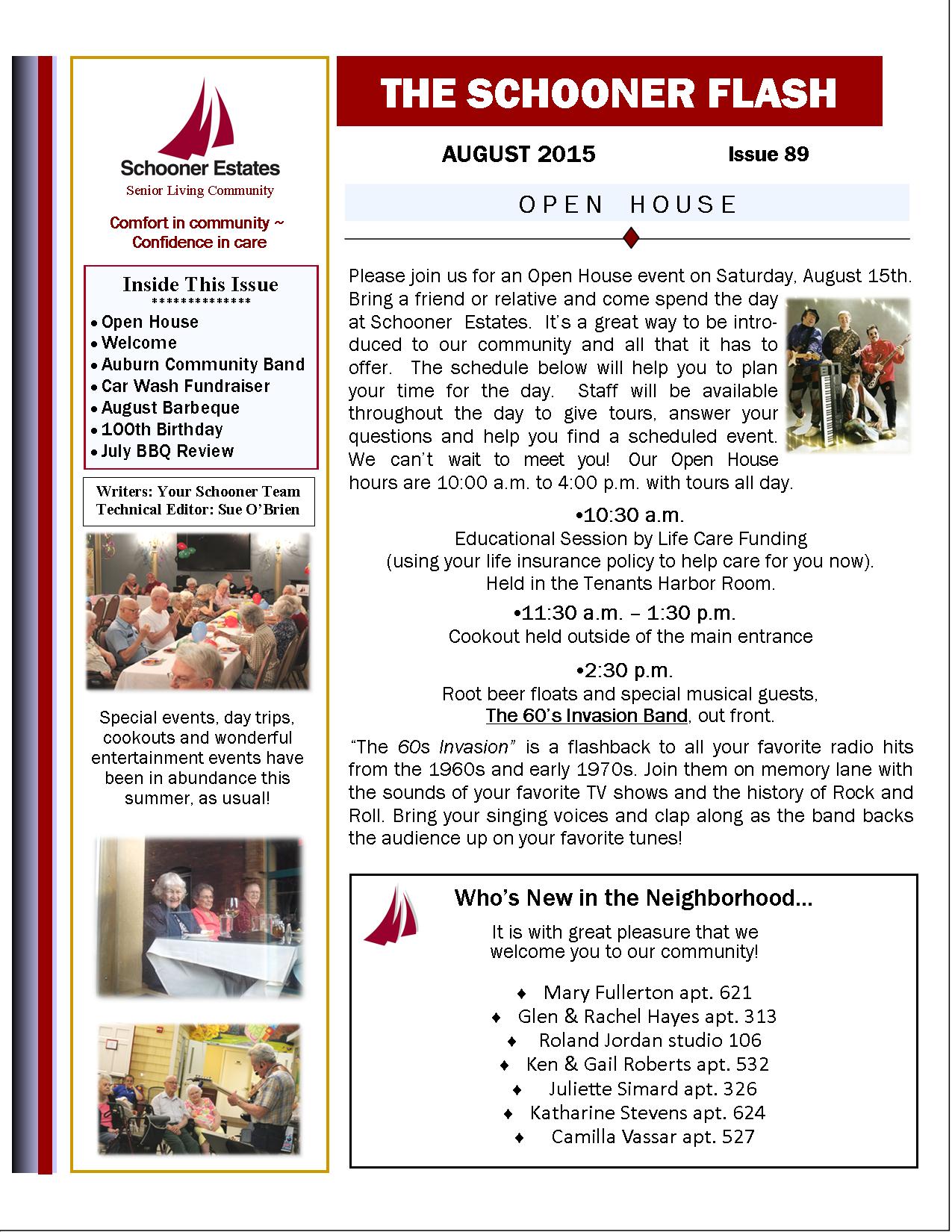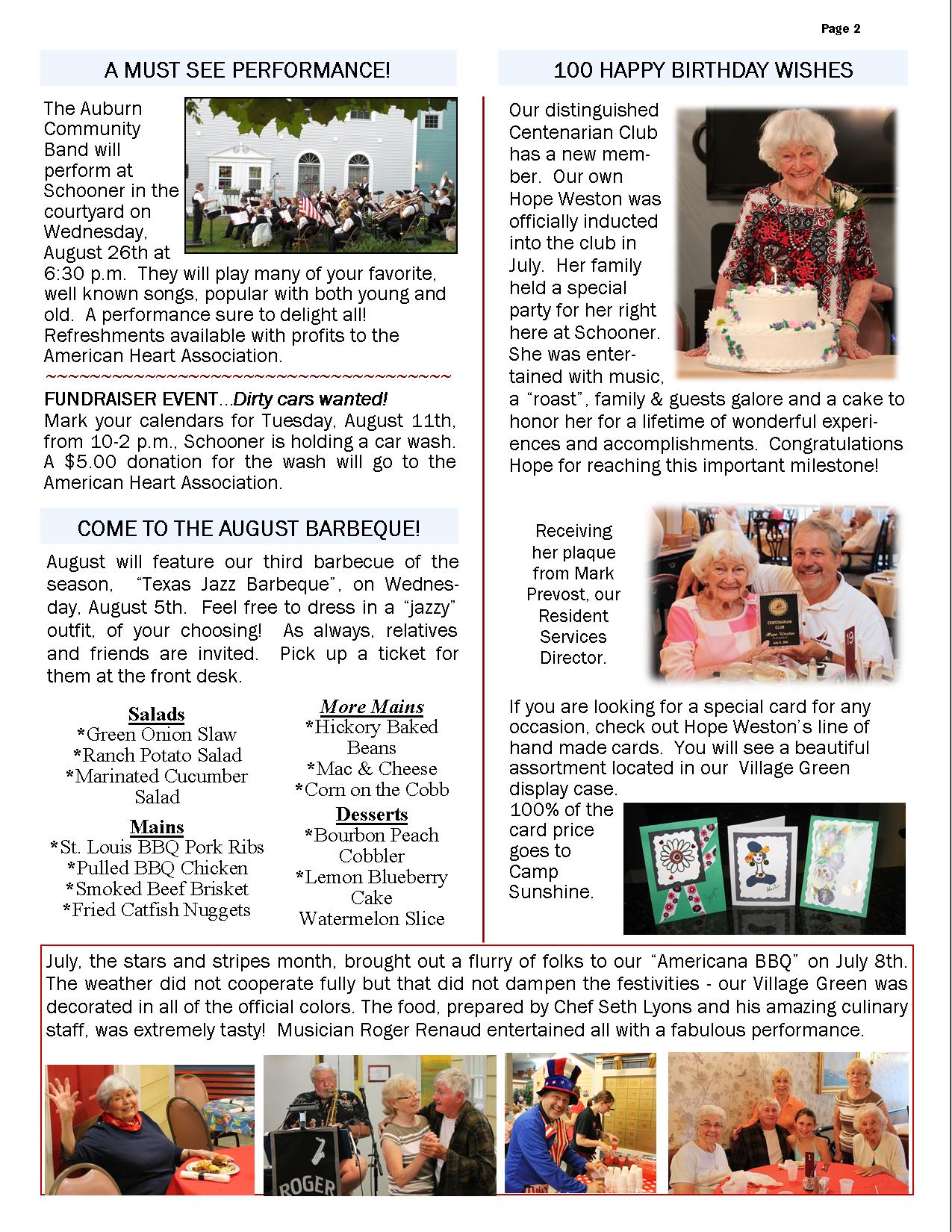 The Schooner Flash
August 2015
Issue 89
Inside This Issue
**************
· Open House
· Welcome
· Auburn Community Band
· Car Wash Fundraiser
· August Barbeque
· 100th Birthday
· July BBQ Review
OPEN HOUSE
Please join us for an Open House event on Saturday, August 15th. Bring a friend or relative and come spend the day at Schooner Estates. It's a great way to be introduced to our community and all that it has to offer. The schedule below will help you to plan your time for the day. Staff will be available throughout the day to give tours, answer your questions and help you find a scheduled event. We can't wait to meet you! Our Open House hours are 10:00 a.m. to 4:00 p.m. with tours all day.
•10:30 a.m.
Educational Session by Life Care Funding (using your life insurance policy to help care for you now).
Held in the Tenants Harbor Room.
•11:30 a.m. – 1:30 p.m.
Cookout held outside of the main entrance
•2:30 p.m.
Root beer floats and special musical guests, The 60's Invasion Band, out front.
"The 60s Invasion" is a flashback to all your favorite radio hits from the 1960s and early 1970s. Join them on memory lane with the sounds of your favorite TV shows and the history of Rock and Roll. Bring your singing voices and clap along as the band backs the audience up on your favorite tunes!
Who's New in the Neighborhood…
It is with great pleasure that we welcome you to our community!
¨ Mary Fullerton apt. 621
¨ Glen & Rachel Hayes apt. 313
¨ Roland Jordan studio 106
¨ Ken & Gail Roberts apt. 532
¨ Juliette Simard apt. 326
¨ Katharine Stevens apt. 624
¨ Camilla Vassar apt. 527
A MUST-SEE PERFORMANCE!
The Auburn Community Band will perform at Schooner in the courtyard on Wednesday, August 26th at 6:30 p.m. They will play many of your favorite, well known songs, popular with both young and old. A performance sure to delight all! Refreshments available with profits to the American Heart Association.
100 HAPPY BIRTHDAY WISHES
Our distinguished Centenarian Club has a new member. Our own Hope Weston was officially inducted into the club in July. Her family held a special party for her right here at Schooner. She was entertained with music, a "roast", family & guests galore and a cake to honor her for a lifetime of wonderful experiences and accomplishments. Congratulations Hope for reaching this important milestone!
If you are looking for a special card for any occasion, check out Hope Weston's line of hand made cards. You will see a beautiful assortment located in our Village Green display case. 100% of the card price goes to Camp Sunshine.
FUNDRAISER EVENT…Dirty cars wanted!
Mark your calendars for Tuesday, August 11th, from 10-2 p.m., Schooner is holding a car wash. A $5.00 donation for the wash will go to the American Heart Association.
COME TO THE AUGUST BARBEQUE!
August will feature our third barbecue of the season, "Texas Jazz Barbeque", on Wednesday, August 5th. Feel free to dress in a "jazzy" outfit, of your choosing! As always, relatives and friends are invited. Pick up a ticket for them at the front desk.
Salads
*Green Onion Slaw
*Ranch Potato Salad
*Marinated Cucumber Salad
Mains
*St. Louis BBQ Pork Ribs
*Pulled BBQ Chicken
*Smoked Beef Brisket
*Fried Catfish Nuggets
Sides
*Hickory Baked Beans
*Mac & Cheese
*Corn on the Cobb
Desserts
*Bourbon Peach Cobbler
*Lemon Blueberry Cake
*Watermelon Slice
Stars and Stripes BBQ
July, the stars and stripes month, brought out a flurry of folks to our "Americana BBQ" on July 8th. The weather did not cooperate fully but that did not dampen the festivities – our Village Green was decorated in all of the official colors. The food, prepared by Chef Seth Lyons and his amazing culinary staff, was extremely tasty! Musician Roger Renaud entertained all with a fabulous performance.