April 2017 Schooner Flash Newsletter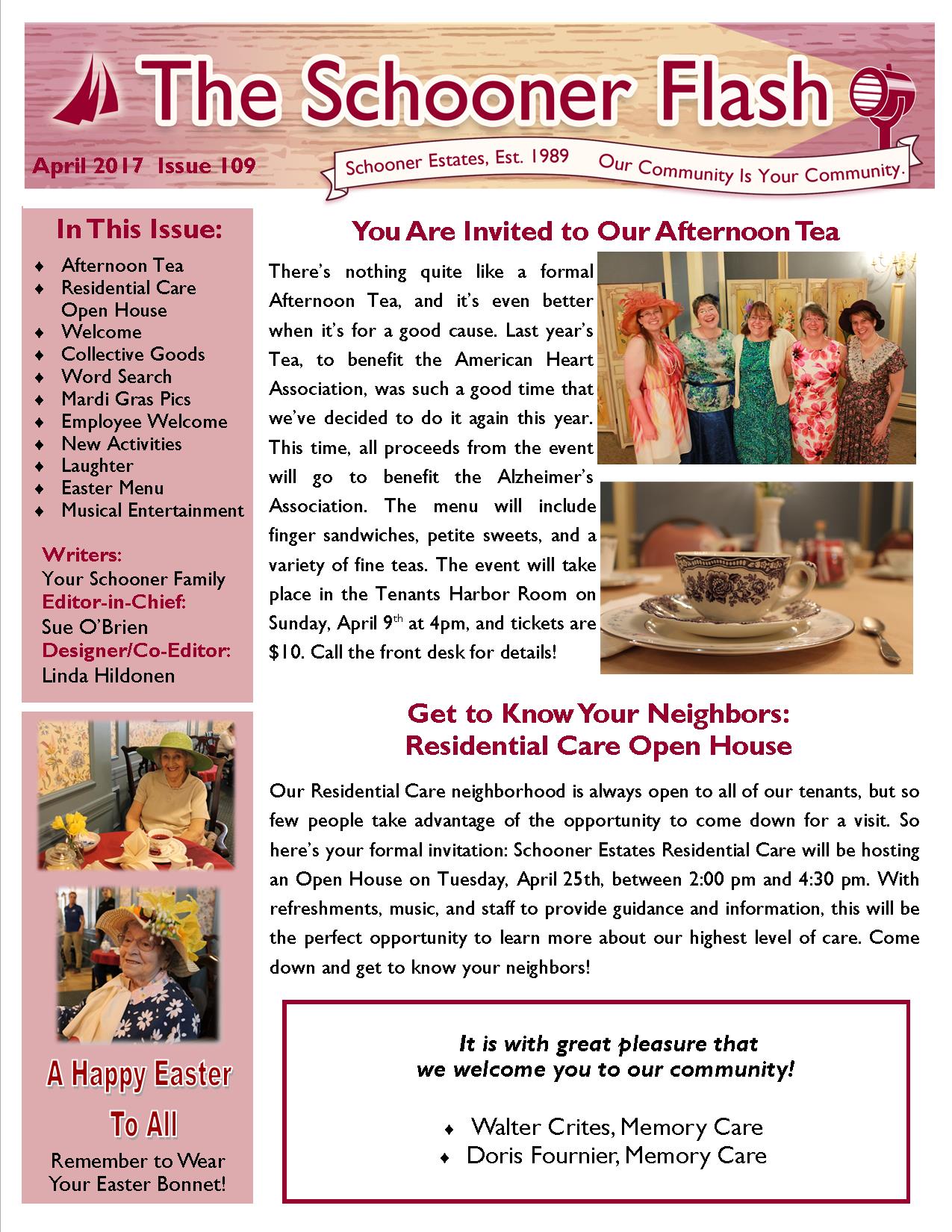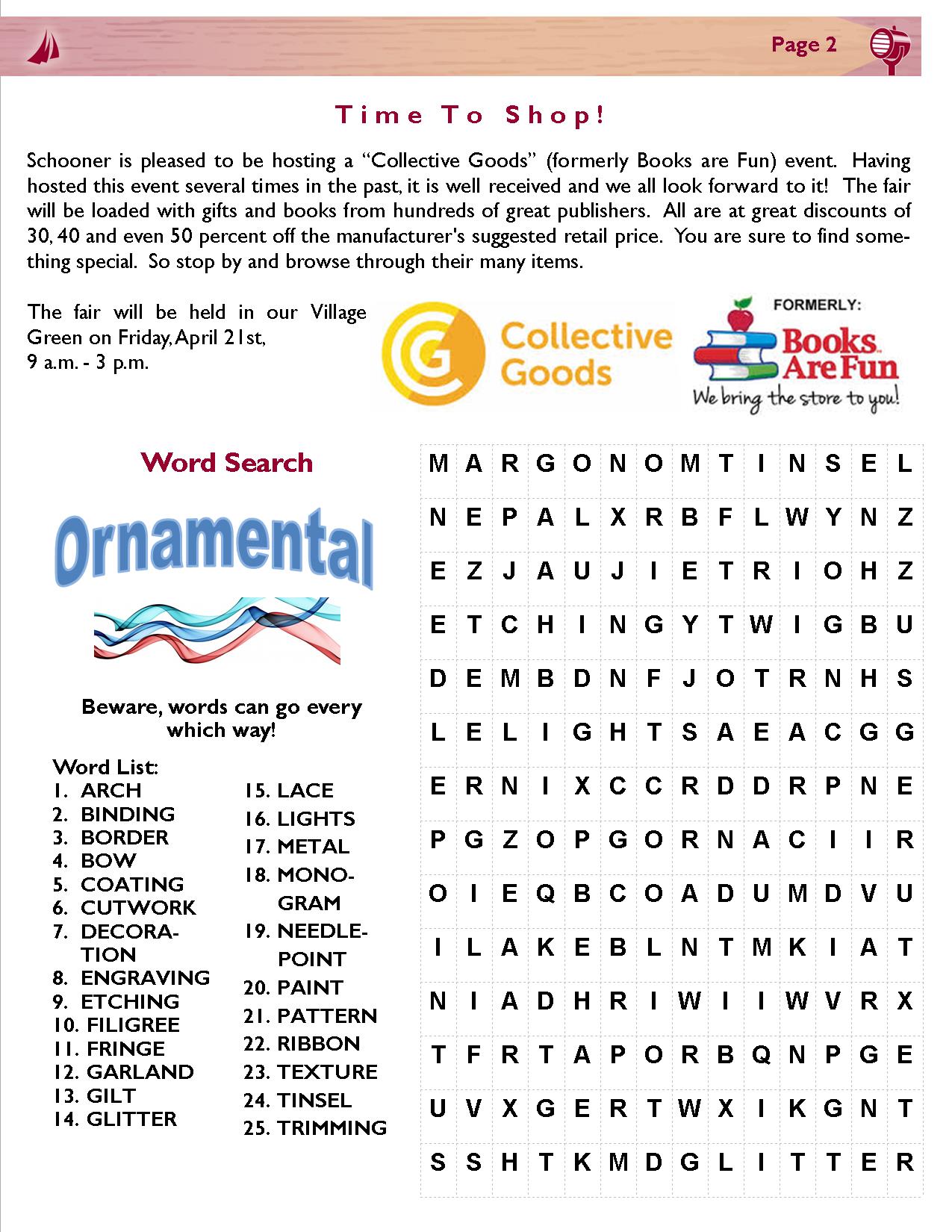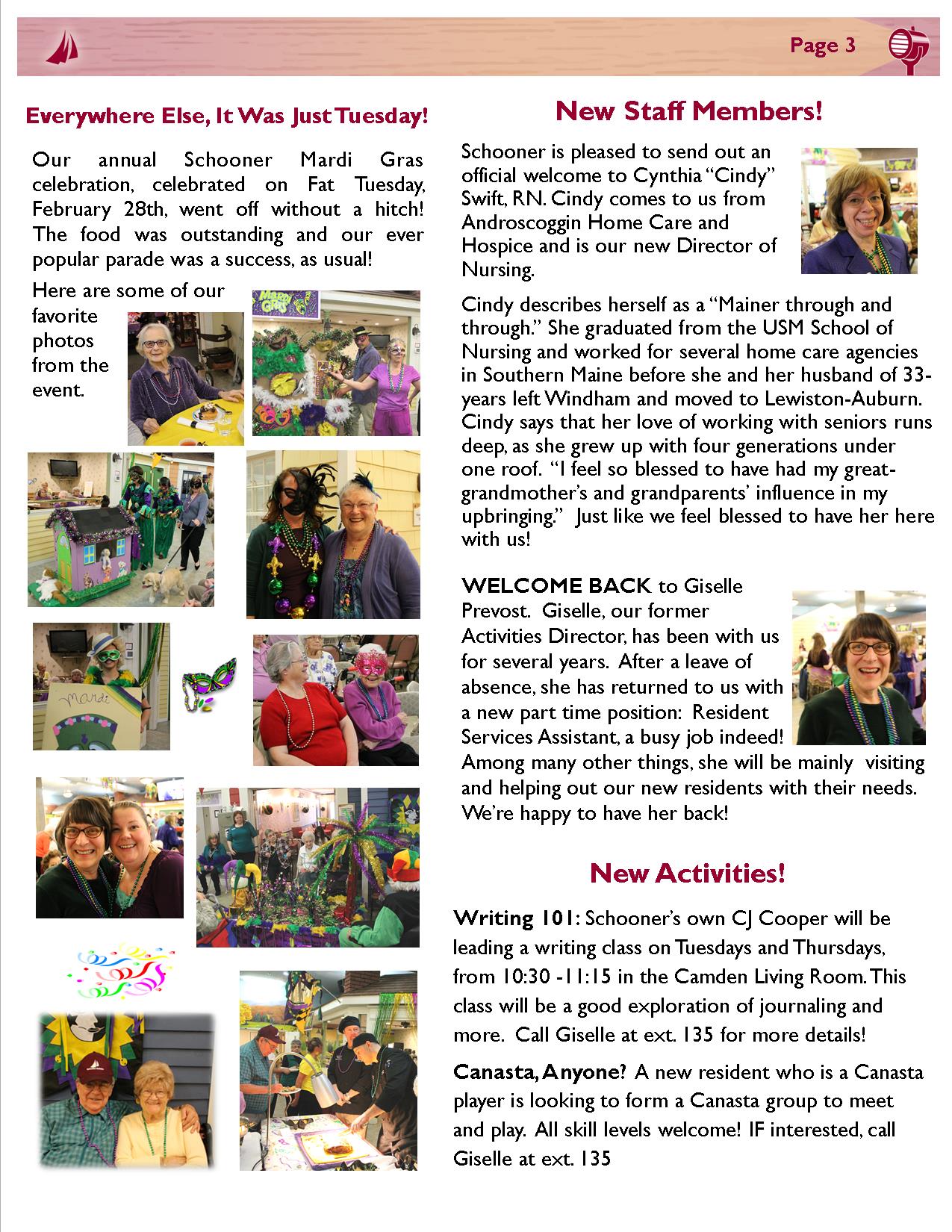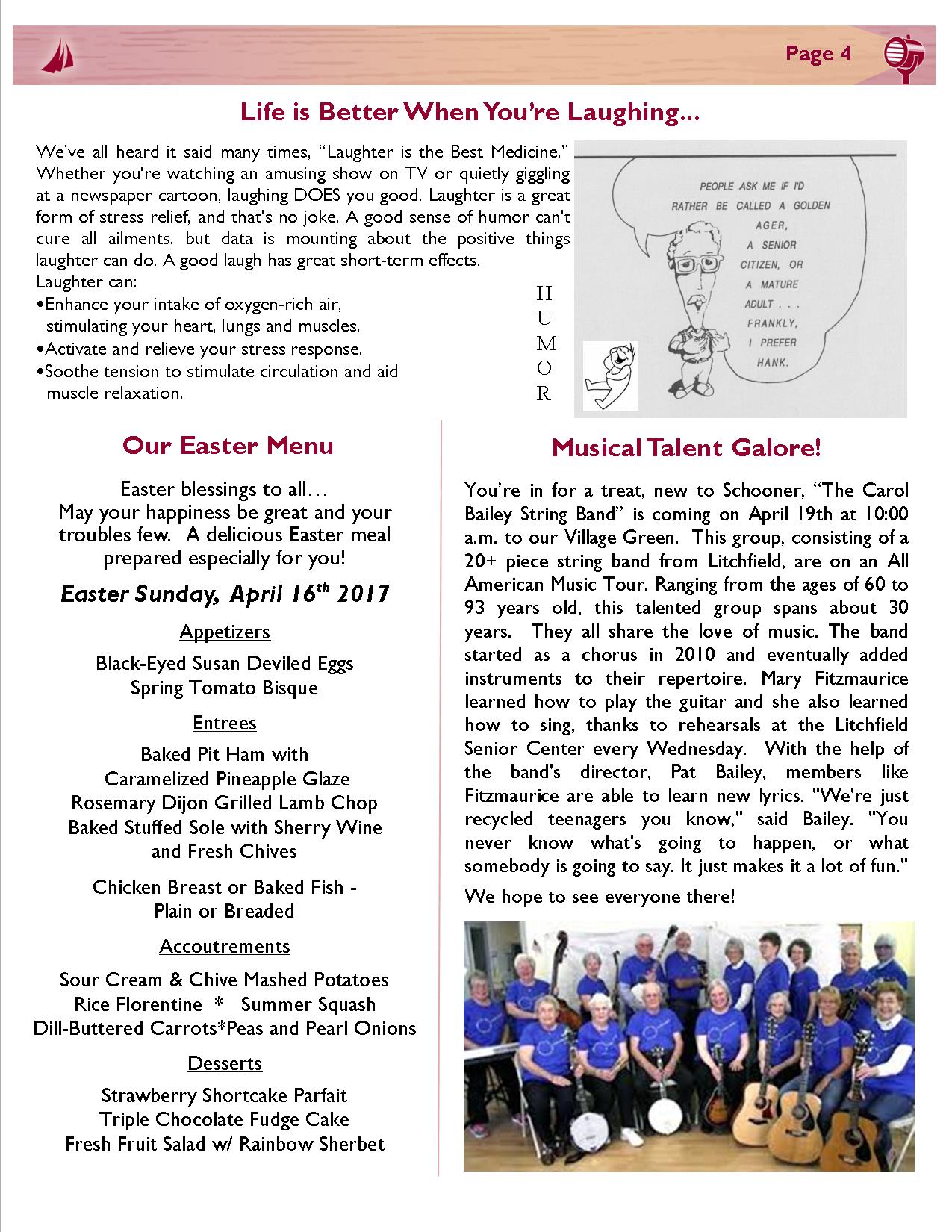 The Schooner Flash
Issue 109
April 2017
In This Issue:
Afternoon Tea
Residential Care Open House
Welcome
Collective Goods
Word Search
Mardi Gras Pics
Employee Welcome
New Activities
Laughter
Easter Menu
Musical Entertainment
You Are Invited to Our Afternoon Tea
There's nothing quite like a formal Afternoon Tea, and it's even better when it's for a good cause. Last year's Tea, to benefit the American Heart Association, was such a good time that we've decided to do it again this year. This time, all proceeds from the event will go to benefit the Alzheimer's Association. The menu will include finger sandwiches, petite sweets, and a variety of fine teas. The event will take place in the Tenants Harbor Room on Sunday, April 9th at 4pm, and tickets are $10. Call the front desk for details!
Get to Know Your Neighbors: Residential Care Open House
Our Residential Care neighborhood is always open to all of our tenants, but so few people take advantage of the opportunity to come down for a visit. So here's your formal invitation: Schooner Estates Residential Care will be hosting an Open House on Tuesday, April 25th, between 2:00 pm and 4:30 pm. With refreshments, music, and staff to provide guidance and information, this will be the perfect opportunity to learn more about our highest level of care. Come down and get to know your neighbors!
It is with great pleasure that we welcome you to our community!
Walter Crites, Memory Care
Doris Fournier, Memory Care
Time to Shop!
Schooner is pleased to be hosting a "Collective Goods" (formerly Books are Fun) event. Having hosted this event several times in the past, it is well received and we all look forward to it! The fair will be loaded with gifts and books from hundreds of great publishers. All are at great discounts of 30, 40 and even 50 percent off the manufacturer's suggested retail price. You are sure to find something special. So stop by and browse through their many items.
The fair will be held in our Village Green on Friday, April 21st, 9 a.m. – 3 p.m.
Everywhere Else, It Was Just Tuesday!
Our annual Schooner Mardi Gras celebration, celebrated on Fat Tuesday, February 28th, went off without a hitch! The food was outstanding and our ever popular parade was a success, as usual!
New Staff Members!
Schooner is pleased to send out an official welcome to Cynthia "Cindy" Swift, RN. Cindy comes to us from Androscoggin Home Care and Hospice and is our new Director of Nursing.
Cindy describes herself as a "Mainer through and through." She graduated from the USM School of Nursing and worked for several home care agencies in Southern Maine before she and her husband of 33-years left Windham and moved to Lewiston-Auburn. Cindy says that her love of working with seniors runs deep, as she grew up with four generations under one roof. "I feel so blessed to have had my great-grandmother's and grandparents' influence in my upbringing." Just like we feel blessed to have her here with us!
WELCOME BACK to Giselle Prevost. Giselle, our former Activities Director, has been with us for several years. After a leave of absence, she has returned to us with a new part time position: Resident Services Assistant, a busy job indeed! Among many other things, she will be mainly visiting and helping out our new residents with their needs. We're happy to have her back!
New Activities
Writing 101: Schooner's own CJ Cooper will be leading a writing class on Tuesdays and Thursdays, from 10:30 -11:15 in the Camden Living Room. This class will be a good exploration of journaling and more. Call Giselle at ext. 135 for more details!
Canasta, Anyone? A new resident who is a Canasta player is looking to form a Canasta group to meet and play. All skill levels welcome! IF interested, call Giselle at ext. 135
Life is Better When You're Laughing…
We've all heard it said many times, "Laughter is the Best Medicine." Whether you're watching an amusing show on TV or quietly giggling at a newspaper cartoon, laughing DOES you good. Laughter is a great form of stress relief, and that's no joke. A good sense of humor can't cure all ailments, but data is mounting about the positive things laughter can do. A good laugh has great short-term effects.
Laughter can:
•Enhance your intake of oxygen-rich air, stimulating your heart, lungs and muscles.
•Activate and relieve your stress response.
•Soothe tension to stimulate circulation and aid muscle relaxation.
Our Easter Menu
Easter blessings to all…
May your happiness be great and your
troubles few. A delicious Easter meal prepared especially for you!
Easter Sunday, April 16th 2017
Appetizers
Black-Eyed Susan Deviled Eggs
Spring Tomato Bisque
Entrees
Baked Pit Ham with
Caramelized Pineapple Glaze
Rosemary Dijon Grilled Lamb Chop
Baked Stuffed Sole with Sherry Wine
and Fresh Chives
Chicken Breast or Baked Fish –
Plain or Breaded
Accoutrements
Sour Cream & Chive Mashed Potatoes
Rice Florentine * Summer Squash
Dill-Buttered Carrots*Peas and Pearl Onions
Desserts
Strawberry Shortcake Parfait
Triple Chocolate Fudge Cake
Fresh Fruit Salad w/ Rainbow Sherbet
Musical Talent Galore!
You're in for a treat, new to Schooner, "The Carol Bailey String Band" is coming on April 19th at 10:00 a.m. to our Village Green.  This group, consisting of a 20+ piece string band from Litchfield, are on an All American Music Tour. Ranging from the ages of 60 to 93 years old, this talented group spans about 30 years. They all share the love of music. The band started as a chorus in 2010 and eventually added instruments to their repertoire. Mary Fitzmaurice learned how to play the guitar and she also learned how to sing, thanks to rehearsals at the Litchfield Senior Center every Wednesday. With the help of the band's director, Pat Bailey, members like Fitzmaurice are able to learn new lyrics. "We're just recycled teenagers you know," said Bailey. "You never know what's going to happen, or what somebody is going to say. It just makes it a lot of fun."
We hope to see everyone there!